JAMES PARRES (1855-1916+)
HENRIETA (LETITIA) SALTER (1852-1883)
(Last Updated: November 21, 2015)
James PARRES was born Oct 9, 1855 in Denmark (Surname variations: PARES, PARRIS).
A Brief History: When the Province of Manitoba was formed in 1870, waves of new settlers came in response to an opportunity to homestead the unbroken prairies. In the absence of roads, the accessible and fertile area near the Missouri Trail became a prime destination for the first homesteaders and for those who followed to provide services to the new communities. The Rural Municipality of Dufferin is thought to have been named for Lord Dufferin, Governor-General of Canada.
At some time in the early 1870's James PARRES came to Canada and settled on a homestead in the RM of Dufferin, Manitoba.
Marriage to Henrietta SALTER
1875
Around 1875 James married Henrietta (Letitia) SALTER, daughter of Mary Ann SMITH and Richard Turner SALTER (1819-1911). Daughter Mary Ann was born in 1876.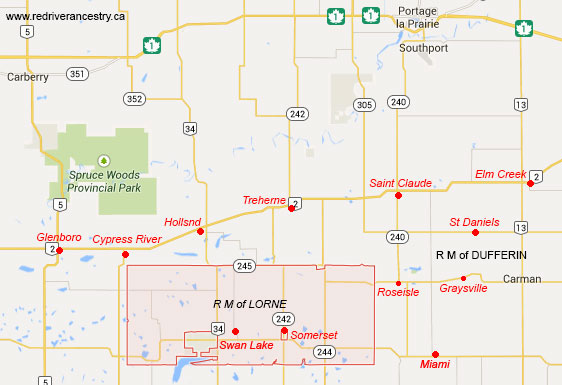 On May 5, 1876 Henrietta of the Boyne Settlement claimed Scrip as the wife of James PARRIS.
Census of 1881 in the RM of North Dufferin:James PARRIS, age 28; wife Letitia, age 27. Children: Mary Ann (age 5), Christopher (4) and Catherine Jane (age 1). Western Land Grants and census reords indicate that James was issued Patent for the NW quarter of 12-6-3-Wpm. This land parcel is located about six miles east of Carman near Homewood (MB).
On Feb 9, 1883 Henrietta (nee SLATER) PARRES died in Carman.
In 1888 daughter Mary Ann died in Dufferin at the age of 12.
Census of 1891 in North Dufferin: James PARRES, age 39, widowed. Children: Chris (age 14) and Katie (age 12). Brother: Marcus, age 26 (born 1865 in Denmark).

Census of 1901 in Dufferin: James PARRES, widowed, age 45. Son Chris, age 22.
In 1904 son Christopher married Eliza Alberta MADILL in Balmoral, MB, daughter of Esther Elizabeth BLAKEMAN and Reverend James Cross MADILL (1853-1940).
In 1905 daughter Catherine married Angus Norman MORRISON, son of Charlotte SMITH and Norman MORRISON (1847-1915). ** MORE ABOUT NORMAN MORRISON
Census of 1906 near Homewood: James PARES, age 55. With him is son Christopher (age 26) and daughter-in-law Alberta, age 26. Also a son (?) William PARRES, age 18.
Census of 1916: James PARRES, age 62 and widowed, with son Christopher in North Battleford.
Comments and queries at this link: FORUM DISCUSSING THE JAMES PARRES FAMILY
========================== Family Details ==========================
Children:
1. 1876 MARY ANN PARRIS (Died age 12)
2. Jun 3, 1878 CATHERINE JANE (KATIE) MATHESON PARRES (m. Angus Norman MORRISON)

** MORE ABOUT ANGUS NORMAN MORRISON
3. Nov 17, 1878 CHRISTOPHER RICHARD PARRES (m. Eliza Alberta MADILL)