PASCAL BRELAND (1811-1896)
MARIE (MARIA) GRANT (1820-1889)
(Last Updated: October 26, 2017)
Pascal  BRELAND was born June 15, 1811 in the Saskatchewan Valley, the youngest son of Josephte (Louise) BELLY, a half-breed woman, and Pierre du BOISHUE dit BRELAND. (1764-1829) of French Canadian origins.   
** MORE ABOUT PIERRE BRELAND
** MORE ABOUT PASCAL BRELAND in DCBO (Authored by Lynne Champagne)
In 1829 Pascal's father (Pierre BRELAND) died in St Boniface.
In 1832 Pascal, along with his widowed mother and siblings, moved to Grantown (St Francois Xavier) where his older brother (Alexander) had been living for some time.
Marriage to Maria GRANT
1836
.  In 1836 Pascal married Maria GRANT, daughter of Marie DESMARAIS and Cuthbert GRANT (1796-1854).
** MORE ABOUT CUTHBERT GRANT
The prosperity of Pascal BRELAND and his Metis brethren living in St Francois Xavier and the White Horse Plains was largely dependent on the returns from their annual buffalo hunts. Buffalo meat, pemmican and buffalo hides were in great demand and there was lots of money to be made in the trading of these commodities.
By the 1840s a new generation of young and rebellious men had appeared and a French element led by men such as the elder Louis RIEL (1817-1864) began to take leadership away from the Scots half-breeds such as Cuthbert GRANT (Pascal's father-in-law). The crucial issue was freedom of trade; in defiance of the HBC monopoly, the Métis were beginning to trade furs with Americans at Pembina (N.Dak.) and St Paul (Minn.). For example, in 1849 Pierre-Guillaume SAYER (1800-1868) was tried for illicit trading. ** MORE ABOUT LOUIS RIEL SR and GUILLAUME SAYER
Like SAYER, Pascal BRELAND was involved in illegal trading outside the official monopoly held by the HBC. By 1849 Pascal became a very prosperous trader with his 380 acres of land in and around SFX. At that time he owned 12 Red River carts and had 22 horses. However, due to the influx of settlers and over-hunting, the buffalo populations were diminishing near home, and it became necessary to go farther and farther afield to find them.
Battle of the Grand Coteau
1851
On July 13-14, 1851 the Battle of the Grand Coteau occurred.
** MORE ABOUT THE BATTLE OF THE GRAND COTEAU in MHS(Authored by William Morton)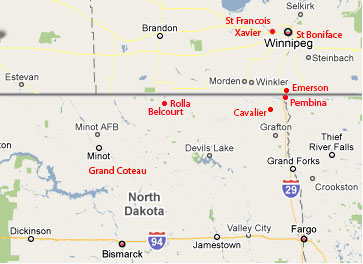 Morton:The battle of the Grand Coteau was perhaps the proudest memory of the Métis nation. It symbolized their highest achievement as a people. Nothing more conclusively proved their mastery of the plains by which they lived. It stands midway between the collision at Seven Oaks and the black day of Batoche, when the Canadian militia did what the Sioux had not, and overran the Métis rifle pits. And finally it demonstrates that the boundary of Canada and the United States was not a mere astronomical line, but a real boundary marked by the clash of peoples and cultures, the border of the park belt and the grassland, of the prairie and the plain, where the Métis of Red River continued the old feud of Cree and Salteaux with the Sioux, and helped, in the blind and primitive working of history with geography, to prepare for the different histories in western North America of Canada and the United States.
** LETTERS FROM MY AUNT by Melvin Beaudry

Beaudry: One of the five Metis scouts was Jean Baptiste MALATERRE (1815-1851).MALATERRE was one of the three held captive by the Sioux. He was killed on the 13th as the Sioux approached the Métis camp, and he attempted an escape. Witnesses to his burial were Pascal BRELAND and Charles MONMINI.
** Note: Baptiste MALATERRE was a brother of Melvin Beaudry's great grandfather, Louis MALATERRE (1834-1895), "a big, jovial French half-breed from Fort Garry."
In 1854 father-in-law (Maria's father), Cuthbert GRANT died in St Francois Xavier.
Around 1860 eldest son Patrice was married to Helen DEASE, daughter of Angelique McMILLAN & John DEASE (1823-1885). Also around 1860 eldest daughter Marie Virginie married John McGILLIS, son of Marie CAMPBELL & William McGILLIS (1813-1868).
In 1862 daughter Marguerite married Elzear PAGE, son of Marguerite MORIN and Joseph PAGE (b-1813).
In 1864 son Thomas married Julie TROTTIER, daughter of Magdeline FAGNANT & Basile TROTTIER (1819-1844). Julie died in 1866, and in 1867 Thomas re-married to his sister-in-law, Philomene PAGE, daughter of Marguerite MORIN and Joseph PAGE (b-c1813).
Canadian Confederation
Red River Rebellion
Manitoba becomes a Province
1867-1870
On July 1, 1867 the British colonies in North America were united under the British North American Act to become the Dominion of Canada.  Sir John A MacDONALD (1815-1891) was appointed as Canada's first Prime Minister; a month later he won the first federal election.William McDOUGALL (1822-1905) became the Minister of Public Works, and he began nnegotiations to acquire Rupert's Land from the HBC, sending out surveyors to prepare the way for an expected influx of settlers.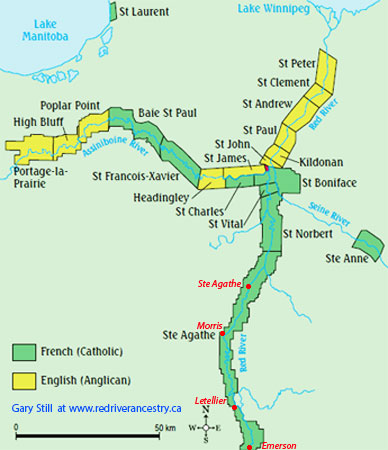 Red River Parishes 1870
Around 1869 daughter Clemence married Firmin HAMELIN, son of Elizabeth VANDAL and Salomon HAMELIN (1810-1893).
On Oct 11, 1869, Louis RIEL (1844-1885) placed his foot on the surveyors' chain to tell them their work was finished. This marked the beginning of the Red River Rebellion.
** MORE ABOUT THE RED RIVER REBELLION in WIKIPEDIA

On July 15,1870 Manitoba became the fifth province of Canada, the Canadian Government having acquired the territory previously governed by the HBC. The Rebellion was essentially over.
Around 1870 daughter Lucie married Narcisse BEAUDRY, son of Louise LADOUCEUR and Joseph BEAUDRY (1809-1877).
In 1870 Pascal's family was recorded on Lot 183 in SFX; children as Eliza (age 18), Josie (16), Gregoire (12) and Justine (age 10)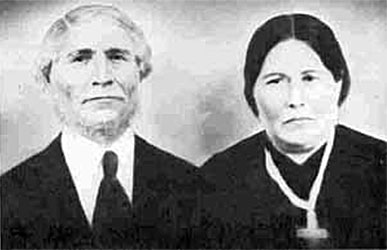 Pascal Breland and his wife Maria (Grant)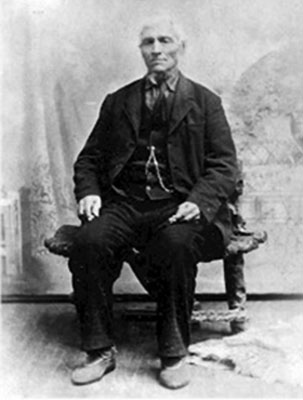 Pascal Breland
(Courtesy M.A. McLeod Collection)
In 1873 daughter Eliza married John Johnson LEVEILLE b-1852, son of Julie MACKENZIE and Pierre LEVEILLE (1783-1876).
In 1882 son Gregoire married Celina DELORME, daughter of Adelaide BEAUCHEMIN and Pierre DELORME (1832-1912).
In 1884 youngest daughter Justine married Albert CUNNINGHAM, son of Rosalie L'HIRONDELLE and John CUNNINGHAM (1817-1870). ** MORE ABOUT JOHN CUNNINGHAM
On Oct 30, 1889 Maria GRANT-BRELAND died. On Oct 24, 1896 Pascal BRELAND died. Both were buried in the St Francois Xavier Cemetery.
Comments and queries at this link: FORUM DISCUSSING the PASCAL BRELAND FAMILY
=========================== Family Details ===========================
Children:
1. Mar 17, 1837 PATRICE BRELAND (m. Helen DEASE)
2. 1840 MARIE VIRGINIE BRELAND (m. John McGILLIS)
3. Sep 7, 1842 THOMAS BRELAND (m1. Julie TROTTIER, m2. Philomene PAGE, m3. Therese TANNER)
4. Aug 10, 1846 MARGUERITE BRELAND (m. Elzear PAGE)
5. Feb 22, 1848 LUCIE BRELAND (m. Narcisse BEAUDRY)
6. Dec 9, 1850 CLEMENCE BRELAND (m. Firmin HAMELIN)
7. 1852 ELIZA BRELAND (m. John Johnson LEVEILLE)
8. Mar 17, 1855 JOSIE BRELAND
9. May 15, 1859 GREGOIRE BRELAND (m. Celina DELORME)
10. May 4, 1861 JUSTINE BRELAND (m. Albert CUNNINGHAM)