PIERRE DUBOISHUE dit BRELAND (1764-1829)
WIVES UNKNOWN (Said to have had about six wives)
LOUISE HUMPHREYVILLE (1783-1849)
JOSEPHTE LOUISE BELLY (1785-1817)
(Last Updated: January 18, 2014)
This is another one of those people who is hard to describe with much certainty; lots of confusing and contradictory information out there. It is difficult to separate fact from fiction, particularly with regard to his various wives and date associations.
To keep things simple and to avoid confusions due to the countless variation in spellings of these surnames, I will generally refer to them as BERLAND, HUMPHREYVILLE and BELLY.

As the old saying goes. let's "throw some of this (genealogical) "shit at a wall and see which pieces will stick."
This family should be a hot topic for debate and discussion on the Forum (Link provided below). We're all starving for documented facts!
Pierre DUBOISHUE dit BRELAND is said to have been of French Canadian origins; born on Apr 2, 1764 (baptized Apr 3) in Chambly, Quebec (near Montreal), the son of Marie Louise RAYMOND and Pierre BRELAND SR (1735-1829). ** No solid facts or dependable sources to verify all this but it seems like a good place to begin throwing stuff against that wall.
Many sourced indicate that Pierre was the father of Jean Baptiste BRELAND born somewhere around 1777. If we assume Pierre's birthdate to be around 1764, we're in trouble right at the start. Did he really start having kids at the age of 13? The best approach here would be to assume that Jean Baptiste was more likely born later, no sooner than 1780.
** MyHeritage re PIERRE DOBOISHUE dit BOISHUE PIERRE-CHARLES DUBOISHUE dit BRELAND

Tom Long (EdmontonTom) posted this: Prior to John ROWAND, Louise UMPHERVILLE was allied with Pierre BOSHUE dit BRELAND. This country-marriage produced a number of children at least some of whom were adopted by John around 1810, including Marie-Anne BRELAND. Marie-Anne, who called John 'father', married a clerk named Richard GRANT at Fort Edmonton. The BRELAND-UMPHREVILLE country-marriage is attested in Grant, Johnny A Son of the Fur Trade: The Memoirs of Johnny Grant Ed. Gerhard Ens (University of Alberta Press, 2008).
Tom's posting prompted me to do some more digging in order to learn more about Louise's life before ROWAND. What a frustrating experience that has become! Talk about confusion and contradictions in the literature!! My headaches and hair-pulling has started again; liken me to Costello in the video 'Who's On First' (click below).
Pierre's Origins
Pierre BRELAND (1760-1829) was born in Quebec. Regarding BRELAND, many people refer to the research of Anita Steele who has an elaborate website at this link:  CLAN GRANT CANADA ONLINE
Canadian Grant Families by Anita Steele:  Pierre BRELAND or BERLAND (dit DUBOISHUE. The following is an article from a 1974 issue of 'The Beaver': "Pierre (or Burleigh the Freeman, as SIMPSON called him) had served as a soldier in Canada and had been active in the fur trade in the 1800s.
'Poor Burleigh' SIMPSON wrote, October 1824 'was some twenty years ago one of the most active enterprising Canadians of his standing in the country, a first rate hunter and possessing a strength and acuteness of mind rarely to be met in his walk of life; he had amassed a fortune of about 7,000 lbs. and returned to Canada, but so enchanted was he with the roving life of a Freeman and the charms of some half dozen wives (natives of the soil) that he could not sit down quietly at home to enjoy his good fortune but must revisit the Indian country since which time he has met nothing but reverses'"
Pierre and Louise HUMPHREYVILLE
Louise UMFREVILLE aka HUMPHREYVILLE was born around 1783 at York Factory on Hudson Bay, the second child, and eldest daughter of a Cree woman and Edward UMFREVILLE aka HUMPHREYVILLE who was born around 1755 in England and came to York in 1771 as a 'writer' (accountant) for the Hudson's Bay Company (HBC).
** MORE ABOUT EDWARD HUMPHREYVILLE
In 1783, the same year that Louise was born, her father, Edward HUMPHREYVILLE was engaged by the North West Company (NWC) in Quebec, fierce rivals of his previous employers, the HBC. The NWC sent HUMPHREYVILLE and his family to a post near today's Frenchman Butte, near Fort Pitt on the map below. Note: Fort Pitt however wasn't built until 1830, interestingly by John ROWAND, Louise's future husband who by that time was an HBC employee. Frenchman Butte also didn't exist as such until many years later. It later became the site of the historic Battle of Frenchman's Butte during the North West Rebellion of 1885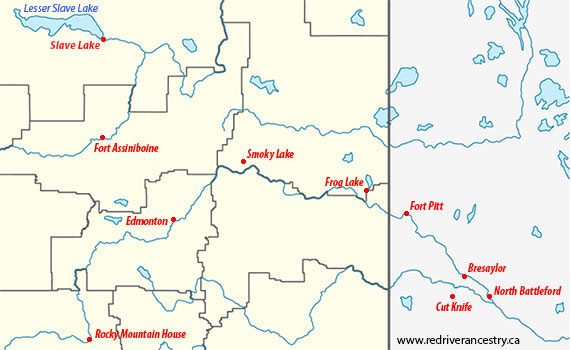 Around 1800 Pierre BRELAND is believed to have begun his relationship with the aforementioned Louise HUMPHREYVILLE. By this time we are told that Pierre had already fathered at least one child from a previous union, Jean Baptiste BRELAND, who allegedly married around 1804 to a Suzanne NIPISSING of uncertain origins.
By 1805 Louise HUMPHREYVILLE had given birth to three children: Madeleine, Alexander and Marie Anne. Birthdates for these children vary considerably from various sources and seem to be mostly 'guesstimates'.
Louise HUMPHREYVILLE and John ROWAND
White Earth Post
1810
In the summer of 1810 John ROWAND (1787-1854) left Fort Edmonton with Alexander HENRY the Younger (1765-1814) to begin construction of the White Earth Post downriver (SE of Smoky Lake). It was there that John began a lifelong relationship with the aforementioned Louise (Lisette) HUMPHREYVILLE. ** MORE ABOUT JOHN ROWAND
On June 15, 1811 Pascal BRELAND was born in the 'Saskatchewan Valley'. This is from his 1875 Scrip Affidavit which clearly identifies his parents as Pierre BRELAND, a French Canadian and a Half-breed woman simply named Josephte. Pierre's wife as a woman named Josephte seems to have been expanded by various authors include Louise and Lisette to the point where we can't be certain whether her maiden surname was BELLY or HUMPHREYVILLE.
Pierre and Marie-Josephte BELLAY dit BELIDAU (BELLY)
1803-1813
Thanks to Robert Marchand we can now say we have some factual information regarding the marriage of Pierre BERLAND dit DUBOISHUE and Marie-Josephte BELLAY dit BELIDAU. On Feb 18, 1813 they were church-wed at Laval, Quebec (a few miles north of Montreal), by Reverend BRUNET, at which time they declared their true and legitimate children as Alexandre (age 9), Édouard (7), Marie-Élize (5) and Paschal (age 18 months). ** See Robert's s Forum posting of Jan 6, 2014 for full details.
** Any suggestions that Louise HUMPHREYVILLE and Louise BELLY were the same person just do not make any sense.
Red River Rebellion
1814-1816
On Jan 8, 1814 HBC Acting Governor Miles MACDONELL (1767-1828) issued his historic Pemmican Proclamation at Red River. ** MORE ABOUT MILES MACDONELL in DCBO
ElectronicScotland: One can easily imagine the indignation of the Nor'Westers at the big meeting at Fort William that summer of 1814. "It is the first time the Nor'Westers have permitted themselves to be insulted," said William McGILLIVRAY (1764-1825), and insult to the proud "Lords of the Lakes and Forests" was more galling than financial loss. From that day there was civil war in the North-West. ** MORE ABOUT WILLIAM McGILLIVRAY in DCBO
HBC – NWC Union
1821
In 1821 union of the North West Company (NWC) and the Hudson's Bay Company (HBC) occurred, ending years of bitter rivalry for dominance of the fur trade in Western Canada. After the merger, almost 1,300 employees lost their jobs since the single HBC organization that emerged had no need for most of the voyageurs and retired fur traders. George SIMPSON (1786-1860) became the Governor of Rupert's Land. ** MORE ABOUT GOVERNOR GEORGE SIMPSON
Around 1822 daughter Magdeleine married Charles HOULE, son of an Indian woman named Elise (b-1774) and an Unknown HOULE who was born 1869 in Lower Canada.
Around 1822 Pierre's alleged son Jean Baptiste married a second time to Cecile BRUYERE, daughter of Francoise SERPENTE and Jean Baptiste BRUYERE (1772-1841).
Around 1822-24 daughter Marie Ann married Richard GRANT (1794-1862), the son of Margaret LAFRAMBOISE and William GRANT (1743-1810). ** MORE ABOUT WILLIAM GRANT
In 1828 son Alexandre married Emelie WELLS in St Francois Xavier (MB), daughter of Josephte GRANT and John WELLS (1775-1815) from England, at one time a partner in the XY Company which was later became the North West Company.
On Oct 31, 1829 Pierre BRELAND died in St Boniface.
In 1836 youngest son Pascal married Maria GRANT, daughter of Marie DESMARAIS and Cuthber GRANT (1796-1854).
I have listed four children who many people believe were children of Louise HUMPHREYVILLE and Pierre BRELAND.
Perhaps, with a little help from my friends, we can determine as accurately as possible just who Louise's children were prior to her union with ROWAND.
Comments and queries at this link: FORUM DISCUSSING PIERRE BRELAND and his CHILDREN
=========================== Family Details ===========================
Alleged Child by an Unknown Wife:
?1. c1780-90 JEAN BAPTISTE ONESIME BRELAND (m1. Suzanne NIPPISSING, m2. Cecile BRUYERE)
Children  by Louise HUMPHREYVILLE
1. c1800 MADELAINE DUBOISHUE dit BRELAND (m. Charles HOULE)

2. c1805 MARIE ANNE BRELAND (m. Richard GRANT)
Children by Louise-Josephte BELLY:
1. c1804 ALEXANDRE DUBOISHUE BERLAND (m. Amelie/Emelie WELLS)
2. 1806 EDOUARD BERLAND
3. 1808: MARIE-ELIZE BERLAND
4. Jun 15, 1811 PASCAL BRELAND (m. Maria GRANT)