EDWARD UMFREVILLE aka HUMPHREYVILLE (c1755-)
INDIAN WOMAN
(Last Updated: December 30, 2013)
Edward UMFREVILLE aka HUMPHREVILLE was born around 1755, probably in England.
** MORE ABOUT EDWARD UMFREVILLE in DCBO
** MORE ABOUT EDWARD UMFREVILLE in 'NIPIGON to WINNIPEG' by R. DOUGLAS

Edward engaged by the Hudson's Bay Company
1771
DCBO: Nothing is known of Edward UMFREVILLE's life prior to 1771, when he was engaged by the Hudson's Bay Company (HBC) to serve as a writer. He shipped to York Factory (Man.) but was soon transferred to Severn House (Fort Severn, Ontario).
Severn's master for the 1772–73 season, Andrew GRAHAM (1733-1815),
** MORE ABOUT ANDREW GRAHAM in DCBO
GRAHAM was impressed by UMFREVILLE, writing that he was "A very pretty Accountant and does very well at Severn." The two men worked together in drawing up a remarkably detailed loading-table of requirements for the inland posts the company proposed to establish, a project to which GRAHAM had only recently been converted. He and UMFREVILLE shared the conviction that success depended on the use of Canadian servants and the large birch-bark canoes developed by the Canadian pedlars.
While at Severn in 1774 UMFREVILLE met Samuel Hearne (1745-1792), who had come to confer with him and GRAHAM about the requirements of the proposed post at Pine Island Lake (Cumberland Lake, Sask.).
** MORE ABOUT SAMUEL HEARNE in DCBO

The next year UMFREVILLE was transferred to York. His time there was not happy, for he was under the command of Humphrey Marten (1729-1792), who was by 1775 a sick and irritable man.
** MORE ABOUT HUMPHREY MARTEN in DCBO

Edward and his Indian Wife
1778
Perhaps around 1778 Edward married a Native woman of unknown origins, 'according to the custom of the country'.
MARTEN, for his part, described UMFREVILLE in 1778 as diligent and sober, but of a violent temper, and early the next year he banished him from the officers' table for insolence. UMFREVILLE was given command of the post, however, when MARTEN's health gave way.
It was around 1779 that Edward's first child, son Thomas was born.
Captured by LAPEROUSE
1782
Edward served as second to MARTEN until 1782 when the post was captured by the Comte de LAPEROUSE [GALAUP] (1741-1788), and its officers and men taken prisoner to France.
** MORE ABOUT COMTE de LAPEROUSE GALAUP in DCBO

Edward joins the North West Company in Quebec
1783-1787
DCBO: After the treaty of Paris in 1783 UMFREVILLE made his way to London. His salary had not been credited to him while he was a prisoner, and it was almost inevitable that when he had drawn the small balance due to him "some disagreement. . . in point of salary" should have arisen between him and the company. He quit the HBC and probably wrote the letters to the Morning Chronicle and London Advertiser that appeared in April 1783, describing the capture of York in terms highly critical of both the company and MARTEN. That month UMFREVILLE sailed for Quebec, arriving there in June. He was then hired by the North West Company (NWC).
By May 1784 Edward was engaged in an attempt to find an alternate way from Lake Superior to Lake Winnipeg, part of the traditional route via the Grand Portage (near Grand Portage, Minn.).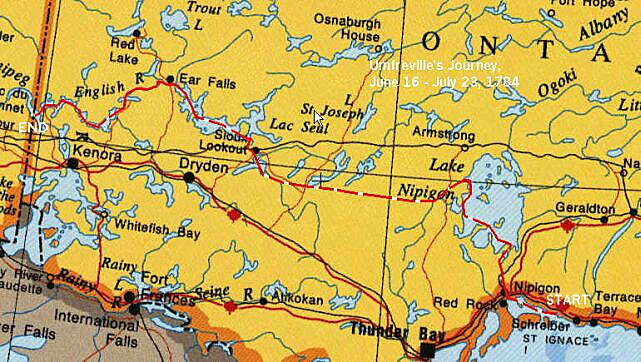 Nipigon to Winnipeg – A Canoe Voyage through Western Ontario
By Edward Umphreville in 1784 (From R. Douglas)
From 1784 until 1787 UMFREVILLE served the NWC on the North Saskatchewan, commanding at its most westerly post (near Frenchman Butte, Saskatchewan).
Edward departs the Northwest for England
1788
In 1788 Edward left the service of the NWC. From his wintering ground in Saskatchewan he travelled back east via Grand Portage to Montreal, then south to New York where he sailed for England.
This seems to indicate by my calculation that in 1788 Edward left behind an Indian wife, an only son Thomas (about 9 years old) and three daughters; Louise (age 5), Sarah (age 2) and Susanne Marie (perhaps a baby who had to have been born no later than 1789 unless she wasn't his child). It seems like a possibility that Edward's family may have accompanied him as far as Rainy Lake, Grand Portage or Montreal. Either that, or they were left behind along the Saskatchewan River near Frenchman's Butte.
Douglas: The preface to "The Present State of Hudson Bay" is dated 17 June, 1789 and the book was published in 1790. A journal for 1804 dealing with Rainy Lake district mentions a clerk called "Young Umpherville", no doubt a son.
Around 1800 daughter Louise is believed to have become the 'country wife' of Pierre BRELAND (1764-1829), a free trader from Quebec by whom five children were born. ** MORE ABOUT PIERRE BRELAND
Around 1805 only son Thomas had a child (Catherine) in Oregon Territory with an Indian woman simply named Ann.
Around 1806 daughter Sarah may have married John CALDER (1785-1850) at York Factory, an HBC surgeon from the Orkneys. ** Further research will be needed to verify this union. Check back later. Help would be much appreciated.
Around 1810 eldest daughter Louise became the wife of John ROWAND (1787-1854) from Montreal, then an employee of the North West Company. ** MORE ABOUT JOHN ROWAND
Around 1816 son Thomas re-married to Hannah "Annie" TURNER, daughter of Emma and Joseph TURNER (1783-1865). ** MORE ABOUT JOSEPH TURNER
Around 1820 daughter Susanne Marie became the wife of Nicholas MONTOUR (1790-1846), an HBC clerk from Trois Rivieres, Quebec.
Comments and queries at this link: FORUM DISCUSSING the EDWARD HUMPHREYVILLE FAMILY
=========================== Family Details ===========================
Children:
1. c1779 THOMAS HUMPHREYVILLE (m1. Ann INDIAN, m2. Hannah TURNER)
** MORE ABOUT THOMAS HUMPHREYVILLE
2. 1783 LOUISE HUMPHREYVILLE (m1. Pierre BRELAND, m2. John ROWAND)
3. 1786 SARAH HUMPHREYVILLE (m. John CALDER)
4. 1788 SUSANNE MARIE HUMPHREYVILLE (m. Nicholas MONTOUR)