WILLIAM GRANT (1743-1810)
MARGUERITE FARFARD dit LAFRAMBOISE (1769-1845)
(Last Updated: January 02, 2014)
William GRANT was born Apr 24, 1743 in Kirkmichael, Scotland, the son of Genevieve FORBES and John GRANT.
** MORE ABOUT WILLIAM GRANT in WIKIPEDIA
** MORE ABOUT WILLIAM GRANT in DCBO
** MORE ABOUT WILLIAM GRANT in the CLAN GRANT CANADA WEBSITE

WOLFE DEFEATS MONTCALM on the PLAINS OF ABRAHAM
VAUDREUIL is defeated in the BATTLE of ST FOY
THE BRITISH FUR TRADE ERA BEGINS
1759-61
Quebec fell to the British in Sept, 1759 in the Battle on the Plains of Abraham. Both WOLFE and MONTCALM died in the battle. The following summer, in the Battle of Ste FOY, VAUDREUIL surrendered Montreal to MURRAY HAVILAND and AMHERST, and the whole of Canada to the British on Sep 8, 1760.
The French were finished in North America. At the time of the British conquest, General GAGE gave the first permit to trade in the Great Lakes region to Henry BOSTICK, and reluctantly granted the second to Alexander HENRY the Elder, (1739-1824) who set out for Mackinac in 1761. British soldiers occupied most of the forts in the Great Lakes later that year.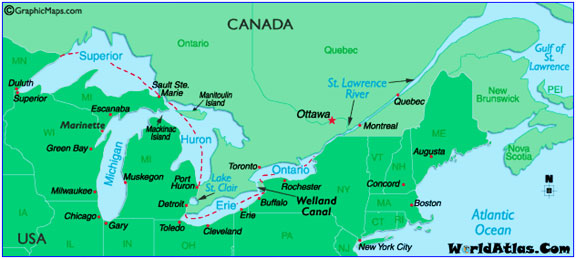 Montreal
1767
By 1767 William was a resident of Montreal and was already involved in the fur trade as a merchant in the regions near Michilimackinac (Mackinac on map below), Lake Superior and Lake Nipigon.
In 1785 Etienne-Charles CAMPION (1737-1795) joined with a number of merchants at Michilimackinac in a partnership known as the General Company of Lake Superior and the South, or as the General Society, which concentrated on the trade south to the Illinois country and west to the headwaters of the Missouri. In that year also, CAMPION became one of the 19 founding members of the Beaver Club in Montreal. ** MORE ABOUT ETIENNE-CHARLES CAMPION in DCBO

Marriage to Marguerite FARFARD dit LAFRAMBOISE
Grant, Campion and Company
1787-1791
On Feb 27, 1787 William married Marguerite FARFARD dit LAFRAMBOISE in Trois Rivieres, the daughter of Marguerite CHASTELAIN and Jean Baptiste FAFARD dit LAFRAMBOISE.
The General Society apparently dissolved in 1787, and in 1791 Etienne-Charles CAMPION, along with William GRANT of Montreal and some others, formed Grant, Campion and Company, which moved into the trade west of Lake Superior as far as the Saskatchewan country. It became an important rival of the North West Company.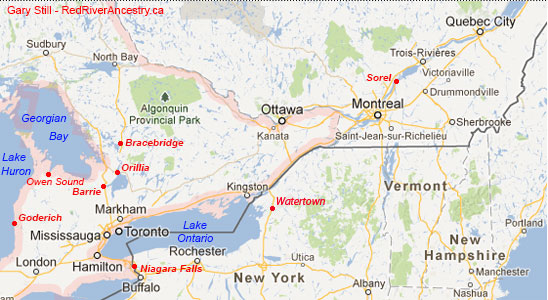 In 1792 the GRANT-CAMPION group was party to an arrangement by which Joseph FROBISHER (1740-1810) of the North West Company secured agreement among a number of the opposing concerns to diminish the competition at the western posts. ** MORE ABOUT JOSEPH FROBISHER in DCBO

Grant, Campion and Company continued to outfit wintering traders and to sell wholesale to small merchants at Michilimackinac; it also became associated with James GRANT in the Timiskaming trade.
** MORE ABOUT JAMES GRANT in DCBO


Mitchell:James GRANT was one of the numerous GRANTs in the Canadian fur trade after 1763; their relationships are obscure and there were even several James GRANTs. He may have been related to William GRANT of Montreal, who came from the same parish, although their letters do not suggest any family connection.

In 1792 William was Justice of Peace for the District of Trois-Rivieres.

In 1795 William retired from the fur trade.

On Nov 20, 1810 William GRANT died in Sorel, Quebec, southwest of Trois-Rivieres.

The North West Company – Hudson's Bay Company Merger
1821

In 1821 the North West Company (NWC) and the Hudson's Bay Company (HBC) occurred, ending years of bitter rivalry for dominance of the fur trade in Western Canada.

Around 1822-23 son Richard married Marie Anne BRELAND, daughter of Louise HUMPHREYVILLE and Pierre BRELAND (1764-1829). ** MORE ABOUT PIERRE BRELAND

In 1834 daughter-in-law Marie Anne (nee BRELAND; wife of her son Richard GRANT) died at Lesser Slave Lake. Around 1836-37, son Richard took his children to Trois-Rivieres to be raised by his mother (their grandmother), Widow Marguerite, now in her late 60's. These would have been Stanislas Richard (about 12 years old) and his younger siblings, Charles, Jeanne and Johnny.

On Sep 8, 1845 Marguerite LAFRAMBOISE – GRANT died in Champlain, Quebec (near Trois Rivieres). She would have been about 76 years old.

Comments and queries at this link: FORUM DISCUSSING this WILLIAM GRANT FAMILY

====================== Family Details ======================

Children: ** Based on a chart from the Clan Grant Canada Website
1. Dec 19, 1787 WILLIAM GRANT
2. c1788 JEAN BAPTISTE GRANT
3. Jan 29, 1790 MARGUERITE GRANT (Died in infancy)
3. Apr 11, 1791 JEAN FRANCOIS GRANT
5. Jan 20, 1794 RICHARD GRANT (m1. Marie Anne BRELAND, m2. Sarah (Indian), m3. Helene McDONALD)

6. Mar 10, 1799 JEANNE GRANT (m1. Charles LAFRAINAIE)
7. Mar 13, 1800 MARIE MARGUERITE GRANT (m. Charles Pallison FONTAINER)