RICHARD GRANT (1794-1862)
MARIE ANNE BRELAND (c1805-1834)
SARAH 'CHIPPEWA WOMAN' of OXFORD HOUSE
HELENE (nee McDONALD) KITTSON (1811-)
(Last Updated: January 07, 2014)
Richard GRANT was born Jan 20, 1794 in Montreal, son of Marguerite LAFRAMBOISE and William GRANT (1743-1810). ** MORE ABOUT WILLIAM GRANT
** MORE ABOUT RICHARD GRANT by ANITA GRANT STEELE(Denoted as Anita)
** Anita has done most of the difficult work of researching Richard and his family and deserves most of the credit for the family details that are presented here.
The War of 1812
The Battle of Chateauguay
Anita: Little is known of Richard's early life. He was sixteen years old when his father died and, based on later correspondence to Sir George SIMPSON, when he was eighteen or nineteen years old he was a member of the 2nd Battalion of Select Embodied Militia during the War of 1812. It is unknown what rank he held. The Select Embodied Militia was formed partly from volunteers and partly from conscripted men chosen by lot who served only one year. The light companies of the 2nd & 3rd battalions fought at the battle of Chateauguay on October 25, 1813: approximately 1,630 French Canadians and Mohawks repulsed approximately 4,000 Americans attempting to invade Canada.
** MORE ABOUT THE BATTLE OF CHATEAUGUAY from PARKS CANADA

In the Service of the North West Company
Rocky Mountain House
1816-1821
In 1816 Richard GRANT entered the service of the North West Company as a clerk assigned to the post at Rocky Mountain House. ** MORE ABOUT RICHARD GRANT in HBC ARCHIVES

The North West Company – Hudson's Bay Company Merger
1821
In 1821 the North West Company (NWC) and the Hudson's Bay Company (HBC) occurred, ending years of bitter rivalry for dominance of the fur trade in Western Canada. George SIMPSON (1786-1860) became the Governor of Rupert's Land.
** MORE ABOUT GOVERNOR GEORGE SIMPSON
Edmonton House
Marriage to Marie Anne BRELAND
1822-1823
Upon the union of the two companies Richard was retained as a clerk by the Hudson's Bay Company, spending the years of 1822-23 at Edmonton House working under Chief Trader John ROWAND (1784-1854) whose wife was Louise (nee HUMPHREYVILLE). ** MORE ABOUT JOHN ROWAND
It was at Edmonton House that Richard was married "according to the custom of the country" to ROWAND's step-daughter, Marie Anne BRELAND, the eldest daughter of Mrs. ROWAND from her  previous marriage to Pierre BRELAND (1764-1829). ** MORE ABOUT PIERRE BRELAND
Anita: Marie Anne's first child was Stanislas Richard, born around 1822 (presumably at Fort Edmonton).
York Factory – Oxford House
1823-1828
In 1823 Richard was sent to York Factory on Hudson Bay.
It has been said that son Stanislas Richard was baptized on Aug 21, 1825 at Rocky Mountain House. ** This is puzzling in that the HBC Archives place Richard in the York Factory district during this period. It suggests that Richard must have made an inland trip during that period although it is not indicated in the HBCA.
In 1826 son Charles William was born.

In 1827 Richard was made the Clerk in Charge at Oxford House in the Island Lake District.
Fort Assiniboine – Edmonton House
1828-1834
In 1828 Richard was back along the Saskatchewan River as a clerk in charge at Fort Assinboine and Edmonton House.
Around 1829 daughter Jeanne was born and in 1833 their last child together, John Francis was born.
Lesser Slave Lake
Marie Anne Dies
1835-1837
In 1835 Richard was posted to Lesser Slave Lake. It was around that time that wife Marie Anne died. After she died, around 1836-37, Richard was granted a furlough leave during which he took his children to Trois-Rivieres to be raised by his mother (their grandmother), Marguerite (nee LAFRAMBOISE-GRANT). These would have been Stanislas Richard (about 12 years old) and his younger siblings, Charles, Jeanne and Johnny.
Island Lake – York Factory – Oxford House
A Second Wife (Indian)
1837-1840
In 1837 Richard had become a Chief Trader in the York Factory District and was posted to Island Lake, in 1838 he was at York and 1839-40 at Oxford House. During this period, Richard was "country wed" to an Indian woman of uncertain origins by whom he had one child named James Cuthbert "Jimmy" GRANT.
Under pressure from the Company, Richard gave up his country wife, who was then "married off" to another HBC employee, John SLATER.
Columbia District - Fort Hall
1841
Anita: In 1841-42 Richard was promoted to Chief Trader of Fort Hall in the Columbia District, necessitating his move to what is now Idaho. He had left behind his second spouse and the very young James.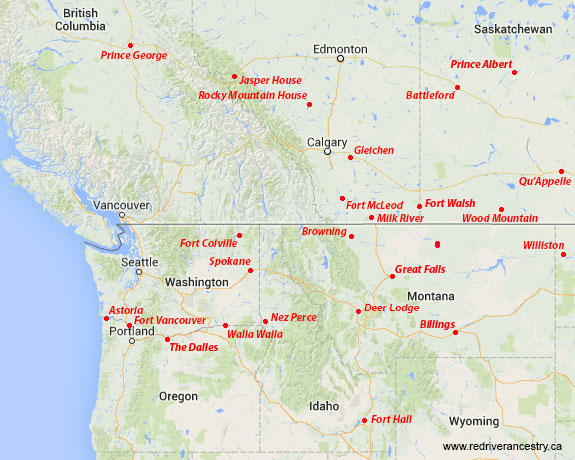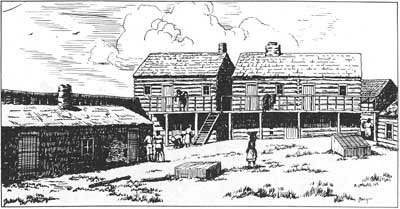 Fort Hall (Wikipedia)
Marriage to Widow Helene (nee McDONALD) KITTSON
1845
On March 29, 1845 Richard married Widow Helene (nee McDONALD) KITTSON in Vancouver, the daughter of Margaret PONDERAY and "Big" Finnan McDONALD (1772-1851). Helene was previously married to William KITTSON (1792-1841) who died at Fort Vancouver in 1841. ** MORE ABOUT WILLIAM KITTSON in DCBO
Richard's mother and son die in Trois-Rivieres
The Oregon Treaty
Family Reunited at Fort Hall
1845-1847
In 1845 both Richard's mother (Marguerite LAFRAMBOISE-GRANT) and his son Charles William (age 19) died at Trois-Rivieres.
In 1846 eldest daughter Jeanne married Jacques RIVARD-LORANGER at Yamachiche, Quebec (SW of Trois-Rivieres).
On June 15, 1846 the Oregon Treaty between the United Kingdom and the United States that was signed in Washington, D.C. The treaty brought an end to the Oregon boundary dispute by settling competing American and British claims to the Oregon Country, which had been jointly occupied by both Britain and the U.S. since the Treaty of 1818. The treaty set the US and British North American border at the 49th parallel with the exception of Vancouver Island which was retained by the Briish. ** MORE ABOUT THE OREGON TREATY in WIKIPEDIA

In 1847 eldest son Richard Stanislas married Emilie LAVREAULT de LANGIE at Trois-Rivieres, daughter of Madeleine FRIGON and Jean LEVEREAU dit LANGIE. After their marriage Richard and Emilie moved to Fort Hall.
By 1847 all of Richard's children from eastern Canada had joined him at Fort Hall.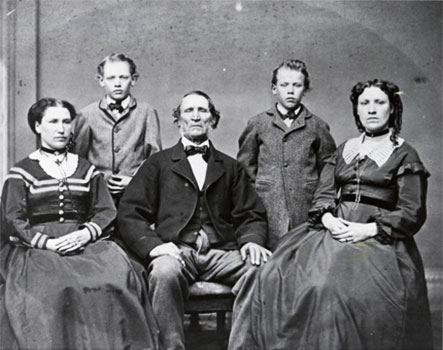 The woman on the right is believed to be his third spouse, Helene Kittson nee McDonald,
daughter of Big Finnan McDonald and Margaret aka Peggy Ponderay, daughter of a Pend d'Orielle chief.
Other subjects in the photograph are believed to be family members but as yet are unidentified.
[Possibly Jemima Kittson Sinclair & sons? The boys resemble other Sinclair photos.]
(University of Montana – Captions by Anita Grant Steelet)
Around 1850 son Johnny married a Shoshone Indian named Louise. He moved to Red River, and would later have several more wives and many children with descendants in Red River country.
In 1851 Richard look a leave of absence at Fort Hall, and in 1853 he retired because of rheumatoid arthritis.
On June 21, 1862 Richard GRANT died at the age of 68. He was buried in Walla Walla, WA.
Around 1864 son James married Marie CADOTTE in Montana, the daughter of Pierre CADOTTE of uncertain origins.
Comments and queries at this link: ** FORUM DISCUSSING the RICHARD GRANT FAMILY
====================== Family Details ======================
Children by Maria Anne BRELAND:
1. 1822 STANISLAS RICHARD GRANT (m. Emelie LAVREAULT de L'ANGIE)
2. Aug 27, 1826 CHARLES WILLIAM GRANT (Died age 19)
3. c1829 JEANNE GRANT (m. Jacques RIVARD-LORANGER)
4. Jan 7, 1833 JOHN FRANCIS "JOHNNY" GRANT (Numerous wives and Children)
Child by Sarah (Indian):
1. c1837 JAMES CUTHBERT GRANT (m. Marie CADOTTE)
Children by Helene MacDONALD-KITTSON:
1. Jan 28, 1846 HELENE WILHELMINE GRANT (Died age 16 or 20)
2. Dec 20, 1848 JULIA PRISCILLA GRANT
3. Sep 11, 1850 ADELINA GRANT