ALEXANDER GEORGE JOHNSTONE (1873-1944)
ELIZA McDONALD (1876-1959)
(Last Updated: July 29, 2013)
Alexander George JOHNSTONE was born on Aug 30, 1873 in Oak Hammock, son of Elizabeth McDONALD and Charles JOHNSTONE (1843-1913). ** MORE ABOUT CHARLES JOHNSTONE
Alex grew up on his father's homestead at Oak Hammock.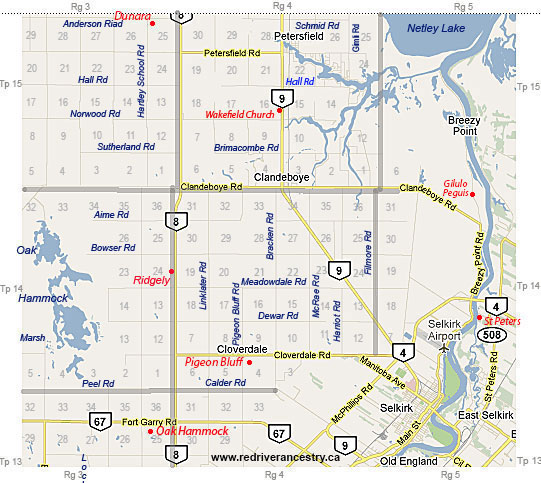 Marriage to Eliza McDONALD
1901
On Dec 18, 1901 Alex JOHNSTONE married Eliza McDONALD, daughter of Mary Ann COOK and Philip McDONALD (1833-1914). Their first child was Iva Pearl, born Nov 26, 1904. ** MORE ABOUT PHILIP McDONALD
The 1911 Census at Oak Hammock: Alexander JOHNSTONE (age 37), wife Eliza (age 34) and children: Iva (age 6), Frederick (5), John Finlay (3), George (age 1) and baby Fern (who died in infancy). They also have an adopted child, Christina BRASS (age 11). This is probably a child of sister-in-law, Mary, who married Alex's brother Cuthbert.
World War I
1914-1919
On Aug 4, 1914 Great Britain (Canada on Aug 5) declared war on Germany and Austria-Hungary to uphold treaties with France and Belgium which were under German attack. This marked the beginning of World War I.
The 1916 Census recorded Alex (age 43), Eliza (age 39) and children as Iva (age 11), Frederick Charles (10), Finlay (8), George (6), Mary (4) and Alex (age 2). In 1917 their last child, Norman was born.
November 11,1919, Armistice Day (Remembrance Day) marked the end of the First World War.
In 1921 daughter Iva died. She was only 17 years old.
The Great Depression, the Dirty Thirties
1929-1939
Throughout the years of 1929 to 1939, there was a worldwide Depression and Canada was one of the worst affected countries. Financially and economically the country began to collapse regardless of what was done by political power.
Son Charles married Katherine RENNIE of unknown origins.
Daughter Mary "Mamie" married Walter THORVALDSON of unknown origins.
Son Alexander Christie "Chris" married Eileen WILSON, daughter of Mary HAMILL and Moore WILSON (1879-1962).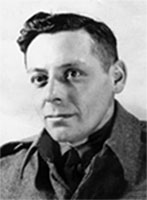 Alexander Christie Johnstone (1879-2005)
(From his obituary)
Around 1935 son Finlay married Mary Gladys SCRAMSTAD, daughter of Ida HAERSTAD and Otto SCRAMSTAD who was born 1872 in Norway and immigrated in 1889 to Minnesota, USA (later to Manitoba).
** If anyone has more information regarding the above marriages, please let us know on the Forum (link provided below).
World War II
1939-1945
On Sept 4, 1939 Canada and Britain declared war on Germany, and almost immediately new recruits began pouring into Winnipeg to sign up with the Winnipeg Grenadiers and the Royal Rifles of Canada.
In 1944 Alexander JOHNSTONE died. He would have been about 71 years old.
On May 7, 1945 Germany surrendered and the War in Europe ended.
In 1959 Eliza JOHNSTONE died. She would have been about 83 years old.
Please post comments and queries at this link: FORUM DISCUSSING the ALEXANDER JOHNSTONE FAMILY
=========================== Family Details ===========================
Adopted Child:
1. 1895 CHRISTINA BRASS
Children:
1. Nov 26, 1904 IVA PEARL JOHNSTONE (Died age 17)
2. Apr 10, 1906 FREDERICK CHARLES JOHNSTONE (m. Katherine "Kate" RENNIE)
3. Jan 20, 1908 JOHN FINLAY JOHNSTONE (m. Mary Gladys "Scrammy" SCRAMSTAD)
4. Jan 27, 1910 GEORGE "JORDY" JOHNSTONE
5. May 8, 1911 FERN JOHNSTONE (Died in infancy, age 1)
6. 1912 MARY "MAMIE" ALEXANDRA JOHNSTONE (m. Walter THORVALDSON)
7. Oct 28, 1913 ALEXANDER CHRISTIE "CHRIS" JOHNSTONE (m. Eileen WILSON)
8. Feb 22, 1917 NORMAN "STONY" JOHNSTONE