HAROLD HENRY HALL (1895-1980)
FRANCES ELEANOR "NELLIE" LEASK (1887-1955)
(Last Updated: September 14, 2012)
Harold Henry (Harry) HALL was born in March of 1895 in London, England, son of Caroline Eliza RODWAY & Frederick Thomas HALL (b-c1862). On Apr 14, 1895 he was baptized at St John the Evangelist in Westminster.
In the England Census of 1901 Harold Harry (age 6) was recorded with his parents on Great Queens Street in St Giles County, London, England.
In 1911 Harold (age 16) sailed from Liverpool, England with his 18 year old brother William Stanley HALL aboard the Grampian, arriving at Halifax on March 22. The ship's manifest listed Harold as a Dairyman, his brother William as a Grocer. Their destination was stated as Clandeboye, Manitoba. The intended occupation for both of them was 'Farmer'.
The notation 'Henry' in the following refers to quotations from a story in the book Beyond the Gates of Lower Fort Garry written Harold's grandson Henry HALL.
Henry: The trip across the ocean was six weeks, a long voyage for a 16 year-old boy. Harold's dream was to become a farmer and this is what he set out to do. He landed at Halifax, hopped a train and headed west to Winnipeg. He started working for Silverwood Dairies.

In 1911 Harold immigrated to Canada at the age of 16. He became a hired-hand on the farm of Joseph McDONALD (1859-1932) located a few miles to the west of the Wakefield Church (see map below) in the Clandeboye-Petersfield area of Manitoba.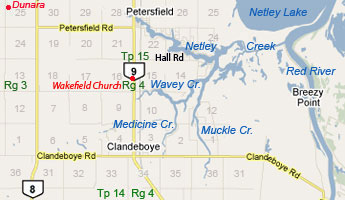 Henry: He then worked for John (Uncle Jack) LEASK. This is where he met his wife-to-be Nelly LEASK, niece of Uncle Jack. Uncle Jack was raising Nelly because Nelly had lost her parents when she was young.
My (Gary's) research reveals that Nelly was actually Eleanor Frances (Nelly) LEASK, the adopted daughter of Isabel Hadley HAYWARD (then deceased) & John Richard (Uncle Jack) LEASK (1851-1928) who had a farm a few miles to the east (north of Wavey Creek). ** MORE ABOUT JOHN RICHARD (JACK) LEASK
World War I
1914
On Aug 4, 1914 Great Britain (Canada on Aug 5) declared war on Germany and Austria-Hungary to uphold treaties with France and Belgium which were under German attack. This marked the beginning of World War I.
Marriage to Frances Eleanor LEASK
1916
In the 1916 census, Harold was enumerated as a 21 year old "Packer in a Department Store", living in a Rooming House at 562 Balmoral Street in Winnipeg. On July 29, that year he married Eleanor LEASK (from Vital Stats).
Henry: After Harold and Nelly were married, they moved to southern Manitoba to take up farming. They returned three years later (about 1919) after devastating windstorms blew away their planted fields. They traveled back by train with Harold riding in the cattle car with his cows and Nelly enjoyed the view.
While on the farm, Harold and Nelly had acquired a dog named Rover. There was no room on the train for Rover and he had to be left behind with a neighbour. Rover, not liking the time he spent in southern Manitoba, decided he was not staying as well. Three months after Harold and Nelly arrived back, their beloved Rover showed up on the doorstep. He was a little rough around the edges, but overall in pretty good shape.
As Nelly had been left some land, she and Harold began farming again. This land was north and south of the railroad tracks on Hall Road and Highway #9.
It was on n May 2, 1917 that Nelly's widowed father (Uncle Jack LEASK) re-married to Widow Harriet (nee McKENZIE) SPENCE.
November 11, 1919, Armistice Day (Remembrance Day), marked the end of the First World War.
On April 24, 1921, son John Harold Frederick was born at home.
On Aug 2, 1928 Nelly's adoptive father (John (Uncle Jack) LEASK) died in Selkirk at the age of 76.
The Great Depression, the Dirty Thirties
1929-1939
Throughout the years of 1929 to 1939, there was a world wide Depression and Canada was one of the worst affected countries. Financially and economically the country began to collapse regardless of what was done by political power.
On Aug 9, 1929, son Francis HALL was born in Selkirk.
Henry: In 1929 Harold bought three pieces of property all side-by-side. These three pieces are ½ mile east of their present home on Hall Road. Later that year Harold and his family moved into the house on the SE corner of Hall Road – presently called Boyd Road.
It was during these cold winters that Harold worked building the Hudson Bay Line going north. Harold was now farming three quarter-sections of land and working winters. Nelly worked as a telephone operator. Wages were small in the 1920's, so to make ends meet they moved out to their house and rented it to Willie and Carrie KIRKNESS. After the KIRKNESS family moved out, the old farmhouse was used as a granary.
World War II
1939-1945
On Sept 4, 1939 Canada and Britain declared war on Germany, and almost immediately new recruits began pouring into Winnipeg to sign up with the Winnipeg Grenadiers and the Royal Rifles of Canada.
In 1942 son John Harold HALL (1921-2004) enlisted in the army, serving in Canada and overseas with the 18th Armored Car Regiment (12th Manitoba Dragoons) until the war ended in 1945. After the war, John married Olive HILL.
In 1955 Eleanor died. That same year (?) son Francis married Violet BERCIER, daughter of Ursula PATENAUDE & Moise (Moses) BERCIER (born around 1882). ** MORE ABOUT MOISE BERCIER
On March 16, 1980 Harold Henry HALL died at the Tudor Home (for seniors) in Selkirk. On March 20 he was buried in the St George's Anglican Church Cemetery at Wakefield.
Please post comments & queries at this link: FORUM DISCUSSING HENRY HALL and his FAMILY
=========================== Family Details ===========================
Children:
1. Apr 24, 1921 JOHN HAROLD FREDERICK HALL (m. Olive HILL)
2. Aug 9, 1929 FRANCIS HALL (m. Violet Francoise BERCIER)