MOISE (MOSES) BERCIER (c1882-)
URSULA PATENAUDE (c1885-)
(Last Updated: September 14, 2012)
Moise (Moses) BERCIER, a Métis, was born May 20, 1882 in St Francois Xavier (Red River), son of Emily PAUL & Napoleon BERCIER (1859-1918). He was a great-great grandson of Josephte (a Saulteaux/ Ojibway Indian) and Alexis BERCIER (1772-1840), a French Canadian from Upper Canada; a voyageur with the North West Company (NWC) who came to Red River in the early 1800's and was among the first settlers of St Francois Xavier (SFX), also referred to as the White Horse Plains. ** MORE ABOUT NAPOLEON BERCIER
The BERCIER family moved to Dakota Territory when Moise was just a youngster. The family was recorded there in the American Indian Censuses of 1887, 1890, 1892. He grew up in the era when there were still remnant herds of buffalo running wild and free on the plains of the Dakotas.
Marriage to Ursula PATENAUDE
1902
Around 1902 Moise married Ursula PATENAUDE. In June of 1903 daughter Mary Jean was born in the USA (Dakota Territory). In later handwritten census records Moise's wife's name appears to read as Lucile and Orpheil. However in the obituary of daughter Violet, her mother is indicated as Ursula. Except that she was born in Manitoba around 1883, so far I have no information regarding who her parents were. However I do have information about the PATENAUDE families who lived in St Francois Xavier around the time she was born.
The BERCIER family moves to the Shell River District of Manitoba
1908
Around 1908, (according to information in the census records) the entire family of Napoleon BERCIER immigrated back to Canada and settled in the Dauphin area of Manitoba.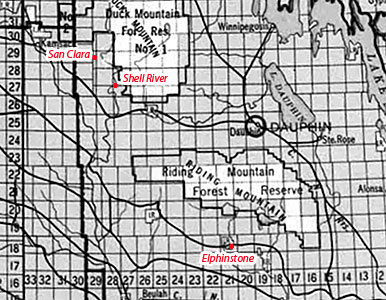 1929 Index to Townships
In 1911 Moise was recorded near Elphinstone; in 1916 near San Clara
Elphinstone, Manitoba
In the 1911 Census, Moses BERCIER was recorded as a farmer on 22-18-21-W1 which is just west of Elphinstone, Manitoba. He was recorded as age 29, born May, 1882 in Manitoba; wife Lucile, age 28, born in November of 1883 in Manitoba. Children as Mary Jean, age 8 (born June, 1903 in USA), Teddie, age 4 (born Dec, 1907 in MB) and David, age 2 (born Dec, 1909 in MB). Moise's brother (John BERCIER) was recorded in the same census on 22-19-22-W1 (just west of Moise). Their father (Napoleon) and the rest of the BERCIER siblings were recorded there as well (25-19-21-W1). Also recorded were members of the PAUL family
World War I
1914
On Aug 4, 1914 Great Britain (Canada on Aug 5) declared war on Germany and Austria-Hungary to uphold treaties with France and Belgium which were under German attack. This marked the beginning of World War I.
San Clara, Shell River
In the 1916 Census, Moses was recorded on 29-28-W1 (near San Clara) as age 30; his wife as Orpheil, age 28. Children were recorded as Mary (age 14), Teddie (10), David (8), Elizabeth (6), Jim (age 2) and Fredie(?), age 5 months (this has to be Herman). In this census Moise's parents and siblings were recorded in the same township.
In 1917-18 three of Moise's brothers enlisted for war service (Joseph, Israel and Henry) as well as his cousin Philip (son of his Uncle Hyacinthe).
On Dec 25, 1918 Moise's father (Napoleon) died in Shell River, MB.
November 11, 1919, Armistice Day (Remembrance Day) marked the end of the First World War.
On Mar 9, 1923, daughter Violet Francoise was born in San Clara, MB.
On July 1, 1939 Moise's mother, Emily BERCIER died in Shell River, age 79
World War II
1939-1945
On Sept 4, 1939 World War II began when Canada and Britain declared war on Germany, and almost immediately new recruits began pouring into Winnipeg to sign up with the Winnipeg Grenadiers and the Royal Rifles of Canada.
For Canada the War ended on May 7, 1945 when Germany surrendered and the war in Europe ended. On Aug 14, 1945 Japan surrendered and the Second World War was officially over.
In 1947 son Herman Moses married Myrtle Mabel HARRINGTON
In 1955 daughter Violet met and married Francis HALL, living in Winnipeg for six months before moving to Petersfield where she resided until her passing.

Herman Moses Bercier (from his obit)
Please post comments & queries at this link: FORUM DISCUSSING MOISE BERCIER and FAMILY
=========================== Family Details ===========================
Children:
1. Jun, 1903 MARY JANE (JEAN) BERCIER
2. Dec, 1907 TEDDIE BERCIER
3. Dec 3, 1908 DAVID SIMON ( XAVIER) BERCIER
4. Sep 16, 1911 ELIZABETH ERNES (LIZ) BERCIER
5. ALBERT BERCIER
6. JAMES (JIM) BERCIER
7. 1916 HERMAN MOSES BERCIER (m. Myrtle Mabel HARRINGTON)
8. EDNA BERCIER (m. ECKERT)
9. EMMA BERCIER (m. GRIFFITHS)
10. Mar 9, 1923 VIOLET FRANCOISE BERCIER (m. Francis HALL)
** MORE ABOUT FRANCIS' FATHER - HAROLD HENRY HALL