NAPOLEON BERCIER (1859-1918)
EMILY PAUL (1859-1939)
(Last Updated: January 18, 2014)
Napoleon BERCIER was born Jan 20, 1860 in St Francois Xavier, son of Marguerite THIBERT & Jean Baptiste BERCIER (b-1832). Napoleon was a great grandson of Josephte (a Saulteaux/ Ojibwe Indian) and Alexis BERCIER (1772-1840), a French Canadian from Upper Canada; a voyageur with the North West Company (NWC) who came to Red River in the early 1800's and was among the first settlers of St Francois Xavier (SFX). The area is also referred to as the White Horse Plains. ** See map below.
Canadian Confederation
Louis RIEL's Red River Rebellion
Creation of the Province of Manitoba
1867-1870
On July 1, 1867 the British colonies in North America were united under the British North American Act to become the Dominion of Canada. Sir John A MACDONALD (1815-1891) was appointed as Canada's first Prime Minister. William McDOUGALL (1822-1905) became the Minister of Public Works, and he began negotiations to acquire Rupert's Land from the HBC. He sent out surveyors to prepare the way for an expected influx of setters to Red River.
On Oct 11, 1869, Louis RIEL (1844-1885) placed his foot on the surveyors' chain to tell them their work was finished! This marked the beginning of another Red River Métis Rebellion.
On July 15,1870 Manitoba became the fifth province of Canada, the Canadian Government having acquired the territory previously governed by the HBC.
On Aug 24, 1870  Colonel Garnet Joseph WOLSELY (1833-1913) and his soldiers arrived; they forced their way into Upper Fort Garry. RIEL, having learned that the soldiers were planning to lynch him, fled, just a few hours before they arrived. After going to the bishop's residence to tell TACHE that he had been tricked by the politicians, RIEL fled to the United States. He took refuge at St Joseph's Mission, about 10 miles south of the border in Dakota Territory (now Minot, ND).
Red River Census of 1870
In December of 1870 a Census of Red River was completed. The results recorded 5, 757 French-speaking Métis; 4, 803 white settlers and 558 Indians in the census region. This information would be later used to determine who would be eligible for Land Grants and Scrip. In that census, Napoleon BERCIER (age 11) was recorded with his parents (Marguerite & Jean Baptiste BERCIER) on Lot 16 in SFX.
On Sep 16, 1875 Napoleon's father (Jean Baptiste BERCIER) claimed Scrip as a Half-breed Head of Family including his wife and children, a farmer residing in SFX. Scrip for $160 was issued to him on Aug 20, 1876. Napoleon was about 15-16 years old at that time.
Marriage to Emily PAUL
1881
Around 1881 Napoleon married Emily (Emilie) PAUL, daughter of Adelaide BRELAND & Pierre PAUL (1833-1918). In the census conducted that year, the newlyweds were recorded in SFX ; both Napoleon and his wife Emilie were recorded as age 21. His parents (Marguerite & Jean Baptiste) and siblings were recorded in the household next to them.
Napoleon's wife Emilie was born on Dec 15, 1859. Her mother, Adelaide BRELAND b-1837, was the daughter of Emilie WELLS & Alexandre BRELAND (b-c1803). Emilie was therefore a niece of the renowned Pascal BRELAND (1811-1896). ** MORE ABOUT PASCAL BRELAND
On May 20, 1882, son Moise (Moses) was born in SFX.
Dakota Territory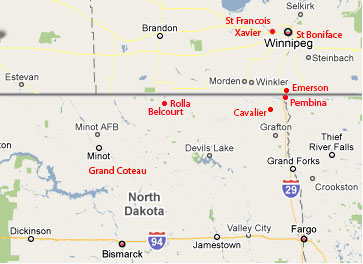 Belcourt represents the location of the Turtle Mountain Indian Reserve
Napoleon's BERCIER ancestors had been residents of St Francois Xavier (SFX) and the White Horse Plains since the settlement was created back in the early 1800's. For many years thereafter these early settlers depended on their traditional annual buffalo hunts for sustenance. They prospered by selling pemmican, buffalo meat and hides. As the buffalo population declined on the White Horse Plains, they had to extend their hunting territory far to the south, into Dakota Territory, considered the domain of the mighty Dakota Sioux Indians. The 1851 Métis Battle of the Grand Coteau against the Dakota Sioux was perhaps the proudest memory of the Métis nation. It symbolized their highest achievement as a people. Nothing more conclusively proved their mastery of the plains by which they lived (William Morton).The only participants in the actual main battle appear to have been a hunting party from St Francois Xavier.
By the 1880s, the number of buffalo on the Plains dropped off dramatically. In 1882, nearly 200,000 buffalo hides were shipped east from Dakota Territory. One year later, the number had dropped to 40,000. This was primarily due to the US Government's deliberate efforts to force hostile Indians of the region onto reserves to make way for settlers.
The last reservation to be created in northern Dakota was the Turtle Mountain Reservation in 1882 by order of President Chester A. Arthur. This brought to the twenty-two township (286,000 acres) reservation the Plains Chippewa and Métis of the north and the Pembina Band of Chippewa. The Turtle Mountain Reservation provided a home for all the Plains Chippewa and Métis who were in northern Dakota and as a result the Pembina Band reservation ceased to exist. Two years after the creation of the reservation, President Arthur drastically reduced its size from 286,880 to just 46,080 acres. This unexpected and unwarranted action caused severe problems. The reservation could not accommodate the people! The government dropped, with little rationality, many from the tribal rolls. Some took up public land at Devils Lake and Trenton, near Williston. Others took land in Montana.
In 1884, the hides from Dakota bison barely filled a single freight car.
We don't really know when the BERCIER families moved south of the border, but the US Indian Census of Dakota Territory dated June, 1887 included Napoleon BERCIER and his wife Emily (both age 27) and their children: Moses (age 5) and John Simon (age 16 months). His father (Jean Baptiste BERCIER) and his siblings were also recorded there in the same census. Several of Napoleon's children were born at Rolla, near Belcourt, ND.
On Nov 2, 1889 North and South Dakota were created, entering the U.S. as the 39th and 40th states.
Census of the Chippewa Indians of Devils Lake, North Dakota, taken by John H WAUGH in July of 1890: Numbers-170-175: Napoleon BERCIER and his wife Emily (both age 31. Children: Moses/ Moise (age 8), Jean/ John (4), Joseph (age 3) and Israel (age 4 months.)

US Indian Census: Census Date: July, 1892; Devils Lake Agency, Turtle Mountain Reservation (Chippewa Tribe): Chippewa (Mixed Blood) family of Napoleon BERCIER, age 31; wife Emilie, age 31. Children: Moses 9, Jean 5, Joseph 3, Isael 3
In 1892 the government agreed to pay the Turtle Mountain people one million dollars for the ten million acres that they claimed in northern North Dakota: ten cents an acre.
Napoleon moves north to the Shell River District of Manitoba
1908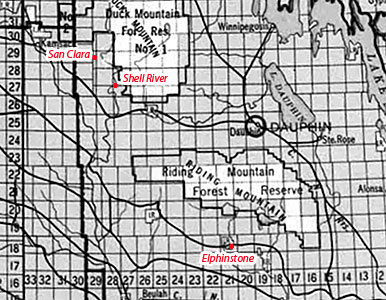 1929 Index to Manitoba Townships
Around 1908, (according to information in the census records) Napoleon and his family immigrated back to Canada and settled in the Shell River District on the western edge of the Duck Mountain Provincial Forest.
Elphinstone, Manitoba
Census 1911: Marquette (#19), SD-48, pg 2, HH-19 (25-19-22-W1): Napoleon BERCIER, age 51, wife Emily, age 51. Children: Joseph 23, Henry 19, Philomene 16, Georgina 14, Louisa 9, Amelia 5.
World War I
1914
On Aug 4, 1914 Great Britain (Canada on Aug 5) declared war on Germany and Austria-Hungary to uphold treaties with France and Belgium which were under German attack. This marked the beginning of World War I.
San Clara, Shell River
In the Census of 1916 Napoleon was recorded as a 60 year old farmer on 29-28-Wpm (San Clara), wife Amelia as age 60. Children with them are: Joseph (age 30), Henry (28), Philomene (26), Louise (14), Amelia (12) and Arthur (age 2). Notably absent are Israel (age 25) and Georgina (age 19) who were recorded in the same census with their grandparents, Margaret (age 80) & Jean Baptiste BERCIER (age 85), back at Elphinstone.
Western Land Grants: Undated; NE-32-29-28-W1; Name: Emilie BERCIER. Also undated; NW-20-29-28-W1; Name: Peter PAUL. Also undated; NE-19-29-28-W1; Name: John BERCIER
In 1917-18 three of Napoleon's sons enlisted for war service (Joseph, Israel and Henry) as well as his nephew Philip (son of his brother, Hyacinthe).
Napoleon BERCIER died Dec 25, 1918 at Shell River, age 58
November 11, 1919, Armistice Day (Remembrance Day) marked the end of the First World War.
Emily BERCIER died July 1, 1939 in RM of Shell River, age 79
Please post comments & queries at this link: FORUM DISCUSSING NAPOLEON BERCIER and FAMILY
=========================== Family Details ===========================
Children:
1. May 20, 1882 MOISE (MOSES) BERCIER (m. Ursula PATENAUDE)
** MORE ABOUT MOISE BERCIER
2. Dec, 1886 JEAN (JOHN SIMON) BERCIER
3. 1887 JOSEPH BERCIER
4. 1890 ISRAEL BERCIER
5. Jul, 1892 HENRY BERCIER
6. Oct, 1895 PHILOMENE BERCIER
7. Mar, 1897 GEORGINA BERCIER (m. Ambroise BRAZEAU)
8. Aug, 1902 LOUISA BERCIER
9. Jul, 1905 AMELIA BERCIER