JOHN "SONNY" DAVID CHASTELLAINE (1883-1951)
LYDIA COCHRANE (1891-1962)
(Last Updated: April 24, 2015)
John "Sonny" David CHASTELLAINE was born Feb 21, 1883 in Selkirk; baptised Mar 6, 1883 at the St Peters Church by Reverend Benjamin McKENZIE (1837-1928). He was the seventh child of Sarah SPENCE & Narcisse CHASTELLAINE (1844-1919), both half-breeds. ** MORE ABOUT NARCISSE CHASTELLAINE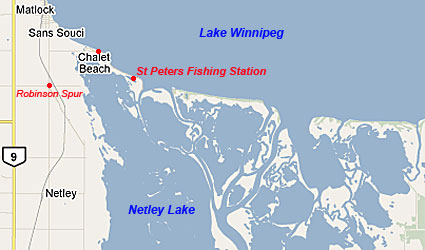 The Mouth of the Red River (Salamoniac Channel) is just below the St Peters Fishing Station
By the time John was born his father had a trading post (and a large herd of cattle) along the Salamoniac Channel near the mouth of the Red River (where it empties into Lake Winnipeg). This was before the railroad, many families had already settled there. In addition to halfbreed and Indian families, there were many Icelandic and Ukrainian setters, particularly from Matlock north.There were no motor cars, tractors or airplanes and very few horses. Most of the people used oxen and dog teams (oxen were the order of the day), with which they hauled their cordwood and fish, and did their farm work. The land route to Selkirk was the Old Gimli Road along the west side of Netley Lake.
In 1901 the historic little Mustard Seed Chapel was built on Section 35, Township 16, Range 4; East of the Prime Meridian (Chalet Beach on the above map).Because it was so tiny, perhaps it was only intended as a temporary building. Reverend Benjamin McKENZIE was its first rector. Tiny as it was, the little chapel began to serve as a school as well. Nine year old "Sonny" CHASTELLAINE and some of his siblings were undoubtedly among McKENZIE's first students.
More about BENAMIN McKENZIE
Advent of the Railroad
Robinson Spur
1902
In 1902 a CPR railway line from Winnipeg to Winnipeg Beach was completed. A train station and a dance pavilion were built at the 'Beach'. By 1903, the CPR ran a short line into a cord wood camp owned by Captain William ROBINSON (1850-1936), which became known as "Robinson's Spur". A lot of men of the district found work at his camp, cutting cord wood to earn much-needed cash. This camp was only about a mile from where the CHASTELLAINE family lived.
In the Census of 1906 John David (age 23) was recorded with his parents at their home along the Salamoniac Channel.
Marriage to Lydia COCHRANE
1907
On Apr 11, 1907 John married Lydia COCHRANE at the Old St Peters Church. Lydia was the eldest child of Mary Jane MURDOCH & Alexander COCHRANE (1865-1949), a member of the St Peters Indian Band.
** MORE ABOUT ALEXANDER COCHRANE
The Census of 1916 recorded Lydia & John David (fisherman & carpenter) on the Salamoniac. They had five children then: Victor (age 8), William (7), Lorna (5), Irene (4) and Dorothy, age 2. On Sep 9, 1916, soon after the census was taken, another daughter (Evelyn) was born.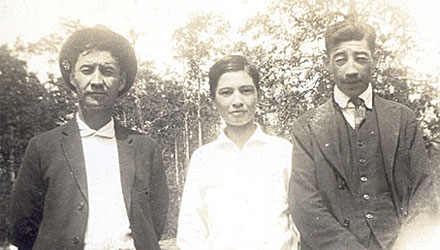 John David and sons William & Victor
In her reminiscences, daughter Lorna remembered being very ill as a child. She remembered the late Dr Daniel G ROSS (b-1867) coming down the river from Selkirk on a cold January night with a horse and cutter driven by J. BRUNO.  "He then wrapped me in thermofuge and told my parents I would live till morning.  I remember them sitting by the kitchen stove, heating some stones for foot warmers while they rested their horse and sat with my Dad having a good drink of brandy.  I am thankful to Dr ROSS for saving my life."
In 1920 John and Lydia moved to Matlock where a log house was built; it was torn down in 1946.  On this land a wooden framed house was built.  Their last child, Florence, was born that year.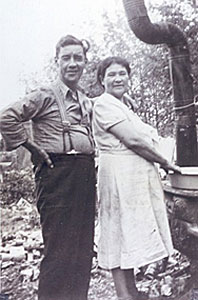 John David & Lydia
As a carpenter, John helped build many homes and cottages along the lake.  In the winter trapping, hunting and fishing were the chief source of income.  Trapping for muskrat in the spring was a big business.  The furs were sold to local dealers and the flesh was often eaten as no fresh meat was available.  Duck hunting in the fall was a must.  John was a guide for many hunters.  Lydia sewed and made moccasins from the pelts; she took in washing, did ironing, cleaned cottages, made quilts and was a dressmaker too. Besides raising her family, Lydia was a staunch supporter of the All Saints Anglican Church.  She was President of the Women's Auxiliary for many years. 
 John played the fiddle and many dances were held in the CHASTELLAINE home.
Son William died on May 15, 1926. He was only about 16 years old.  I saw his grave marker in the Robinson Spur. Cemetery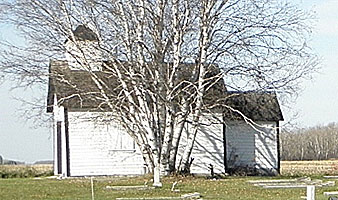 Mustard Seed Church in the Robinson Spur Cemetery south of Mattock
In 1935 daughter Evelyn married John Adam BOBBY (BABIJ), son of Pahlana IWASIECZKO and Michael (Mike) BABIJ (b-1863).
In 1936 eldest son Victor married Elsie PRINCE, daughter of Angus James PRINCE (b-1878) of uncertain origins; most likely a descendant of Chief PEGUIS.

Also in 1936 eldest daughter Lorna married William Henry "Bill" GROVE (1906-1997) from England.
In 1937 daughter Irene married Ernest Walter GIBSON (1906-1989).
In 1937 daughter Dorothy married Richard Alexander PRETTE, son of Mary Anne HODGSON & John (Jack) PRETTE (1873-1957). ** MORE ABOUT JACK PRETTE
In 1942 youngest daughter Florence married Thomas McFARLANE (1914-1996), son of Charlotte and Thomas McFARLANE SR.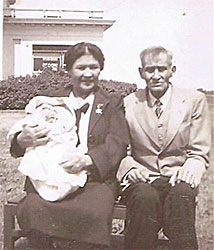 Lydia and her father (Alex Cochrane) shortly before he died in 1949
Lydia is holding her grandson, Allan Thomas Wainwright
On Aug 13,1951 John David CHASTELLAINE died in the Selkirk General Hospital at the age of 68. He was buried in the Robinson Spur Cemetery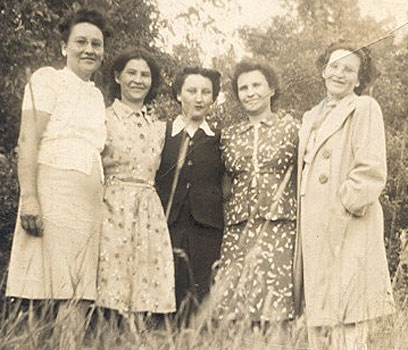 Chastellaine Girls about 1957 at Matlock
L-R: Evelyn, Dorothy, Flo, Irene and Lorna
(Posted by Robbie)
On Sep 7, 1962 Lydia (nee COCHRANE) CHASTELLAINE died in the Selkirk General Hospital at the age of 71. She was buried near her husband in the Robinson Spur Cemetery.
Please post comments & queries at this link: FORUM DISCUSSING FAMILY OF JOHN DAVID CHASTELLAINE
========================== Family Details ==========================
Children:
1. Jan 1, 1908 VICTOR ERNEST CHASTELLAINE (m. Elsie PRINCE)
2. Dec 24, 1908 WILLIAM CHASTELLAINE (Died in 1926)
3. Oct 13, 1910 LORNA HELEN ELLEN CHASTELLAINE (m. William Henry "Bill" GROVE)
4.  1912 IRENE HILDA CHASTELLAINE (m. Ernest Walter GIBSON)
5. Oct 3, 1914 DOROTHY CHASTELLAINE (m. Richard Alexander PRETTE)
6. Sep 9, 1916 EVELYN EDITH CHASTELLAINE (m. John Adam BOBBY)
7. Apr 22, 1920 FLORENCE ISOBEL CHASTELLAINE (m. Thomas McFARLANE)
========================== Notes & References ==========================