WILLIAM HENRY "BILL" GROVE (1906-1997)
LORNA HELEN ELLEN CHASTELLAINE (1910-1988)
(Last Updated: September 28, 2016)
William Henry "Bill" GROVE was born Nov 20, 1906 in Ratcliff, London, England, son of Emily Margaret FERNDELL & James GROVE.
Bill came to Canada when he was 17 (1923). He worked on the Canadian Pacific Railroad (CPR) for most of his life.
THE GREAT DEPRESSION, THE DIRTY THIRTIES
1929-1939
Throughout the years of 1929 to 1939, there was a world wide Depression and Canada was one of the worst affected countries. Financially and economically the country began to collapse regardless of what was done by political power.
Bill meets Lorna CHASTELLAINE
1934
Around 1934 Bill was in Winnipeg when he met Lorna CHASTELLAINE, who had come from the Matlock area to work in the city.  Lorna was the daughter of Lydia COCHRANE and John David CHASTELLAINE (1883-1951). 
** MORE ABOUT JOHN DAVID CHASTELLAINE
On March 29, 1936 Bill & Lorna were married in Winnipeg.
Outbreak of World War II
1939
The GROVE Family moves to Togo, Saskatchewan
The Second World War began in the fall of 1939 with the German invasion of Poland. Britain and France declared war on the Nazi Third Reich on Sep 3, 1939; on Sep 10, 1939 Canada, under Prime Minister Mackenzie KING, officially made its declaration of war against Nazi Germany.
In 1939 Bill GROVE (33 years old) moved the family from Winnipeg to Togo, Saskatchewan, under a "Back to the Land" grant Bill had received.
David Booth Quote from his book 'The Dust Bowl': "A few of us farmers ploughed deep furrows around the fields to stop the earth from blowing away. Others thought it was hopeless to keep planting because their ploughs just turned up dry, fine dust that blew away in the wind. A few went to church and prayed for rain. For some, farming was becoming a slow way to starve." Under these conditions it seems unlikely that Bill would have been able to make much of a start at farming. It was fortunate perhaps that he also had a job with the CPR Railroad for most of his life.
The GROVE Family moves to Matlock
1942-1948
By 1942 the family moved back to Matlock where she could have the support of her elderly parents (David & Lydia CHASTELLAINE) and her siblings. Lorraine recalled that she and her sister Gwen (ages 7 and 6 respectively) began to attend Whytewold School at that time. The rest of the GROVE family were born there (Margaret; Dennis; David; Joan; Ron and Norman).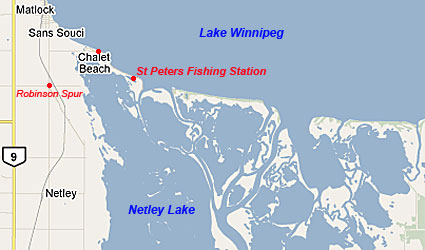 The Mouth of the Red River (Salamoniac Channel) is just below the St Peters Fishing Station
Bill served overseas during World War II, but unfortunately I don't have any information as to when he enlisted or when he was discharged. Hopefully, someone in the family can provide us with the details.
On Aug 14, 1945, after the dropping of the atomic bomb on Hiroshima, the Surrender of Japan marked the official end of the Second World War.
The GROVE Family moves to Selkirk
1948-49
In 1948-49 the family moved to Selkirk (Strathnavor Av). Lorraine, the eldest, was 14 years old then. The children all walked from there to attend Daerwood School and then to Central School in Selkirk, a distance of three miles. They left home at 8 am and didn't get home till 5 pm.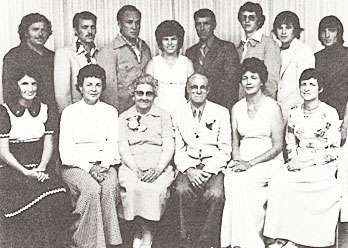 Family of Lorna & Bill Grove
Back: Ted, David, Jim, Gayle, Ken, Norman, Ron, Denis
Front: Joan, Lorraine, Lorna & Bill, Gwen, Marg

Lorna's father (David CHASTELLAINE) died in 1951 at Matlock; her mother (Lydia) in 1962. They were both buried in the Robinson Spur Cemetery.
In his later years Bill worked at Lower Ft Garry as a Groundskeeper.
Lorna died in 1988, Bill in 1997, both in Selkirk.
Comments and queries at this link: FORUM DISCUSSING THE FAMILY OF WILLIAM GROVE
=========================== Family Details ===========================
Children:
1. May 27, 1935 LORRAINE HELEN GROVE (m. Denis  STILL)
** MORE ABOUT LORRAINE & DENIS STILL
2. Aug 22, 1936 GWEN GROVE (m1. Ronald BEGG, m2. Jake McDONALD, m3. Harry GOWERLUK)
3. JAMES "JIMMY" GROVE (m1. Carol GOWEN, m2. Pat SHEAD)
4. Mar 25, 1939 KENNETH ALVIN "KENNY" GROVE (m. Donna SMITH)
5. Sep 10, 1940 TED GROVE (m. Mae CHASTELLAINE, m. Mariah (Roseanne) D'ARCY)
6. MARGARET "MAGGIE" GROVE (m. Don SULLIVAN)
7. DENNIS GROVE (m. Stella SETTEE)
8. Aug 2, 1947 DAVID "DAVE" GROVE (m. Anne WILLIAMS)
9. July 19, 1942 BEVERLY JOAN GROVE
10. GAYLE GROVE (m. Ted McDONALD)
11. RONALD "RON" GROVE (m. Barbara LAVALLEE)
12. NORMAN GROVE (m1. Gail CRUIKSHANK, m2. Vina Louise "Val" (nee PRUDEN) SCRAMSTEAD)