DENIS CONRAD STILL (1933-1998)
LORRAINE HELEN GROVE (1935-Living)
(Last Updated: December 12, 2015)
Denis Conrad STILL was born Nov 24, 1933 in Miniota, Manitoba, the sixth child of Bessie CONROD & Thomas James STILL (1894-1980).  This was during the Great Depression, the 'Dirty Thirties'.
Denis was the last of the STILL children to be born in the Miniota area; the first one born in a hospital. When he was born he had five siblings: Gordon (1926); Everet (1927); Ernie (1928); Billy (1929) and Myrna (1932). Myrna would be the only girl in the family. ** MORE ABOUT the STILL FAMILY in the ASSINIBOINE VALLEY
The STILL Family moves to Selkirk – Old England
1936
 In 1936, when Denis was three years old,  the family moved in with their CONROD grandparents in Old England (near Selkirk) until his father was able to clear enough brush to build a house near the Manitoba Rolling Mills (Sunnyside Road).
THE WAR YEARS
1939-1945


World War II: On Sep 10, 1939, a special session of Parliament approved Prime Minister Mackenzie KING's request that Canada join the war in Europe. The decision, seen by most Canadians as inevitable, came exactly one week after England and France declared war on Nazi Germany. It was the first time that Canadians made their own declaration of war as a sovereign nation.
Denis attended Mapleton School to Grade 8. ** MORE ABOUT MAPLETON SCHOOL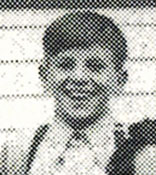 Denis (from the Mapleton Class of 1944)
On May 7, 1945 the War was over when Germany surrendered unconditionally after a final attack across the Rhine.
For high school, Denis attended the Selkirk Collegiate. During the summer breaks he worked at ACME Fan & Blower (1951), at the Manitoba Rolling Mills (1952), and at CC Falconer & Sons (1953). 
In 1953 Denis left school to begin full-time employment with the Manitoba Power Commission (Business Department) in Winnipeg.
Marriage to Lorraine GROVE
1955
In the spring of 1955, at the age of 22, he married 20 year old Lorraine GROVE at the St Clements Anglican Church in Mapleton.  She was a daughter of Lorna CHASTELLAINE & William "Bill" GROVE (1906-1997). ** MORE ABOUT THE GROVE FAMILY
Prior to their marriage, Lorraine had been training to be a Registered Nurse (RN) at the Misecordia Hospital in Winnipeg.
On Nov 21, 1955 their first child Craig was born.
Their first home on Sunnyside Road
1956-1964
Denis & Lorraine built their first home on Sunnyside Road (next to the Manitoba Rolling Mills, on part of the original STILL acreage).
In 1956 son Bob was born. That year Denis began working for Canadian Liquid Air (Office & Order Desk). Lorraine was nursing at the Selkirk General Hospital.
In 1958 their only daughter Karen was born. Their last/ youngest child was Edward, was born in 1963.
The GROVE family was a large one (12 children), most of the boys were athletic, avid sportsmen (football, baseball, hockey and curling). Lorraine's little brother, Dave GROVE, once played baseball in Cuba with the Canadian All-stars when he was 16 (1963).
Denis was largely responsible for forming the first baseball team in Mapleton, the Mapleton Royals.
Personnel Office, Manitoba Rolling Mills
1964-1974
In 1964 Denis worked for Selkirk Silica for several months before he was hired that year by the Manitoba Rolling Mills (Personnel Office).
In 1966 Lorraine returned to Misecordia Hospital School of Nursing to complete her training. She was the first married student to be accepted in the RN Program - graduating in 1968.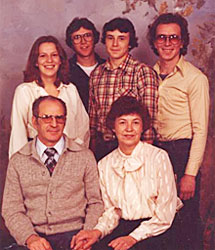 Around 1970: Front: Denis & Lorraine
Back: Karen, Bob, Ed & Craig
An Employment Councillor – Canada Manpower
A home on Craig Avenue, Mapleton
1974
Their second home was on Craig Avenue in Mapleton (what year did they move there?). They bought a cabin at Loon Straits.
In 1974 Denis left MRM and began his work as an Employment Councillor for Canada Employment & Immigration (Canada Manpower). That same year, son Craig married Janice BABISKY, daughter of Myrna PARKS and Jack BABISKY (1934-1988) On Mar 10, 1975, Janice presented Lorraine & Denis with their first grandchild, Jodi Lynn.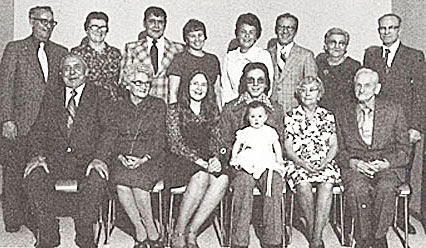 Jodie Still's christening – including 12 grandparents
Back: Jim & Violet Parks, Jack & Myrna Babisky, Lorraine & Dennis Still, Lorna & Bill Grove
Front: Fred & Winnie Babisky, Janice, Craig & Jodie Still, Bessie & Jim Still
On Oct 8, 1977, son Bob married Anna DROBOT, daughter of Alphid Theresa AALEN & Harry DROBOT (1934-2013).
On Nov 16, 1980 Denis' father (Jim STILL) died at home in Mapleton at the age of 86.
In January of 1983 the family was devastated when Lorraine's younger brother David GROVE died suddenly of a heart-attack while playing hockey. He was only 46 years old.
In 1988 Lorraine's mother (Lorna GROVE) died.
On Feb 2, 1994 Denis' mother (Bessie) died at the age of 90. 
Retirement
1995
In 1995 Denis retired after 21 years with Canada Manpower.
Denis had been active at St Clements Church since 1955. He was on the Church Vestry and was active with the cemetery and church Park management, etc – he was People's Warden for 5 years. Lorraine was also very active in church and volunteer groups - started a Youth Group in Selkirk which became an extension of Youth for Christ (Wpg) - Board Chairman, Executive Member - was on the board of the Selkirk Friendship Centre where she started a Youth Group - belonged to HUB, Pride, GAP, WAVE, Red Cross, etc, etc.
On July 5, 1997 Lorraine's father (Bill GROVE) died in Selkirk at the age of 91.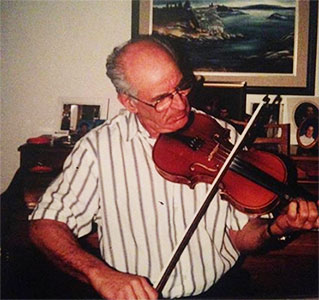 Denis loses a hard-fought battle with Cancer
1998
Denis died on Apr 4, 1998 after a battle with cancer.
From Denis' Obit:  Denis was a person who touched many lives with his quick wit and wonderful sense of humor - favorite with young people - loved to tease - tell stories - loved adventure - canoeing, hunting, fishing, panning for gold, pumpkin growing contests - founder of the Mapleton Royals Fastball Club - hobbies were dancing and playing fiddle - involved for many years at St Clements Church - on vestry, many church committees, volunteered time at churchyard for a number of years.  Pallbearers were:  Carl MONKMAN, Jim LONGBOTTOM, Ray ANDERSON, Joe WYPINSKI, Gordon STILL and Dennis GROVE.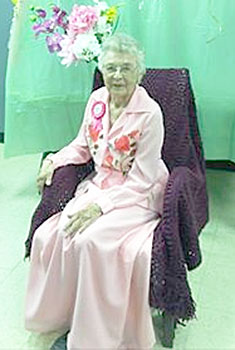 Celebration of Lorraine's 80th Birthday - 2015
This Page is under construction
As further details (and pictures) are found, this page will be updated. To share stories and information about Lorraine & Denis' family, please do so at the following link:  DISCUSSION FORUM re LORRAINE & DENIS STILL
=========================== Family Details ===========================
Children:
1. Nov 21, 1955 WILLIAM CRAIG STILL (m. Janice Elaine BABISKY)
2. Sep 24, 1956 ROBERT ALLAN "BOB" STILL (m. Gwendolyn Anna DROBOT)
3. Sep 7, 1958 KAREN DENISE STILL (m1. Donald Charles OLDFIELD, m2. Richard"Rick" WEST)
4. Sep 14, 1963 RONALD EDWARD "ED" STILL