ALEXANDER COCHRANE (1865-1949)
MARY JANE MURDOCH (c1860-)
(Last Updated: August 28, 2012)
Alexander George COCHRANE was born around 1865 in the St Peters Reserve, son of Nancy HARPER and Alexander COCHRANE SR (1845-1927), both Indians.
In 1870 and 1881 Alexander (age 3, 14) was recorded with his parents in St Peters.
William PRINCE becomes Chief
Selkirk Incorporated as a Town
MUCKLE begins his term as Indian Agent
1882
In the New Year of 1882 Alexander MUCKLE (1844-1908) replaced David YOUNG as the Indian Agent for the St Peters Band. That year William PRINCE replaced Henry PRINCE as Chief of the St Peters Band.

On June 15, 1882 the Town of Selkirk was incorporated with James COLCLEUGH (1841-1918) as the first Mayor. At that time it was still believed that the new CPR mainline from the east would pass through Selkirk. There were already branch lines on both sides of the river, from Winnipeg to Selkirk and East Selkirk, with Selkirk at the crossroads. In that belief, the town was booming, a veritable land rush and COLCLEUGH was at the forefront of the land speculators. He circulated a petition which called on the Federal Government to put the St. Peter's reserve up for sale, as it was a "drawback to our growth and prosperity." Such feelings were shared by other land-grabbers, touching off an Indian Land Claim Dispute that would last well into the 21st century. It should be noted that very soon afterwards the Government chose Winnipeg for the main east-west rail route, and Selkirk was no longer a boom-town.
Marriage to Mary Jane MURDOCH
1890
Around 1890 Alex was married to Mary Jane MURDOCH.
Census 1901: Selkirk (#11), SD-2 (Unorganized Territory), pg 4, HH-51 (large island in Fisher Bay): Cree family of Alex COCHRANE, age 30 (born c1871 in MB); wife is Mary J, age 40. Children: Lydia 11, Alexander J 9, David 7, Walter 5, Riley 3 and baby Emily.
In 1902 their last child, Beatrice Florence, was born in St Clements Parish, indicating that the family must have returned to the St Peters area by that time. They cannot be found in the 1906 census.
In 1907 at the Old St Peters Church daughter Lydia married John David CHASTELLAINE, son of Sarah SPENCE & Narcisse CHASTELLAINE (1844-1919).
The family cannot be found in the census records of 1911 but in 1914 when son Alex James enlisted he gave his father's address as Dynevor P.O. (St Peters).
No record of the family can be found in the 1916 census.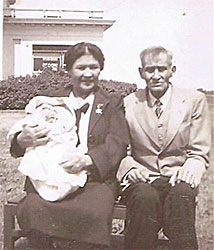 Lydia, her father Alex Cochrane and grandson Allan Thomas Wainwright
Alexander COCHRANE died on July 7, 1949 in Parkdale. He was buried in the Old St Peters Cemetery.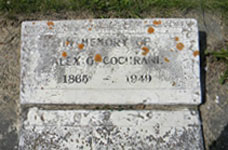 Please post comments and queries at the following: FORUM for Discussing the ALEX COCHRANE FAMILY
========================== Family Details ==========================
Children:
1. Feb 16, 1891 LYDIA COCHRANE (m. JOHN "SONNY" DAVID CHASTELLAINE)
** MORE ABOUT LYDIA & JOHN DAVID CHASTELLAINE
2. Mar 13, 1893 ALEXANDER JAMES COCHRANE
3. Aug 5, 1895 DANIEL COCHRANE
4. 1895 WALTER COCHRANE
5. 1898 RILEY COCHRANE
6. Aug 18, 1900 AMELIA (EMILY) JANE COCHRANE
7. May 10, 1902 BEATRICE FLORENCE COCHRANE (Died in infancy, age 5)