PETER LAWRENCE MOORE (1883-1930)
MABEL JENNER (1895-1991)
(Last Updated: October 14, 2012)
Peter Lawrence MOORE was born Aug 1, 1883 in Mapleton (Old England; just south of Selkirk), son of Harriet ROBILLARD & Robert MOORE (1856-1925). In 1884 Peter's mother (Harriet) died when he was just a baby.
** Most of the interesting parts of the Peter MOORE story were contributed by his granddaughter Colleen (Gonzo) via the Forum of this website.
The MOORES move to the Matlock area
1891
Peter and his father (Robert) lived with his grandparents (Harriet & Robert MOORE) at Mapleton until about 1891 when they all moved to the Matlock area. An undated land grant was issued to his father for a parcel of land on the SE-2-17-4-Epm. This location is SE of Matlock, essentially at Sans Souci as shown on the map below.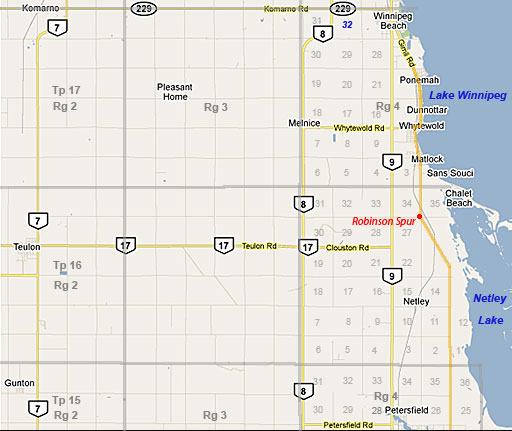 Peter's Aunt and Uncle, Margaret (nee MOORE) and Thomas THOMAS (1845-1926) moved to Ponemah Beach around the same time as Peter and the MOORE family. Margaret & Tom were recorded there in the Census of 1891, in their mid 40's and lived alone until 1898 when they adopted five-year old Ventrice, my (Gary's) late father-in-law, the illegitimate child of Caroline SAYER & James FIDLER (1870-1929). Thereafter, Ventrice became Ventrice THOMAS.
For many years Reverend Benjamin McKENZIE (1837-1928) was the resident clergyman who also taught school to the children of early residents around the mouth of the Red River, including young Ventrice. For more about the early history of the area, read his story at this link: MORE ABOUT REVEREND BENJAMIN McKENZIE
In the Census of 1901, Peter (age 17) and his widowed father (Robert, age 44) were recorded back in Mapleton ,although it seems they later settled more permanently in the Matlock area.
Advent of the Railroad
Robinson Spur
1902
In 1902 a CPR railway line from Winnipeg to Winnipeg Beach was completed. A train station and a dance pavilion were built at the 'Beach'. 
Walters: Around 1902 Captain William ROBINSON (1850-1936), who had a general store in West Selkirk and another store in Petersfield, bought timber rights down around the present district of Matlock. By 1903, the CPR ran a short line into his cord wood camp, which became known as "Robinson's Spur". A lot of men of the district found work at his camp, cutting cord wood to earn much-needed cash.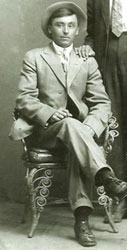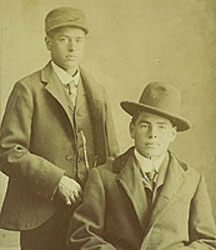 Left: Peter Moore – Right: Peter & John (Jack) Favel
(Thanks to Colleen)
World War I
1914-1919
On Aug 5, 1914Canada declared war on Germany and Austria-Hungary to uphold treaties with France and Belgium which were under German attack. This marked the beginning of World War I.
Peter's WW I Attestation: Dated Jan 3, 1915 at Selkirk: Peter Lawrence MOORE, fisherman of Whytewold, MB; born Aug 1, 1883 in Mapleton. Age 32; 5' 6", dark complexion, brown eyes and black hair. Next of kin: his father, Robert MOORE of Whytewold.
The census record of 1916 is a rather puzzling one. In it, Peter's father, Robert MOORE, was enumerated on 16-4-Epm (south of his previous location) as a widowed carpenter, aged 64. With him are two 'fisherman sons': Peter (age 33), and William (age 29; born c1887). Had son Peter been discharged and later re-enlisted? Because in early 1919 the record shows that he married in England to Mabel JENNER. Also who is William, not previously recorded as a child?
Peter marries Mabel JENNER in England
1919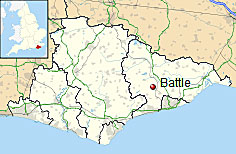 Battle is located in East Sussex, England
(From Wikipedia)
In 1919, during the War, Peter married in Battle, Sussex, England, to Mabel JENNER, the daughter of Mary BALLARD & Charles JENNER. Mabel was born in Battle, which was a refuge for soldiers during the War. Tunnels still exist there, leading from various fields and cellars to Battle Abbey itself (Wikipedia).
November 11, 1919, Armistice Day (Remembrance Day) marked the end of the First World War.
Peter brought his war-bride Mabel back to Canada with him. They settled near Matlock where their son Clarence was born in 1919, followed by son Stanley in 1921.
In June of 1930 Peter MOORE died by drowning on Lake Winnipeg. He was buried in the Robinson Spur Cemetery. He died just before his last child, Lawrence Peter, was born.
On May 25, 1991 Mabel MOORE died in Selkirk.
Please post comments & queries at this link: FORUM DISCUSSING the PETER LAWRENCE MOORE FAMILY
========================== Family Details ==========================
Children:
1. 1919 CLARENCE MOORE
2. 1921 STANLEY MOORE
3. 1930 LAWRENCE PETER MOORE (m. Hilda JOHNSTON)