ROBERT MOAR aka MOORE (1856-1925)
HARRIET ROBILLARD (1858-1884)
(Last Updated: October 15, 2012)
On Nov 14, 1856, Robert MOORE, a half-breed, was probably born at Rupert House in the Rupert's River District, son of Nancy THOMAS & John MOORE (c1805-1898), a Hudson's Bay Company (HBC) voyageur who was working in that area at the time Robert was born. His grandfather was Andrew MOAR/ MOORE who was born around 1765 in the Orkneys, also an HBC employee who worked in the same area and retired to Scotland in 1836.
The above birthdate for Robert is from Census 1901 and is a good topic for debate on the Forum. Great granddaughter Colleen indicates that Robert was born in 1853 at Moose Factory. In the Census of 1881 his age is given as 32, indicating he was born around 1849 in Ontario. Census 1891 gives his age as 39, indicating he was born in 1852. If we accept that this is the same Robert MOORE in Manitoba Vital Stats who died in 1925 at the age of 73, his birth date would be about 1842. Colleen supports his death date as 1925. Circumstantial evidence strongly suggests all of these are all the same Robert MOORE.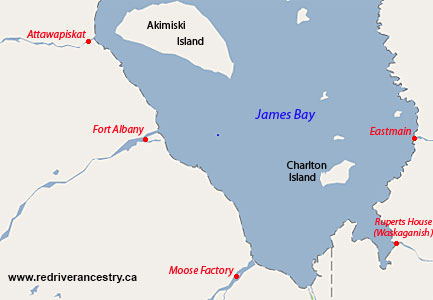 From the time of Robert's birth until 1860, his father (John) was based at Rupert's House, his HBC service ended that year. It was most likely soon after that that the family moved to Red River.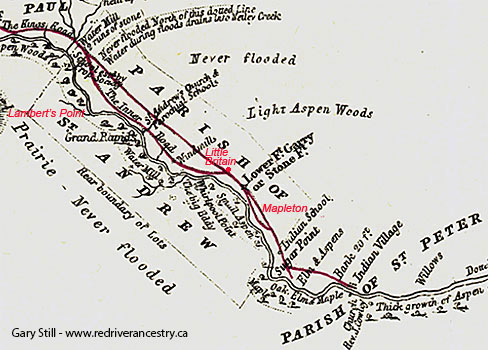 Hind's 1857 map of St Andrews Parish
Canadian Confederation
A Red River Rebellion
Manitoba becomes a Province
1867-1870
On July 1, 1867 the British colonies in North America were united under the British North American Act to become the Dominion of Canada. Sir John A MACDONALD (1815-1891) was appointed as Canada's first Prime Minister.William McDOUGALL (1822-1905) became the Minister of Public Works, and he began negotiations to acquire Rupert's Land from the HBC.
In 1869 the Red River Resistance began under the leadership of Louis RIEL (1844-1885). It ended in 1870 with the creation of the Province of Manitoba.
When Manitoba became a province in 1870, we had five post offices and three mail routes. The principal route ran down Red River from the south, the second followed the Red River to St. Andrews and the third connected Winnipeg with two western points, once per week.
On July 1, 1871 the first Mapleton Post Office was opened with the appointment of John KIPLING (1846-1906) as the first postmaster. Mapleton had become a fully independent and self-contained village. Of course Lower Fort Garry was the main centre of the region, the hub of social activity.
In 1870 Robert would have been a mere teenager, but Colleen tells us that by that time he was away working with HBC delivering mail by dog sled, he would leave Lower Fort Gary and travel up to Athabasca and Peace River District. He was with HBC until around 1877.
The First Railroad reaches Selkirk
1877
On Sep 4, 1877 CPR Engine No.1, the Countess of Dufferin, arrived in Winnipeg.  A stagecoach was established with round trips from Winnipeg to Selkirk taking two days. In December of 1877 the railway from the east reached East Selkirk, only to be delayed until the Cook's Creek Bridge was completed in 1878. There was only a short railway line, the Pembina Branch, from Selkirk down to the American border to connect up with the American railway system.
Marriage to Harriet ROBILLARD
1879
Colleen: In 1879 Robert married Harriet ROBILLARD at Mapleton, daughter of Nancy (a half-breed) and Louis ROBILLARD, a white man (undoubtedly a French Canadian).
In the Census of 1881 Harriet (age 18), Robert (age 32) and their baby Thomas were recorded in the household of Robert's parents, Nancy (age 55) & John MOORE (age 75).
On June 15, 1882 the Town of Selkirk was incorporated. The first Mayor was James COCLEUGH (1841-1918).
It was about 1882 that Robert's second child, John was born. Their last child together was Peter, born on Aug 1, 1883.
In 1883 the Rural Municipality of St Clements was formed. Without going to a lot of detail, essentially the RM of St Clements now referred to the East side of the Red River and Lake Winnipeg all the way from Winnipeg to Grand Beach, extending eastward as far as Garson. Thereafter, St Andrews only referred to the west side of the river.
Harriet Dies
1884
On Oct 24, 1884 Harriet MOAR died at the young age of 26.
It was around 1888 that son John died at the age of six.
When the 1891 census was taken, Robert and his children were still living in Mapleton with his elderly parents, Nancy (age 71) and John MOAR (age 92). Robert was recorded as 39 years old and widowed; son Thomas (age 11) and Peter (age 8).
Move to Matlock
Western Land Grants, undated: Robert MOORE on SE-2-17-4-Epm. As the map below indicates, this location is SE of Matlock (Sans Souci).

Western Land Grants: Dated Mar 29, 1895: Thomas THOMAS, NE-22-17-4-EPM (Ponemah Beach). THOMAS and his wife Margaret (nee MOORE) had been there since about 1888, and in 1891 they were both in their mid 40's and alone there (no children).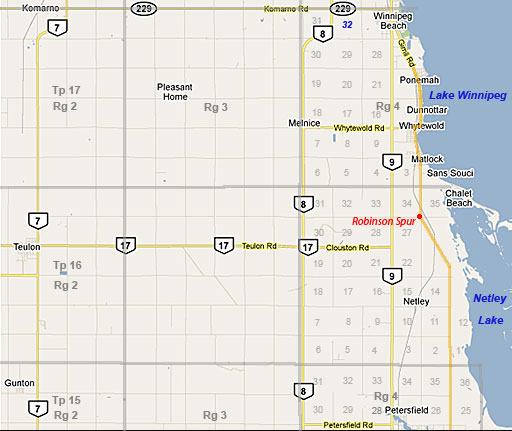 For many years Reverend Benjamin McKENZIE (1837-1928) was the resident clergyman who also taught school to the children of early residents around the mouth of the Red River. For more about the early history of the area, read his story at this link: MORE ABOUT REVEREND BENJAMIN McKENZIE
On Apr 6, 1898 Robert's father (John) died at the age of 96. About five weeks later, on May 19, Robert's  son Thomas died at the age of 17.
It was around 1898 that Margaret & Thomas THOMAS adopted five year old Ventrice, the illegitimate child of Caroline SAYER & James FIDLER (1870-1929).
1901
In 1901 the little Mustard Seed Chapel was built at the Mouth of the Red River, not far from Matlock. The little church also served as a school with Reverend Benjamin McKENZIE (1837-1928) as the local clergyman and school teacher.
In the Census of 1901, Robert was recorded back at Mapleton, a 44 year-old widowed farm labourer. Son Peter (age 17) was with him.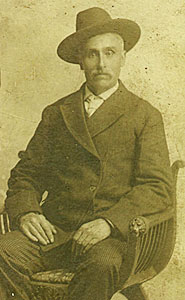 Robert Moore (Thanks to Colleen)
In 1903 the railway was extended from Selkirk to Winnipeg Beach; on to Gimli in 1906.
World War I
1914-1919
On Aug 5, 1914Canada declared war on Germany and Austria-Hungary to uphold treaties with France and Belgium which were under German attack. This marked the beginning of World War I.
On Jan 3, 1915 at Selkirk, son Peter enlisted for war service, a fisherman of Whytewold at the time.
The census record of 1916 is a rather puzzling one. In it, Robert was enumerated on 16-4-Epm (south of his previous location) as a widowed carpenter, aged 64. With him are two 'fisherman sons': Peter (age 33), and William (age 29; born c1887). Had son Peter been discharged and later re-enlisted? Because in early 1919 the record shows that he married in England to Mabel JENNER. Also who is William, not previously recorded as a child.
November 11, 1919, Armistice Day (Remembrance Day) marked the end of the First World War.
On Dec 20, 1925 Robert MOORE died at the age of 73. He was buried in the Robinson Spur Cemetery at Matlock.Colleen: Robert got cancer and my grandmother Mabel put him on the train to the Selkirk hospital where he died and his body was sent back by train to Matlock where he was buried.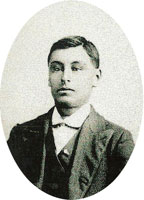 Peter Lawrence Moore (Thanks to Colleen)
Please post comments & queries at this link: FORUM DISCUSSING the FAMILY of HARRIET & ROBERT MOORE
========================== Family Details ==========================
Children:
1. Jun, 1880 THOMAS MOORE (Died age 17)
2. 1882 JOHN MOORE (Died age 6)
3. Aug 1, 1883 PETER LAWRENCE MOORE (m. Mabel JENNER)
** MORE ABOUT PETER LAWRENCE MOORE
?4. 1887 WILLIAM MOORE