ANDREW TRUTHWAITE (1849-1936)
HANNAH McDONALD (1858-1935)
(Last Updated: November 13, 2014)
Andrew TRUTHWAITE was born Sep 20, 1849 in St Andrews (Lockport), son of Catherine McDERMOTT & Thomas TRUTHWAITE (1820-1889). ** MORE ABOUT THOMAS TRUTHWAITE
Marriage to Hannah McDONALD
1877
In 1877 Andrew married Hannah McDONALD in Winnipeg, the daughter of Elizabeth TAIT & Duncan McDONALD (1825-1895). In the Census of 1881 they were recorded in St Andrews with two children; Florence Mary (age 3) and Andrew Thomas (age 1).
Move from Lockport to Cloverdale
1890
In 1890 Andrew moved from Red River Settlement at Lockport to the Cloverdale district. In the Census of 1891 their children were Florence (age 13); Andrew (11); Catherine (9); Alfred (7); Charles (4) and Alex (age 1).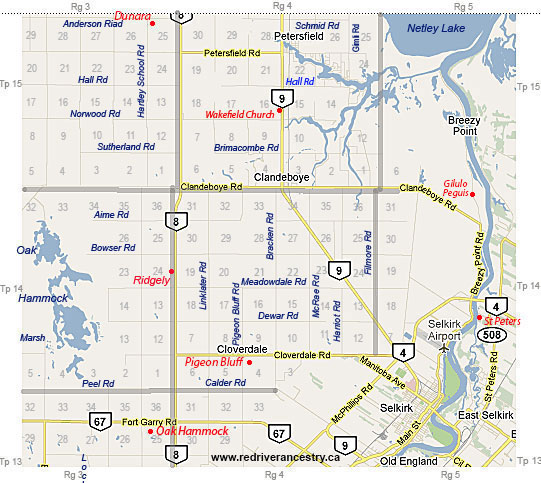 Census of 1901 in St Andrews Parish: Andrew TRUTHWAITE, age 51; wife Hannah, age 43. Children: Florence (age 23); Andrew (21),  Catherine (19),  Alfred (17),  Charles (14), Alexander (11),  Jessie (9),  Alice (6),  Victor (3) and baby Miles (9 months). In 1903 their last child, John Harold was born.
BGLFG Pg 62: Early in 1904 a meeting was held in the Cloverdale School to arrange for a formation of a Parish and erection of an Anglican Church. Those present were: Rev C.N.F. JEFFERY, Rev H.J. KING, J.R. SUTHERLAND, James ANDERSON, Andrew TRUTHWAITE Sr., J..E. HARRIOTT Jr., Colin CAMPBELL, Alex JOHNSTONE, Chas. JOHNSTONE, Wm. A. NORQUAY. James ANDERSON and Andrew TRUTHWAITE Sr. each offered one acre of land as a site for the church; after some discussions the ANDERSON offer was decided on, and plans were made to start building on the property.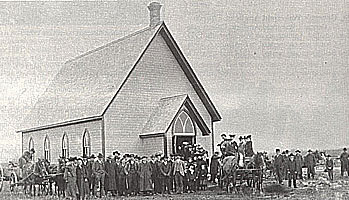 St Matthews Anglican Church, Cloverdale, opened 1905
In 1911 eldest daughter Florence Harriet married John Robert Frederick GENTLES from England, son of Cornelia LONGSTAFF and Robert GENTLES.
In 1912 son Alfred married Annie HARRIOTT in St Andrews, daughter of Jane TAYLOR & John Edward HARRIOTT (1842-1924). ** MORE ABOUT JOHN EDWARD HARRIOTT
World War I
1914-1918
On Aug 4, 1914 Great Britain (Canada on Aug 5) declared war on Germany and Austria-Hungary to uphold treaties with France and Belgium which were under German attack. This marked the beginning of World War I.
In 1914 son Charles married Harriet Mabel CAMPBELL in St Andrews, daughter of Anna HARRIOTT & Malcolm CAMPBELL (1865-1902).

In the spring of 1916 son Victor enlisted in the Army at Selkirk, a 'homesteader' from Pigeon Bluff. Later that summer, son Andrew Thomas and son Alexander both enlisted at Winnipeg.
In 1916 son Andrew Thomas married Olive MILLER in Winnipeg, the daughter of Victoria THOMAS and John MILLER (1858-1936).
On Aug 8, 1918 son Victor died in France as a soldier in the 16th Battalion, Canadian Infantry (Manitoba Regiment).
November 11,1918, Armistice Day (Remembrance Day) marked the end of the First World War.
============================ // ============================
Census of 1921 near Oak Hommock (29-13-4-Epm): Andrews TRUTHWAITE, age 72; wife Hannah, age 65. Children at home: Katie (age 38), Alexander (32), Jessie (29), Alice (26), Douglas (20) and John (age 17). Also niece Louise MacDOUGALL, age 13 (Louise was a daughter of Amy Beatrice DAVIS and John Andrew MacDOUGALL (1876-1965). Also granddaughter Irene TRUTHWAITE, age 6 (Daughter of Olive MILLER and son Andrew Thomas TRUTHWAITE).
In 1931 youngest son John Harold married Euphemia NEAVE in Winnipeg.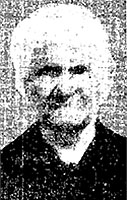 Hannah (nee McDonald) Truthwaite (From her obituary)
On April 18, 1935 Hannah (nee McDONALD) TRUTHWAITE died at her home in Pigeon Bluff. On July 5, 1936 Andrew TRUTHWAITE died there also. Hannah's obituary indicates that she was survived by four daughters: Mrs. R.F. GENTLES of San Diego, CA; Katie of Edmonton, Jessie in Winnipeg and Alice at home. Five surviving sons were Andrew at Lockport, and Charles, Alex, Miles and John at home.

In 1936 daughter Alice married James NEAVE of uncertain origins; possibly from Scotland. If anyone has more information about the NEAVE family, please let us know on the Forum.
Comments and queries at this link: FORUM DISCUSSING the ANDREW TRUTHWAITE FAMILY
========================== Family Details ==========================
Children:
1. 1878 FLORENCE MARY HARRIET TRUTHWAITE (m. John Robert Fredrick GENTLES)
2. Jan 31, 1880 ANDREW THOMAS TRUTHWAITE JR (m. Olive Margaret Evelyn "Leafie" MILLER)
** MORE ABOUT ANDREW TRUTHWAITE JR
3. Sep 3, 1881 CATHERINE ROSALIE "KATIE" TRUTHWAITE
4. Jul 21, 1883 ALFRED TRUTHWAITE (m. Matilda Ann HARRIOTT)
5. 1885 ELIZABETH TRUTHWAITE (Died in infancy 1886)
6. Mar 28, 1887 CHARLES WILLIAM TRUTHWAITE (m. Mabel Harriet CAMPBELL)
7. Sep 9, 1889 ALEXANDER N TRUTHWAITE (Died 1973)
8. Jan 21, 1892 JESSIE TRUTHWAITE (Died 1958)
9. Oct 4, 1894 ALICE TRUTHWAITE (m. James NEAVE)
10. May 24, 1897 VICTOR HENRY TRUTHWAITE (Died 1918 in France, WW I)
11. Jul 21, 1900 MYLES McDERMOT TRUTHWAITE (Died 1960)
12. Jan 30, 1903 JOHN HAROLD TRUTHWAITE (m. Euphemia NEAVE)