ANDREW THOMAS TRUTHWAITE (1880-1966)
OLIVE MARGARET EVELYN "LEAFIE" MILLER (1896-1966)
(Last Updated: March 28, 2017)
Andrew Thomas TRUTHWAITE was born Jan 31, 1880 in St Andrews, son of Hannah McDONALD & Andrew TRUTHWAITE SR (1849-1936).** MORE ABOUT ANDREW TRUTHWAITE SR
World War I
Andrew marries Olive MILLER
1914-1918
On Aug 4, 1914 Great Britain (Canada on Aug 5) declared war on Germany and Austria-Hungary to uphold treaties with France and Belgium which were under German attack. This marked the beginning of World War I.
In the spring of 1916 younger brother Victor enlisted in the Army at Selkirk. Later that summer, Andrew Thomas and his brother Alexander both enlisted at Winnipeg. At that time the TRUTHWAITE family was living in Pigeon Bluff (near Oak Hammock on the map above).
On Aug 28, 1916 Andrew married Olive Margaret Eveline "Leafie" MILLER in Winnipeg, the daughter of Victoria THOMAS & John "Jockie" MILLER (1858-1936). ** MORE ABOUT JOHN "JOCKIE" MILLER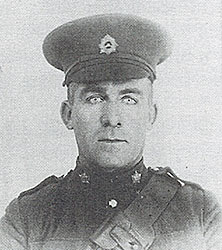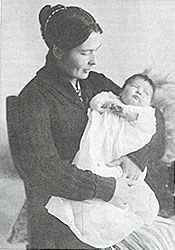 Left: Andrew Thomas Truthwaite – Right: Olive Miller-Truthwaite holding Olive Irene (born 1918)
(From Beyond the Gates of Lower Fort Garry)
On Aug 8, 1918 younger brother Victor died a soldier in France.
November 11, 1918, Armistice Day (Remembrance Day) marked the end of the First World War.
Hodgson, Manitoba
In the Census of 1921 we find Olive (age 26) and Andrew (age 40) on Section 22-25-1-Wpm which is at Hodgson Manitoba Their children: Irene (Olive), age 4, and Jean (Phyllis), age 2. With them is Andrew's brother, Alexander TRUTHWAITE (age 31), and on Section 27 in the same Township is their Uncle Jacob TRUTHWAITE (age 65) and his family. Apparently Andrew and his family didn't remain in the Hodgson area very long.
Gonor, Manitoba
1925-26
In 1925 Olive's mother (Victoria MILLER) died in Gonor (south of Lockport on east side of river – See map below), It seems that this may have been the reason that Olive and Andrew returned there. In the spring of 1926 son Victor was born in Gonor.
In 1936 Olive's father (John MILLER) died in Gonor too.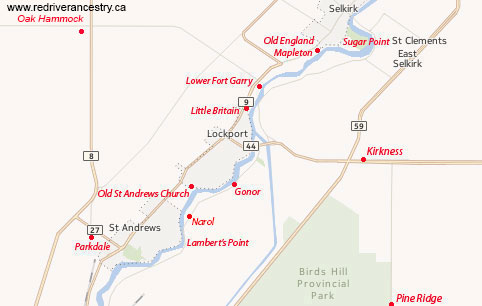 In 1937 daughter Phyllis married Stanley LOUTIT in St Andrews, son of Matilda COOPER and John James LOUTIT (1872-1959).
World War II
1939-1945
On Sept 4, 1939 Canada and Britain declared war on Germany, and almost immediately new recruits began pouring into Winnipeg to sign up with the Winnipeg Grenadiers and the Royal Rifles of Canada.
Around 1939 eldest daughter Olive married Clarence Robert POST, a son of Elizabeth COLLINS and Robert Percival POST, both from Ontario.
Son Victor served in World War II.
On May 7, 1945 Germany surrendered and the War in Europe ended; the next day, May 8, is declared VE Day.
In 1949 daughter Hannah (Fern) married Benjamin MASSEY at Christ Church in Selkirk, the son of Catherine SLATER and Benjamin MASSEY SR (1896-1973).
In 1956 son Victor married Connie CONROD, daughter of Ella EVANS and Wilson CONROD (1907-1985).
** MORE ABOUT WILSON CONROD
In 1958 son Earl died in a car accident in Banff, Alberta. He was only about 19 years old.
Andrew Thomas TRUTHWAITE dies in House Fire
1966
On Jan 28, 1966 Andrew Thomas TRUTHWAITE died in Lockport at the age of 86 in a fire that burned his house down.
Newspaper account of the event – Man Feared Dead in Blaze: An 85 year-old man is believed dead after a fire swept through his two-storey frame house half-way between Lockport and St Andrews Friday evening. RCMP said Andrew Thomas TRUTHWAITE is believed  to have been trapped in the house when it burned to the ground.
Police said Friday evening the fire was still burning and they had been  unable to enter the building to search for the body.
Mr. TRUTHWAITE's wife managed to escape from the house after the couple had attempted to put the fire out.
RCMP thought Mr. TRUTHWAITE was overcome by smoke while trying to escape with his wife.
They said the fire may have been caused by an overheatged stovepipe.
There is no fire departmen in the Lockport district.
Lockport is about 19 miles north of Winnipeg.
On July 19, 1966 (six months after her husband died) Olive (nee MILLER) TRUTHWAITE died at the Selkirk General Hospital at the age of 70; survived by two sons, Victor of Selkirk and Ronald of Lockport; three daughters, Mrs. Olive POST of Calgary, Mrs. Phyllis LOUTIT of Lockport and Mrs. Fern MASSEY of Selkirk.
Comments and queries at this link: FORUM DISCUSSING the ANDREW TRUTHWAITE FAMILY
============================= Family Details =============================
Children:
1. 1916 OLIVE IRENE TRUTHWAITE (m. Clarence Robert POST)
2. 1920 PHYLLIS (JEAN) TRUTHWAITE (m. Stanley Victor LOUTIT)
3. Apr 18, 1926 VICTOR BASIL TRUTHWAITE (m. Connie Susan CONROD)
4. 1930 HANNAH "FERN" TRUTHWAITE (m. Benjamin Franklin "Frank" MASSEY)
5. Nov 25, 1932 THOMAS TRUTHWAITE (Died in infancy 3 days old)
6. July 7, 1938 EARL CLIVE MILLER TRUTHWAITE (Died age 19)