WILSON ARLINGTON CONROD (1907-1985)
ELLA EVANS (1911-1984)
(Last Updated: November 13, 2014)
Wilson Arlington CONROD was born on Jan 18, 1907 (baptized May 14, 1907), son of Susan Maud GRAHAM & Nelson Archibald CONROD (1860-1946).
In 1911 Wilson was recorded as five years old, living with his parents on Victoria Road in Dartmouth, Nova Scotia. In 1913 the CONROD family moved to Dryden, Ontario and around 1921 they moved to Selkirk, Manitoba. I believe they lived on Stathnavor Avenue (west of the railroad tracks) until 1928 when they moved to Mapleton (Old England) to the south of Selkirk. More details about the family history during Wilson's early years can be seen at this link:
** MORE ABOUT the NELSON CONROD FAMILY
Wilson would have been about 21 years old when the family moved to Mapleton (Old England) in 1928.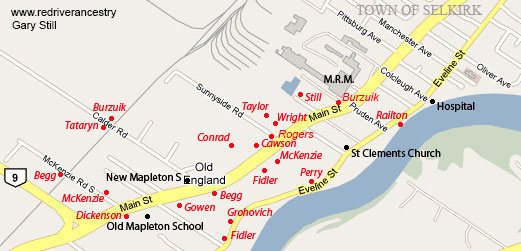 Mapleton Families in the 1930's
Marriage to Ella EVANS
1932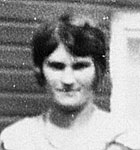 Ella Evans
Around 1932 Wilson married Ella b-1911, daughter of of Ellen SWANSON aka Elin SVEINSDOTTIR & Alfred John EVANS (1873-1941). ** MORE ABOUT ALFRED JOHN EVANS
Bissett
I don't have birth dates or places for Arlene, Joan and Wilma. I know that Wilson lived at Bissett, Manitoba for some time because on Oct 6, 1938 daughter Connie was born there.
THE WAR YEARS
1939-1945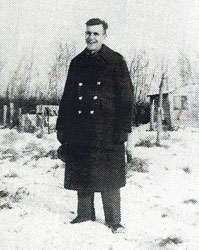 Wilson Conrod - Soldier
World War II: On Sep 10, 1939, a special session of Parliament approved Prime Minister Mackenzie KING's request that Canada join the war in Europe. The decision, seen by most Canadians as inevitable, came exactly one week after England and France declared war on Nazi Germany. It was the first time that Canadians made their own declaration of war as a sovereign nation.
Wilson enlisted, but I don't have his war service details.
The children all attended the Mapleton School. Arlene, Joan, Wilma and Connie are all in the Class of 1944 photo that can be seen at: ** MAPLETON SCHOOL
On April 15, 1946, Wilson's father (Nelson) died at Mapleton at the age of 84. Two years later, March 27, 1948, his mother (Susan Maud) died at the age of 81. It was during this period that Wilson and his family moved into the old CONROD house. By then his family was complete, five daughters and one son; Arlene, Joan, Wilma, Judy and David.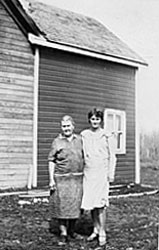 The Conrod House around 1946-48
Left: Arlene in her teens – Right: Grandma Conrod & Ella
Daughter Arlene married Kenneth McKAY
On June 27, 1953 daughter Joan married Alvin PARKS, son of Violet BILLINGTON & James PARKS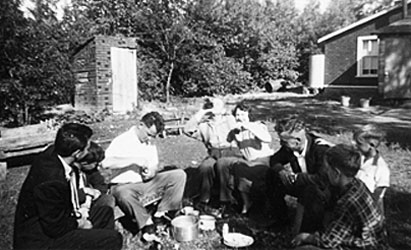 Boozin' at the Still place in the 1950's.
That's Wilson at the lower right, probably with his "boiler maker"
(Probably David with his hand on his Dad's shoulder)
Daughter Wilma married Thomas THORDARSON, son of Sarah STEVENSON & Fedor THORDARSON.
Daughter Connie married Victor TRUTHWAITE, son of Olive "Leafy" MILLER & Andrew Thomas TRUTHWAITE (1880-1966). ** MORE ABOUT ANDREW THOMAS TRUTHWAITE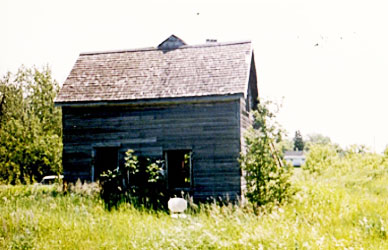 Another view of the old Conrod House. If you look closely in the background, you can see the house that
Wilson Conrod was living in around 1962-63
This is much the same way the old CONROD house looked around 1942-43 when I remember visiting Grandpa & Gramma (Nelson & Moud). I even remember the porcelain toilet bowl that can be seen in this picture.
It would have been in the mid 60's when I last remember Wilson. He was living across the highway from my parents place in Old England. At that time he was afflicted with advanced Emphysema. Most of the time then he had to be connected to a respirator (large heavy cylinders). There was obviously no well at his place because I well remember him coming to our place to fetch water, a brave action for him  because he had to disconnect form his life-line . With two heavy pails to carry, he had to stop every few steps to gasp for air. I'm amazed that he lived for another 10 years or so because he seemed to be in pretty bad shape in then.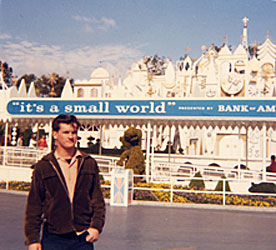 David Conrod 1968 at Disneyland
Gary: It was in 1968 that David CONROD joined me and my parents (Bessie & Jim STILL) on a memorable fun-filled vacation trip to California and Tijuana, Mexico.
Daughter Judy married Douglas Milton McKAY.
In 1970 son David married Edith Anne BOYCE.
News clip re Golden Wedding Anniversary: On Jun 26, 1982, Mr & Mrs Wilson CONRAD entertained guests in their home in Mapleton on the occasion of their 50th wedding anniversary. - - At the head of the table, with the honoured couple, was brother of the bride, John EVANS and his wife Sadie and sisters of the groom, Mrs Bessie STILL and Mrs Ellen HOWARD. The couple was presented with matching corsages by their granddaughters, Mrs Karen ENARY and Mrs Dianna SHEWMAN. - - granddaughter , Mrs Denise HOGANSON and grandson, Matthew CONRAD - - grandsons, Mr Terry THORDARSON and Mr Ron PARKS - - hosted by David CONRAD and his wife Edith, assisted by his sister, Connie TRUTHWAITE and her husband, Victor. - - in attendance were daughter Wilma THORDARSON, her husband, Tom and their family from Vancouver, and daughter, Joan PARKS, her husband, Alvin, and family from Ear Falls, ON.

Ella died 1984, and Wilson died 1985.
Please post comments & queries about Wilson's Family at this link: FORUM re the WILSON CONROD FAMILY
========================= Family Details =========================
Children:
1. c1933 ARLENE CONROD (m. Kenneth "Kenny" McKAY)
2. 1935 JOAN ELAINE CONROD (m. Alvin PARKS)
3. c1937 WILMA CONROD (m. Thomas THORDARSON)
4. Oct 6, 1938 CONNIE CONROD (Victor Basil TRUTHWAITE)
5. JUDITH "JUDY" CONROD (m. Douglas Milton McKAY)
6. DAVID CONROD (m. Edith Anne BOYCE)