NELSON ARCHIBALD CONROD (1860-1946)
SUSAN MAUD GRAHAM (1867-1948)
(Last Updated: March 07, 2014)
Nelson Archibald CONROD was born Oct 10, 1860 at East Chezzetcook, Nova Scotia to Susan Elizabeth "Betsy" CRAWFORD and Captain Andrew CONROD (1812-1902). ** MORE ABOUT CAPTAIN ANDREW CONROD
Andrew was a descendant of Anna WORTHER & Lorentz CONRAD (1701-1762) who immigrated from Kleinheubach, Germany in 1751 to begin a new life at Halifax.
In 1870 Nelson was only 10 years old when his mother (Betsy) died of Typhoid Fever. My mother (Nelson's daughter Bessie) said that Nelson went to sea as a youth (with his Sea Captain father) and became a deep sea diver.  Mom says he was only 12 or 14 yrs old at the time. She said "I don't know what he did first, but he travelled all over. If you'll look at a map, you could see the way he went to Jamaica and the West Indies. He got into deep sea diving for a salvage company. One time they let him bring home a small dresser they brought up from a sunken ship."
Certificate of Confirmation by Bishop of NS to Nelson CONROD - confirmed Feb 28, 1877.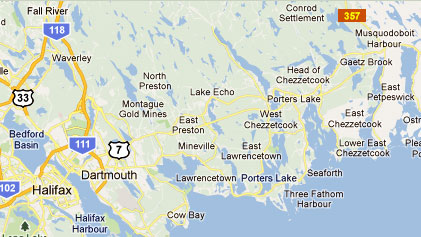 Nelson lived in Musquodoboit Harbour with his widowed father (Andrew) until he reached adulthood. He may have worked periodically as a young man at the Lake Catcha Gold Mines where a crushing mill was built in 1882.
Chezzetcook
Quotes from Brochure from Nova Scotia Museum: History: Chezzetcook in early times was the name of the area extending from Cole Harbour to Musquodobolt Harbour. The name is Micmac meaning "flowing rapidly in many channels". Chezzetcook is situated about 20 miles east of Halifax-Dartmouth. Today Chezzetcook is the area that extends around Chezzetcook Inlet: East Chezzetcook, Lower East Chezzetcook, Head of Chezzetcook (and Conrod Settlement), West Chezzetcook, Grand Desert and Seaforth.
Myrna has a document of sale, dated Nov 18, 1885, where Andrew CONROD (his father) sold his property to his son, Nelson A. for $35:  East Chezzetcook - first, the north 1/3 of my homestead lot lying on the W side of Main Post Road and bounded on the south by the land deeded to my son, James J CONROD - on the north by the land of Edward CONROD Sr (probably his grandson) - on the east by the Main Post Road and on the west by the shore of Chezzetcook Harbour. - also the north 1/3 of my block of land situated between Edward CONROD on the south and Edward CRAWFORD (his brother-in-law) on the north and running from Main Post Road to Yormy? and BAYER's land - also the fifth of all my marsh land wherever situated - also 1/5 of my two lots of land situated at Head of Chezzetcook aforesaid - one lot lying on the north of land owned by Peter CONROD the other lot lying on the north of land owned by BELFONTAINE. - signed by Andrew's X and witnessed by John M MISENER and George ROWLINGS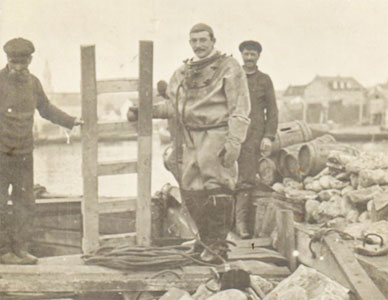 Nelson Conrod as a young man in his deep sea diving outfit
Nelson marries Susan Maud GRAHAM
1886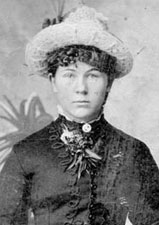 Nelson Conrod - Susan Maud Graham

On Feb 2, 1886, Nelson was married by banns in the Christ Church (Anglican) at the Head of Chezzetcook to Susan Maud GRAHAM. He was 26 years old; she was 19. She was born May 29, 1867 at Renfrew, Nova Scotia, daughter of Anastasia HORNE and Alexander GRAHAM (1839-1890) of Scotch descent. Renfrew was a mining community located north of Fall River.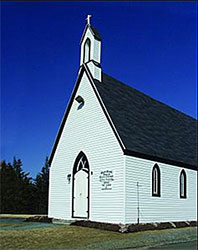 Christ Church – Lower East Chezzetcook
Brochure from Nova Scotia Museum: Christ Church, Lower East Chezzetcook, built in 1878, which still has its original design. In a small cemetery nearby, headstones date back to 1836. (This is the church that my sister Myrna and I visited in 2006)
A document dated Dec 19, 1894 re mineral (gold) rights (Nelson Conrod and Edward (Charles?) GRADY).  This is probably Edward GRADY who was born c1857 in Chezzetcook (around the same age as Nelson).  He was the son of Marguerite Marie Veronique BELLEFONTAINE & Charles GRADY SR who lived in Musquodoboit Harbour in Census 1881.  (Census 1901 has a Charles GRADY born May 10, 1857, with a wife named Annie, living in East Chezzetcook)
It seems that Nelson's primary occupation was deep-sea diving. A letter dated Aug 29, 1899 to Nelson CONROD from Mat LYNCH, Halifax:  Would you be kind enough to let me know by return mail if you will come and dive on the wreck of the SS Portia lying at Flinn's Island Sanbro? for which I agree to give you 2 shares of work done.  She is a good wreck to dive but as nothing valuable has as yet been removed except some cargo and loose material that was lying about at the time of the disaster.  Awaiting your reply - Mat Lynch  c/o Wm McFatridge? I found a record of the SS Portia colliding with an iceberg on July 30, 1890.
In 1902 Nelson's father (Andrew CONRAD) died at the age of 89 in East Chezzetcook where he had been living with his daughter Sarah & son-in-law, John MEISNER.
A Certificate of Discharge, issued by Board of Trade, Mercantile Marine Office:  Name of Seaman:  Nelson CONRAD; Age 43; Place of Birth:  Chezzetcook; Capacity: Diver; Date of Engagement:  20/03/05 Halifax; Date of Discharge:  16/5/05 Halifax; Character for Conduct: Very Good; Character for Ability:  Very Good - Stamp dated May 16, 1905.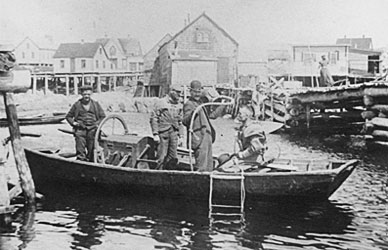 Nelson Conrad in his deep-sea diving outfit (as an older man).
The man in front of him is holding the round head-piece attached to a breathing tube.
Daughter Bessie's (My mother's) reminiscences: "While some CONRADS may have had a reputation as 'boozers', "Paw" (Nelson) was not one of them, which is surprising considering the time he spent at sea.  Most sailors were pretty heavy drinkers, but he never was.  He used to buy a bottle of whiskey on pay day.  He would give each of us children a teaspoonful.  I remember choking on it, but he shared everything.  After we had our spoonful, he would put it under his bed.  I suppose he had a few sips now and again but we never seen the bottle again.  Every pay day he'd give us ten cents each.  We'd go to Maggie Ellen's to buy candy.  We were always happy to see him coming on pay day because he always brought us something - candy, an apple or an orange.  If we spent all our money, we had to see 'Maw', because he always gave the money to her.  She also remembered how he liked to 'darn socks'."
The Family moves to Dartmouth
When the 1911 Census was taken the family was enumerated on Victoria Road in Dartmouth. Nelson was recorded as age 49; chief occupation: Diver; wife Susan, age 45. Children: Duncan (age 23, a Deckhand on a Steamer); Nelson (age 20; a Labourer at a Rolling Mills); Grace (age 20; a Domestic); Jessie (age 13); Elsie (age 12); Elizabeth (Bessie), age 7; Wilson (age 5) and Ellen (age 1). There would be no more children.
Excerpts from a write-up by John OTTO: As a small boy I can remember walking with my mother from our house on Dahlia Street (in Dartmouth), up Victoria Road to the corner of what is now called Woodland Av, turning right on Woodland, which was then a narrow road.  A short distance up on the right was the home of Mr Nelson CONRAD), who was a first cousin of my mother, SARAH (nee RAFTER) OTTO - - The end of Victoria Road was at that time the outskirts of Dartmouth in that direction, and the CONRAD house the last and only house on the road, approximately NE of the turn-off.  This road is now the centre of a modern built up area of the city, and connects up with part of the Trans-Canada Hwy.  Part of the farm is now I believe a portion of Brightwood Golf Course. - - As Mr CONRAD was a Diver it is likely he worked at that profession and farmed in a small way on this property.  It is interesting to note that the old house is still standing and some years ago took on a new look.  It now sports a new square-sided roof, with a sort of hooded look on all four sides, and is one of a closely built up section of the city. - - I can remember when the CONRADs left for the West, and then the property was occupied by Mr James CLARKE, an English immigrant who raised a large family and ran a pig farm for many years.  Members of the CLARKE family are still in Dartmouth. (Written in December, 1987). ** John OTTO (1900-1991) was married to a Flora CONRAD.
On Nov 11, 1912, daughter Grace CONROD, 22 yrs old, married Peter GORDON in Halifax. Witnesses were mother Susan & Grandmother Anna (nee HORNE) GRAHAM).
Son Duncan Disappears – An Unsolved Mystery
Duncan Conrod
Nelson's eldest son, Duncan CONROD, left home as a young man to make money and travel with the harvesting crews out West (as told by my mother). He never returned. He promised Ma that he would always carry some ID with him so she would know if anything happened to him.  He always wrote.  
A hand-written letter from Duncan at the Hotel Cranbrook, BC (no addressee, no date): " I hop that you fellers are getting a long alright and taking things happy I sopose that paw and Nell (Nelson) is working like the doose (deuce) all the time. I met in with a bunch of Nov Scotia fellers up at Sheep Creek most of them came from Napolas (Annapolis) Valley Just on the other side of Contville  - - "don't right till I right again"  (This letter includes a quaintly hand-sketched scene of a farmyard).  Duncan's uncle, Duncan McKenzie HORNE b-1836 (Anastasia's brother), was a rancher Coastal BC at that time. Duncan's maternal grandfather Alexander GRAHAM b-1839 also disappeared "out west", around 1893-1891, after he went to work in the mines in Ontario (Noranda).
The last letter from Duncan was sent from St Paul, Minnesota (Said Jessie). It was a rough place. We don't know what happened to him. Ma always wondered.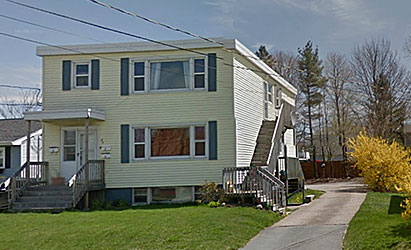 26 Woodland Ave in Dartmouth
Last house that the Conrods lived in before moving west (Thanks to David Conrod)
The Family moves to Dryden, Ontario
1913
Nelson was forced to quit diving when the weights on his diving boots interfered with his blood circulation. Susan was having some health problems and her doctors advised her to move away from the damp climate of Nova Scotia.
In 1913 Nelson (age 52) and his entire family (except for Grace) moved to Dryden, Ontario, where he gained employment with the Pulp & Paper Mill. The Dryden Timber & Power Co. (DTPC) began to manufacture pulp and sheathing that year.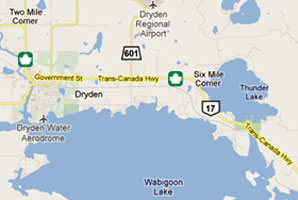 Ellen:  "While in Dryden, Paw worked at the pulp and paper mill.  He used to bring home the men's work boots from the mill and fix them.  He sent to Nova Scotia for half sides of leather, which he used to resole the boots.  I remember him marking the leather where the nails would go"
The First World War
1914
Nelson was 54 years old when, on Aug 14, 1914, Great Britain (and Canada) declared war on Germany and Austria-Hungary, to uphold treaties with France and Belgium which were under German attack. Nelson was too old; his sons too young to become soldiers at that time.
In 1918 the DTPC was reincorporated as the Dryden Pulp & Paper Co, then as the Dryden Paper Co in 1920.  Dryden's first automobile garage was opened in 1921 by Hal DINGWALL to service Ford cars.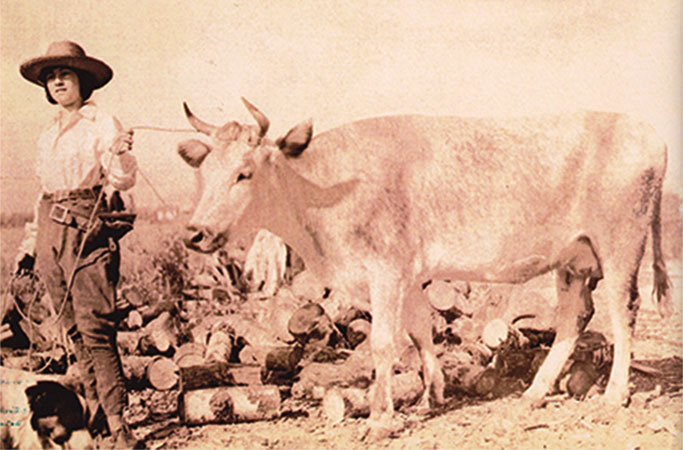 This is Bessie (not sure when or where)
The Family moves to Selkirk - Mapleton, Manitoba
1920-21
Sale Agreement dated Oct 15, 1920: Lars Olaf WALLIN purchased the property of Nelson CONROD at Dryden. Soon after, Nelson moved his family to Manitoba where he became an employee of the Manitoba Rolling Mills (MRM) in Selkirk. He would remain in Manitoba for the rest of his life.
In the 1921 census the family was recorded on Strathnavor Avenue in Selkirk: Nelson CONROD, age 60; wife Suzanne, age 58. Children: Gordon (age 18), Bessie (16), Wilson (14) and Ellen (age 10).
In 1926 son Nelson Aubrey married Minnie McCUMBER, daughter of Katherine KNAUS and Milton "Mike" McCUMBER who was born 1877 in Napanee, Ontario. ** MORE ABOUT MIKE McCUMBER
In 1928 the family moved to Mapleton.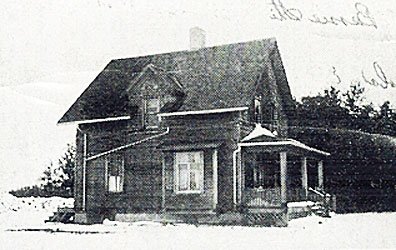 Photo of the Conrod House dated May 24, 1926
In a letter, Gordon CONROD once said: When Pa first went to Winnipeg, he was looking for the Eaton Store. He wasn't sure of a street so he asked a man.  He (Grampa) was standing right by a street sign, and the man asked him, "What's the matter with you?! Can't you read?" "Well of course I can't. You damn fool!", snapped Paw, "I wouldn't be asking you if I could!" Ellen said: Paw couldn't read or write, but he kept his records on the barn or shed wall.  He made some marks.  I don't know how he did it but he knew what each mark meant.
"Bill" GORDON, Nelson's grandson said "I remember my grandfather smoking his pipe and telling stories. He used to smoke Old Chum and Dixie Plug in his pipe. He used to carve wood. One time he made a wooden chain. I was just a little kid at that time. 
In 1933, after Ellen married Gordon HOWARD, she commented "Paw came over when we were first married, and taught me to make bread. Maw couldn't come, so he came and showed me how to use the yeast and mix the dough. He told me how to knead the dough and bake it. He couldn't stay long."
Retirement
1935
In 1935 Nelson retired from the MRM. He was 75 years old.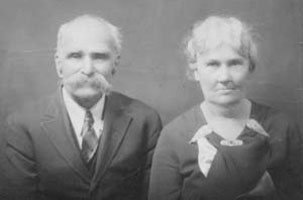 Nelson & Susan Conrod at their 60th Wedding Anniversary
From a February 1946 Free Press article: Mr. and Mrs. Nelson CONROD were guests of honor Saturday evening at the Mapleton school house, to mark their Diamond Wedding. An attendance of 140 friends made the occasion notable and Tom JOHNSON acted as master of ceremonies; the sons and members of their families assisted. Reverend R.S. MONTGOMERY made a speech and presented each with a purse of money. Other speakers were Mr. J.O. McLANAGHEN and S. CAWSON, Mr. CONROD and his daughter-in-law, Mrs. Gordon CONROD replied.
Mom said that Reverend MONTGOMERY said, Paw "was the salt of the sea and the salt of the earth".  (Paw was 86, and Maw 79)
Linda BRUINS, who did a lot of work on the CONRAD genealogy, said: Thirty-five years after the death of Nelson CONRAD, I met a couple who had known the family well. They commented on his reputation for honesty. "If he sold you a dozen eggs, he always gave you thirteen, just in case one might be bad."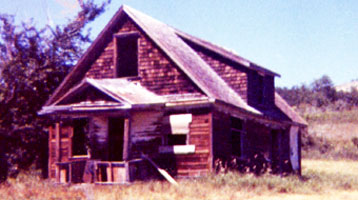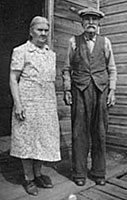 The old abandoned Conrod House at Mapleton in the 70's
Grampa & Granny Conrod as I remembered them
From Obituary: On Apr 18, 1946 Nelson CONROD, a pioneer resident of Selkirk, died at his residence in Mapleton at the age of 85; buried in St Clements Cemetery at Mapleton. Born in Nova Scotia, Mr. CONROD came to selkirk in 1928, and eight years later settled in Mapleton. Surviving are his widow; three sons: Gordon of Mapleton; Wilson of England with the PPCLI and Nelson of Douglas; four daughters: Mrs. Gordon HOWARD of Selkirk (Ellen); Mrs. GORDON of St James (Grace) ; Mrs. S. NICHOLS of Fort William (Jessie)  and Mrs. J STILL of Mapleton (Bessie).
From Obituary: On March 27, 1948 Mrs. Susan Maud CONROD of Lot 14, Old England, died at the home of her daughter, Mrs. Grace GORDON of 241 Ferry Road in St James. Born in Halifax, NS, Mrs. CONROD had resided in Old England since 1920. Her husband died about two years ago. Surviving are three sons: Wilson of Old England; Gordon of Ontario; Nelson in Brooklands; four daughters: Mrs. GORDON (Grace), Mrs. James STILL of Mapleton (Bessie), Mrs. S NICHOLS of Marathon (Jessie), ON, and Mrs. G HOWARD of Selkirk(Ellen).
I (Gary) was only seven years old when Grampa CONROD died (nine, when Gramma died), so I only have a few memories of them. We were living by the Rolling Mills at the time. We used to visit them often. I remember as a little boy how I liked the smell of Grampa's pipe and their old coal-oil lamp (they had no electricity). I remember his long 'walrus-like' whiskers. On one of my visits, I distinctly remember being frightened out of my wits when 'Joe Louis', his rooster, attacked me, digging its claws into my back. My only memory of Gramma was when she was hanging my mittens up to dry on an inside clothes line. She fell off a chair when she was doing this, and frightened everyone in the house!  She would have been about 80 years old at the time.
Comments and queries at this Link: FORUM DISCUSSING the NELSON CONROD FAMILY
========================= Family Details =========================
Children:
1. May 28, 1888 DUNCAN ANDREW CONROD (Disappeared around 1912)
2. Dec 4, 1890 NELSON AUBREY CONROD (m. Wilemia Amelia "Minnie" McCUMBER)
** MORE ABOUT MINNIE & NELSON CONROD
3. Aug 16, 1894 GRACE ANASTASIA CONROD (m. Peter GORDON)
** MORE ABOUT GRACE & PETER GORDON
4. Dec 31, 1896 JESSIE ISABELLA MAUD CONROD (m. Sidney "Sid" NICHOLS)
5. Apr 25, 1899 ELSIE BLISS CONROD (m1. Ervine ECKENSWILLER)
6. Dec 2, 1901 GORDON EDGAR CONROD (m. Margaret LeCLAIR)
7. Dec 3, 1903 ELIZABETH "BESSIE" LORENA CONROD (m. Thomas James STILL)
** MORE ABOUT BESSIE & JIM STILL
8. Jan 18, 1907 WILSON ARLINGTON CONROD (m. Ella EVANS)
** MORE ABOUT ELLA & WILSON CONROD
9. Nov 28, 1910 SARAH ELLEN CONROD (m. Gordon HOWARD)