GORDON EDGAR CONROD (1901-1986)
MARGARET LECLAIR (1913-)
(Last Updated: August 28, 2012)
Gordon Edgar CONROD was born Dec 2, 1901 in Chezzetcook, Nova Scotia, son of Susan Maud GRAHAM & Nelson Archibald CONROD (1860-1946).
In 1911 Gordon was recorded as 11 years old, living with his parents on Victoria Road in Dartmouth, Nova Scotia. In 1913 the CONROD family moved to Dryden, Ontario and around 1921 they moved to Selkirk, Manitoba. I believe they lived on Stathnavor Avenue (west of the railroad tracks) until 1928 when they moved to Mapleton (Old England) to the south of Selkirk. More details about the family history during Gordon's early years can be seen at this link:
** MORE ABOUT the NELSON CONROD FAMILY
Marriage to Margaret LECLAIR
Dalhousie, New Brunswick
1927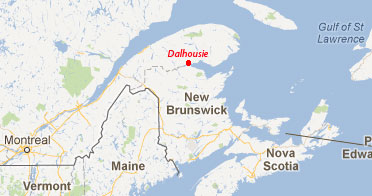 Around 1927 Gordon was at Dalhousie, New Brunswick where he had a contract as a Cook for the Canadian Dredging Company. It was there that he met and married Margaret LECLAIR, daughter of Marceline & Andrew LECLAIR, a French Canadian family. Daughter Glenny was born there around 1928-29 (I don't have her birth date). They lived there for about 2 ½ years until the Great Depression began.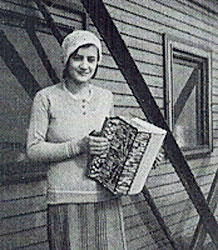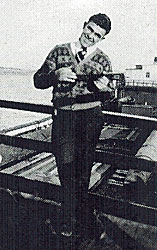 Margaret Leclair on the accordion – Gordon Conrod on the mandolin
The Great Depression, the Dirty Thirties
Gordon moves to Manitoba
1929-1939
Throughout the years of 1929 to 1939, there was a world wide Depression and Canada was one of the worst affected countries. Financially and economically the country began to collapse regardless of what was done by political power.
When the Depression hit and jobs were hard to find, Gordon moved his family to Old England, Manitoba (south of Selkirk) where he was reunited with his father and siblings. He found work in the steel plant of the Manitoba Rolling Mills (MRM), but wages were poor and he only earned about $10 per week. He supplemented that by farming and developed a keen interest in horticulture and gardening.
The War Years
1939-1945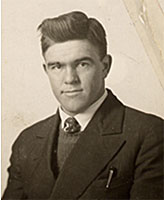 Gordon Conrod
World War II: On Sep 10, 1939, a special session of Parliament approved Prime Minister Mackenzie KING's request that Canada join the war in Europe. The decision, seen by most Canadians as inevitable, came exactly one week after England and France declared war on Nazi Germany. It was the first time that Canadians made their own declaration of war as a sovereign nation.
The rest of Gordon's family were born in Selkirk (Vera, Edgar and Marilyn). They attended Mapleton School. Edgar and Vera are pictured in the Class of 1944 which can be seen at this link: MAPLETON SCHOOL
Gordon was a Groundskeeper at Dawson Richardson's property on River Road.
On April 15, 1946, Gordon's father (Nelson) died at Mapleton at the age of 84. Two years later, March 27, 1948, his mother (Susan Maud) died at the age of 81.
Move to Red Lake – Ear Falls
1950
Some History: With the end of the war and the opening of Highway 105 in 1947, the mining industry in the Red Lake region was renewed. Ear Falls was now linked by road to the Trans-Canada Highway and to Red Lake.At this time, the Chukuni Lumber Company was operating at Snake Falls. The operation consisted of a saw mill, a small box mill, and about a dozen houses lining the trail that ran through the lumber yards to the saw mill. The children of the workers were bussed to school in Ear Falls.
Around 1949-50 Gordon moved to Red Lake Road (Ontario) to operate a café and later a grocery store, but times were bad so he closed the store to work for Patricia Transportation Co. loading and unloading Red Lake mail from the trains at night.
Gordon CONROD would later become a prominent citizen of Ear Falls. In 1973 Reverend Gwyneth Rae (nee RUSSELL) KIEBUZINSKI published a book called Yesterday the River: A History of the Ear Falls District. Rae interviewed many of the local pioneers of the early 20th century and did extensive research in archives, including at the Hudson's Bay Company Archives when it was still in Great Britain. This book remains the only monograph on the Ear Falls District and its deep connection to the Red Lake area. Gordon CONROD was one of the people Rae interviewed, and it is from excerpts of her interview I was able to sketch out Gordon's activities in the district. ** MORE ABOUT KIEBUZINSKI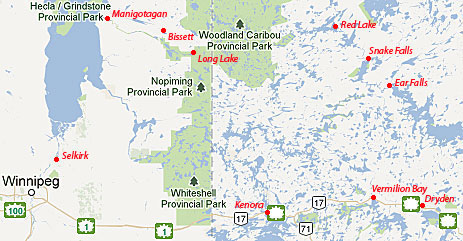 More History: The discovery of gold at Red Lake in 1925 initiated a rise in development throughout areas north of the railways. In the following years, thousands of claims were staked from Favorable Lake in the west to Pickle Lake in the east. Transportation routes, settlements and power supplies were developed to support the mining industry. It was the success of the gold mines which led to the shaping of the region's transportation, land use and settlements patterns. It was also the Red Lake Gold developments that provided incentive for settlers to locate to Ear Falls. The falls were located on the primary freight route from Hudson to Red Lake.
A generating station was constructed by Ontario Hydro in order to supply power to the mines at Red Lake, which lead to the creation of the Hydro colony at Ear Falls. By the 1930's, Ear Falls had replaced Goldpines as the main settlement in the area. When bush planes became more affordable to transport goods, Ear Falls became the jump off point to Red Lake.
How Ear Falls got its name: We owe the town's name to the natives that first inhabited the area. Long before white men settled this area, the English River Rapids, which is now the Hydro dam, were the cause of much superstition among the natives. They believed a monster or spirit in the shape of a beaver lived in the rapids. Sometimes when the beaver was swimming its ears broke the surface of the river, frightening any passers-by. The rapids became known by the natives as, Otahwaka Powitek, which translated to English means Ear Falls.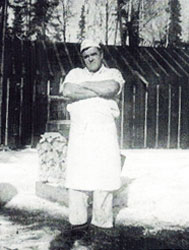 Gordon Conrod the Cook
In 1950 the Chukuni Lumber Co. at Snake Falls borrowed Gordon's services to cook at their logging camp for two weeks, and as he was still there by summer, Margaret and the family moved up to join him on July 1 that year. He worked for Chukuni for four years, cooking at their bush camp in winter and working at the mill in summer.
By 1954, plans were made to move the Chukuni Mill operations to Ear Falls. The workers constructed houses north of the highway, along the hydro line. The Chukuni Lumber Company was eventually purchased by the Dryden Paper Company and in the late 1950's it was closed.
In 1955, when Chukuni moved their site to Ear Falls, Gordon left and started working for Ontario Hydro, where he was employed for 10 years until his retirement in 1965. Every winter he cooked for the forestry or the line crew when they were away from Ear Falls for any length of time repairing the lines. In summer he acted as handyman and gardener.

In 1970 Ear Falls was incorporated as a Municipality.
Kiebuzinski:"I (Rae) was one of the privileged few to see Gordon CONROD pick the first apples ever grown in Ear Falls - - for several years operated a greenhouse in Ear Falls selling plants to local residents."
Margaret CONROD, who had four children early in life, has been working for a number of years. She was employed by Chukuni Lumber Co. to run their grocery store at Snake Falls while they lived there from 1955 until her retirement this spring was employed as cashier by Jim and Hilda SWEET in Ear Falls Trading Post. They have four children: Glenny (Mrs Norman ROY) who was born in New Brunswick, Vera (Mrs Bill ANDERSON), Eddy and Marilyn (Mrs Ernie ALCOCK) who was born in Selkirk. The three girls are all still (1973) living at Ear Falls. There are 14 grandchildren and 2 great grandchildren. Since retirement Gordon, who is 70 this year, has kept busy in his garden and repairing and painting several houses which he owns in Ear Falls.
Gordon died in 1986 and Margaret in 1989 (Both buried Ear Falls, Ontario).
I am making a trip to Manitoba in early August, where I hope to get better information and better photos. Whenever I become aware of corrections and changes I will update this page. In the mean-time, please post queries and comments at the following link: FORUM DISCUSSING THE GORDON CONROD FAMILY
========================= Family Details =========================
Children:
1. GLENDA MARGURITE "GLENNIE" CONRAD (m1. Peter PELEK, m2. Norman "Nap" ROY, m3. Don BURDENY)
2. Feb 14, 1933 VERA MARION CONRAD (William "Billy" ANDERSON)
3. EDGAR ARLINGTON "Eddy" CONRAD
4. MARILYN CONRAD (m. Ernie ALCOCK)