NELSON AUBREY CONROD (1890-1963)
WILEMIA AMELIA "MINNIE" McCUMBER (1905-1989)
(Last Updated: March 06, 2014)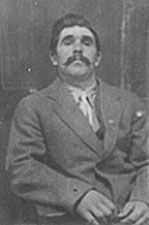 Nelson Aubrey Conrod
Nelson Aubrey CONROD was born Dec 4, 1890 at Head of Chezzetcook, Nova Scotia, son of Susan Maud GRAHAM & Nelson CONROD SR (1860-1946).
In 1911 Nelson was recorded as 11 years old, living with his parents on Victoria Road in Dartmouth, Nova Scotia. In 1912 the CONROD family moved to Dryden, Ontario and around 1921 they moved to Selkirk, Manitoba. I believe they lived on Stathnavor Avenue (west of the railroad tracks) until 1928 when they moved to Mapleton (Old England) to the south of Selkirk. More details about the family history during Nelson's early years can be seen at this link:
** MORE ABOUT NELSON CONROD SR
The First World War
1914
Nelson was 24 years old when, on Aug 14, 1914, Great Britain (and Canada) declared war on Germany and Austria-Hungary, to uphold treaties with France and Belgium which were under German attack.
In the 1916 Census, Nelson (age 26) was enumerates as a "hired man" in the household of one Hector McLEAN near Shoal Lake, Manitoba.
In 1923 Nelson moved to Selkirk, Manitoba.
My notes:  In the fall of 1924, Nelson was renting the WARREN Farm in the Assiniboine Valley.  Sister Bessie was cooking for him during the threshing season.  That was when Bessie met her future husband, Jimmy STILL.
John Conrad:  Nelson worked on farms as a hired man for several years, and then tried renting a farm for himself near Shoal Lake.  In early 1926 he gathered up his belongings, which consisted of several horses, a wagon, and a few personal effects, and headed back to see his parents at Selkirk.  While there, he courted Minnie McCUMBER, and proposed marriage and a life of farming.
Marriage to Minnie McCUMBER
1926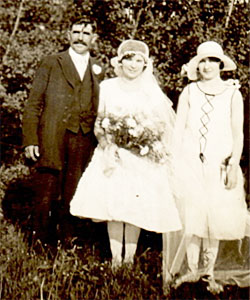 Nelson & Minnie's Wedding June 30, 1926
On Jun 30, 1926 Nelson married Wilemia Amelia "Minnie" McCUMBER (born 1905), daughter of Katherine "Kate" KNAUS & Milton "Mike" McCUMBER (1877-). ** MORE ABOUT MIKE McCUMBER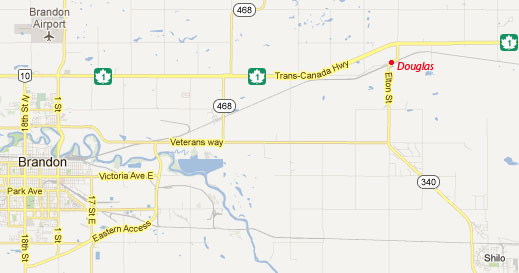 John Conrad: When they married, Nelson was 36 and Minnie was 21. They took up the last remaining homestead in the Municipality of Cornwallis near Douglas, MB.  The only cost was $10 to register their claim.  The property was NW 14-17-10W2.  They travelled to the property immediately after they married, and their first home was an abandoned shack at a place called Voght's Bluff.  Later that year, they constructed a house out of old railroad ties on their own property.  Life was very difficult during those first few years, while the cattle herd was being built and Nelson trapped, sold hay, and did day work in order to earn enough to live. John was born in the house made out of railroad ties in 1927, shortly after a wind storm had blown off the roof and it had to be re-built. 
Daughter Kathleen was born on Oct 3, 1930, in Selkirk.
Nelson & Minnie's next two children were born in nearby Brandon; Barbara in 1939 and Sharon in 1944.
In 1944 son Johnny became employed as Canadian National Telegraph (CNR) Messenger at Camp Shilo; that led to a 48-year career with CN Rail at numerous locations across Canada.
Move to Winnipeg
1946
In 1946 Nelson became ill; sold his farm and cattle at Douglas and the family moved to Winnipeg where their last/ youngest child, Heather, was born in 1947.
Daughter Kathleen became a Licensed Practical Nurse in Winnipeg, and in 1950 she moved to Arborg (MB) to work in the hospital there.
Sharon: We farmed (west of the city) till 1953 then moved to 1845 Logan Avenue West which was closer into the city for better employment.  Dad worked at odd jobs until he started at Thorkelson's Box Factory full time, while mom got jobs cleaning offices. 
In 1953 son John married Shirley Jean SWITZER, daughter of Mary Ann HENDERSON & John James SWITZER.
In 1953 daughter Kathleen married Sigurjon JOHNSON at Arborg:
Nelson dies and Minnie remarries to Alfred Roy EVANS
1963
On March 17, 1963 Nelson CONROD died in Winnipeg.
Widow Minnie re-married to widower Alfred Roy EVANS, son of Ellen (nee SWANSON) SVEINSDOTTIR & Alfred John EVANS (1873-1941). Roy was Ella EVANS' brother (Wilson CONROD's brother-in-law).Roy EVANS had been previously married to Lena RIBKO who died in 1955. ** MORE ABOUT ALFRED JOHN EVANS
On June 4, 1989 Minnie (nee McCUMBER) CONROD-EVANS died at Arborg, MB
In 1991 daughter-in-law (Johnny's wife) died, and in 1993 Johnny remarried to Annette (nee BOUSQUET) PORTER.
.
Please post comments & queries at the following: FORUM DISCUSSING the MINNIE & NELSON CONROD FAMILY
========================== Family Details ==========================
Children:
1. Sep 30, 1927 JOHN MARTIN "JOHNNY" CONROD (m1. Shirley Jean SWITZER,
m2. Annette Rita (nee BOUSQUET) PORTER)
2. Oct 3, 1930 KATHLEEN GLADYS CONRAD (m. Sigurjon A. JOHNSON)
3. Feb 3, 1939 BARBARA HELEN CONRAD (m. Ray MAGNUSSON)
4. Nov 16, 1944 SHARON JEAN ANN CONRAD (m1. Roy DANIELSON, m2. Edward HAWRYSH,
m3. George McKENZIE)
5. Dec 9, 1947 HEATHER AUDRY CONRAD (m1. Herbert BREWIS, m2. David DANIELSON)