ALFRED JOHN EVANS (1873-1941)
ELIN SWANSON (SVEINSDOTTIR) (1875-1943)
(Last Updated: March 05, 2014)
Alfred John EVANS was born Apr 12, 1873 in Meole Brace, Shrewsbury, Shropshire England, son of Harriet Jane GRIFFITHS and John EVANS (b-1840).
Many thanks to the EVANS descendants and their family trees on Ancestry.com, particularly to Tim Evans, Robert Simpson and Paul Moores for their information and photos.
Alfred's parents were Harriet Jane GRIFFITHS (b-1849) and John EVANS, who was born Jan 26, 1840 in Belton, Berrinngton, Salop [son of Priscilla HOWELLS (1809-1885) and William EVANS (1801-1876) from Chibury, Montgomeryshire, Wales]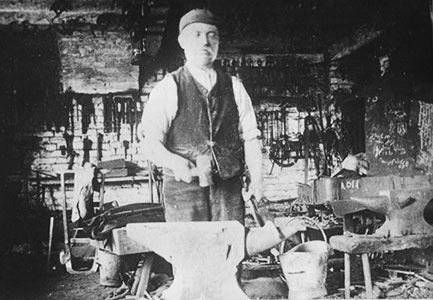 John Evans (From Paul Moores, Moores Family Tree on Ancestry.ca)
England Census 1881: Shropshire County, Parish of Brace Meole, pg 4, HH-19 (Lower Terrace): John EVANS, Blacksmith, age 38 (born c1843 in Berrington, Shropshire); wife Harriet, age 32 (born 1849 in Tugford, Shropshire). Children (all born in Meole, Shropshire): George (age 7), Alfred (4), Harriet (2 amd Emily (age 1).

England Census 1891:  Meole Brace, Shropshire: John EVANS, age 50 (b-c1841); wife Harriet, age 42. Children: George (age 18), Alfred (15), Emily Mary (11) and Edith (age 5).
England to Canada – Souris, Manitoba
1892
UK Passenger List: Ship's name: Lake Huron. On May 21, 1892 the ship departed from Liverpool bound for Montreal. Passenger: John EVANS, Laborer, age 21 (b-1871), contracted to land at Winnipeg.
In 1895 Elin SVEINSDOTTIR came from Iceland to Canada.
** MORE ABOUT ICELANDIC SETTLEMENT IN MANITOBA in MHS

Marriage to Ellen SWANSON/ SVEINSDOTTIR
Souris, Manitoba
1902
According to Manitoba Vital Statistics, on March 5, 1892 Alfred John EVANS married Ellen SWANSON and the birth records of their children also refer to their mother as Ellen SWANSON.
However, in several family trees on Ancestry.com indicate that on that date Alfred John EVANS married Elin SVEINSDOTTIR at St Lukes Church in Souris, Manitoba, daughter of Kristin JOHNSDOTTIR and Sveinn GISLASSON (1832-1887) who was born and died in Iceland, with Elin born Oct 26, 1875 in Iceland.
This is all quite puzzling and confusing, and it suggests that perhaps the surname SWANSON was a derivative of the surname SVEINSDOTTIR, but that doesn't explain how her surname changed from GISLASSON to SVEINSDOTTIR and then to SWANSON. I'm hoping one of the descendants will explain all of this on this Forum (Link below).
In the 1906 census at Souris the family was recorded as follows: Alfred J EVANS, age 30; wife Alice (?), age 28. Children: Lilly J (age 3), Alfred Roy (2) and baby Edith C.
In 1907 son Albert James was born in Souris.
In 1911 Vital Stats indicates that daughter Elin "Ella" was born in Winnipeg. However, other sources indicate she was born in Souris. ** This is my (Gary STILL's) Aunt Ella. I'm hoping my cousin David CONROD can clear up where she was born?
World War I
The EVANS family in Selkirk
1914-1919
On Aug 4, 1914 Great Britain (Canada on Aug 5) declared war on Germany and Austria-Hungary to uphold treaties with France and Belgium which were under German attack. This marked the beginning of World War I.
Souris to Selkirk
By 1914 the EVANS family had moved from Souris to Selkirk. Their last child, Sveinn John was born there that year.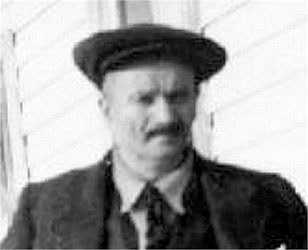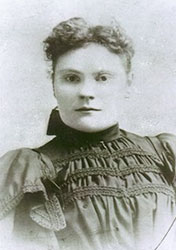 Alfred John Evans – Elin Sveinsdottir
(From Robert Simpson on Ancestry)
Census 1916 at 247 Main Street in Selkirk: Alfred John EVANS, age 40; wife Ellen, age 38. Children: Lillie Jane (age 13), Alfred Roy (12), Edith Kristin (11), Albert Gudmundur (7), Ellen Susanna Margaret (5) and Sveinn John (age 1).
November 11, 1919, Armistice Day (Remembrance Day) marked the end of the First World War.
Census 1921 at 351 Dufferin Avenue in Selkirk: Alfred John EVANS, age 46; wife Elin, age 43. Children: Alfred Roy (age 17), Edith Christian (15), Albert James (12), Ella (10), Sveinn John (age 6).
In 1926 eldest son Alfred Roy married Lena REBKO in Selkirk, daughter of Helena LEWICKA and Dmytro REBKO (1883-1944) from Galacia.
In 1927 daughter Edith married Charles Denis DONE in Selkirk, son of Elizabeth and Thomas DONE from England.
In 1928 eldest daughter Lillian married Stan SIGURDSON in Selkirk.
In 1930 son Albert James married Sigurbjorg Sessdja SIGURDUR in Winnipeg.
In 1932 daughter Ella married Wilson CONROD in Selkirk, son of Susan Maud GRAHAM & Nelson CONRAD (1860-1946). ** MORE ABOUT NELSON CONROD SR
World War II
1939-1945
On Sept 4, 1939 Canada and Britain declared war on Germany, and almost immediately new recruits began pouring into Winnipeg to sign up with the Winnipeg Grenadiers and the Royal Rifles of Canada.
On Oct 20, 1941 Alfred John EVANS died in Selkirk. On May 12, 1943 his wife Ellen died in Selkirk.
On May 7, 1945 Germany surrendered and the War in Europe ended; the next day, May 8, is declared VE Day.
In 1955 son Alfred Roy's wife Lena died, and sometime after 1963 he re-married his sister-in-law, Widow Minnie (nee McCUMBER) CONROD, daughter of Katherine MAWS and Mike McCUMBER (1883-) and widow of Nelson Aubrey CONROD (1890-1963). ** MORE ABOUT NELSON AUBREY CONROD
Comments and queries at this link: FORUM DISCUSSING the ALFRED JOHN EVANS FAMILY
========================== Family Details ==========================
Children:
1. Oct 19, 1902 LILLIAN JANE (LILLY) EVANS (m. Stan K.L. SIGURDSON)
2. Feb 29, 1904 ALFRED ROY EVANS (m1. Michalena REBKO), m2. "Minnie" (nee McCUMBER) CONROD)
3. Sep 21, 1905 EDITH KRISTIN EVANS (m. Charles Denis DONE)
4. Mar 26, 1907 ALBERT JAMES EVANS (m. Sigurbjorg Sessdja SIGURDUR)
5. Apr 11, 1911 ELIN SUSANNA MARGARET "ELLA" EVANS (m. Wilson Arlington CONROD)
6. Jun 27, 1914 SVEINN JOHN EVANS (m. Sarah "Sadie" ROGAN)