PETER GORDON (1889-?)
GRACE ANASTAIA CONROD (1894-1986)
(Last Updated: January 26, 2017)
Peter GORDON was born in September of 1889 in Ireland (Belfast), son of Elizabeth & Peter GORDON SR.
Peter went to sea as a cabin boy. He would take a job on a ship and could be gone for a year or two at a time.
Around 1900 Peter arrived in Nova Scotia.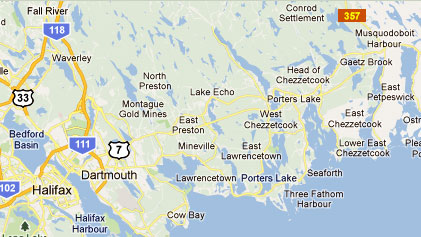 Being a seaman, it seems like a good possibility that Peter GORDON may have worked aboard the same sailing vessel(s) as his future father-in-law, Nelson CONROD, a deep-sea diver who sailed far and wide. In the 1911 census, Peter was recorded as a 21 year-old boarder in the Dartmouth household of Annie & Thomas RICHARDS (b-1863). The CONROD family was living on Victoria Road in Dartmouth that year, and Grace CONROD was a 16 year old working as a 'domestic' for a 'private family' at that time. Perhaps the 'private family' was that of Thomas RICHARDS where Peter GORDON was boarding.
GRACE ANASTASIA CONROD (1894-1986)
On Aug 16, 1894 Grace Anastasia CONROD was born in Chezzetcook, NS, the eldest daughter of Susan Maud GRAHAM & Nelson Archibald CONRAD (1860-1946). ** MORE ABOUT SUSAN & NELSON CONROD
In 1905 Grace's father (Nelson) retired from his job as a deep-sea diver, and not long after the family moved to Dartmouth.
In the census of 1911 Grace was recorded with her parents on Victoria Road in Dartmouth, a 16 year-old 'domestic for a private family'.
Peter marries Grace CONROD
1912
On Nov 11, 1912 Peter married Grace Anastasia CONROD in Halifax (Dartmouth), daughter of Susan Maud GRAHAM & Nelson Archibald CONROD (1860-1946).  Susan CONROD and Anne GRAHAM (Susan Maud and her sister) were the witnesses.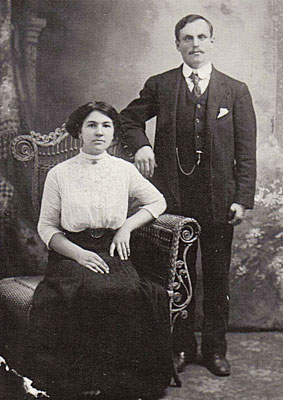 Grace & Peter Gordon
Around 1913 the rest of the CONROD family moved to Dryden, Ontario. Grace & Peter remained in Dartmouth (Halifax).
The First World War
1914-1919
On Aug 14, 1914, Great Britain (and Canada) declared war on Germany and Austria-Hungary, to uphold treaties with France and Belgium which were under German attack.
Around 1915 daughter Margaret was born.
 In 1918 son William "Bill" was born (baptized that year in Lunenburg).
November 11,1919, Armistice Day (Remembrance Day) marked the end of the First World War.
Grace moves to Manitoba
1923
In 1923 Grace (Mrs GORDON) and her two children, Margaret (age 8) and Bill (age 5) moved from Halifax to join her CONROD parents in Selkirk, MB. I don't have the details, but it seems that Peter only later joined Grace and his children in Manitoba.
The Great Depression, the Dirty Thirties
1929-1939
Throughout the years of 1929 to 1939, there was a world wide Depression and Canada was one of the worst affected countries. Financially and economically the country began to collapse regardless of what was done by political power.
Around 1929, daughter Sheila was born. I've been told that Grace had two more children, George and Elizabeth who died quite young.
Details are fuzzy to me, but it seems that daughter Margaret's first spouse was William "Bill" SMITH (I don't know the details; perhaps Clara will help me out).
World War II
1939-1945
On Sept 4, 1939 Canada and Britain declared war on Germany, and almost immediately new recruits began pouring into Winnipeg to sign up with the Winnipeg Grenadiers and the Royal Rifles of Canada.
Son Bill served overseas in World War II with the Royal Winnipeg Rifles. He was wounded, taken prisoner and later liberated by the Allies. Around 1942 he married Clara TAYLOR, daughter of Mary Elizabeth STEVENSON & Lawrence TAYLOR (1900-1989). ** MORE ABOUT LAWRENCE TAYLOR
On May 7, 1945 Germany surrendered and the war in Europe ended; the next day, May 8, was declared VE Day. On August 14, 1945 Japan surrendered - VJ Day. The Second World War was officially over.
At some time during the mid 1940's, Grace and her children moved to Winnipeg. ** Clara: Peter left the family in Winnipeg and went back to the coast and I don't know if grandma (Grace) ever heard from him again. He never supported the family and Grace worked very hard all her life to take care of things - - Grandma suspected that Peter had another family somewhere. He tried living on the land but it was not for him. He said if he ever got his feet back on a ship he would never again step on land.

Auntie Grace used to visit us at Mapleton when I (Gary) was a youngster (in the mid 40's), along with Sheila and Reggie and Honey; sometimes Margaret; sometimes Clara & Bill. I mostly recall her as a sweet old lady who was very deaf. We kids often used to snicker in the background whenever we heard her typical "Eyh-h-h?- What say?" We also occasionally visited Auntie Grace in Winnipeg (west end). She worked as a cleaning lady in offices in the city. I remember when we visited her in Winnipeg; the place where she was living alone was a virtual museum filled with magical looking figurines and artefacts of all kinds that I marvelled at as a child.
Around 1950 son Bill & Clara moved their family from Selkirk to Ontario.
Nina: Did Dad (Bill GORDON) ever mention that he thought his father (Peter) died while working on the Welland Canal? The Welland Canal connects Lake Ontario to Lake Erie through a series of 8 locks, allowing ships to avoid the 51 meter high Niagara Falls. In the 1950s, with the building of the present St Lawrence Seaway, a standard depth of 8.2 m (27 ft) was adopted. The 13.4 km (8.3 mile) long Welland By-pass, built between 1967 and 1972, opened for the 1973 shipping season, providing a new and shorter alignment between Port Robinson and Port Colborne and by-passing downtown Welland.
In 1955 daughter Margaret married Jim BOLLEN.
I don't know when daughter Sheila married Bruce CROSBY.
In 1986 Grace GORDON died in Kelowna, BC, probably while staying with adoptive grandson Reggie BOLAND who was working there as a Dental Technician.
Please post comments & queries at this link: FORUM DISCUSSING BILL GORDON and his FAMILY
========================== Family Details ==========================
Children:
1. 1915 MARGARET GORDON (m1. William "Bill" SMITH, m2. James "Jim" BOLLEN)
2. Oct 29, 1918 WILLIAM JOHN "BILL" GORDON (m. Clara Mabel TAYLOR)
** MORE ABOUT WILLIAM JOHN "BILL" GORDON
3. 1920 GEORGE GORDON (Died age 11-12)
4. ELIZABETH GORDON (Died in infancy)
5. c1929 SHIELA GORDON (m2. Bruce CROSBY, m2. Richard "Rick" JONES)