LAWRENCE TAYLOR (1900-1989)
MARY ELIZABETH STEVENSON (1900-1974)
(Last Updated: January 26, 2017)
Lawrence TAYLOR was born Aug 2, 1900 in East Mapleton (RM of St Clements; east side of the Red River), the eldest child of Clara SPENCE & Edward TAYLOR (1870-1925). ** MORE ABOUT EDWARD TAYLOR
Lac du Bonnet
1909
Around 1909 the Edward TAYLOR family moved to Lac du Bonnet (Sec 33-15-11-E1). In the 1911 census Lawrence (age 10) was recorded with his parents there.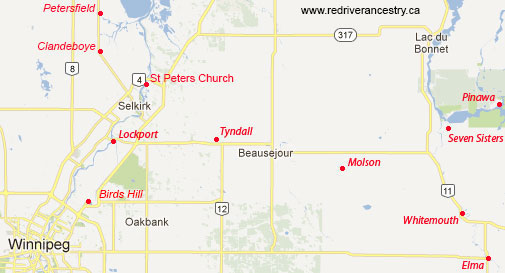 The First World War
1914-1919
On Aug 14, 1914, Great Britain (and Canada) declared war on Germany and Austria-Hungary, to uphold treaties with France and Belgium which were under German attack.
On Dec 20, 1915 Lawrence managed to get enlisted in the Army (108th Battalion) by falsifying his birth date as Aug 7, 1897. He was actually only 15 years old, and about four months later the truth was discovered and he was discharged as "Under-age." On his Attestation record he was described as 5' 7"; dark complexion, brown eyes and dark brown hair. Next of kin: his mother, Ann Clara TAYLOR of Lac du Bonnet. 
November 11,1919, Armistice Day (Remembrance Day) marked the end of the First World War.
Lawrence & Mary Elizabeth STEVENSON
In 1921 when Lawrence was about 24 years old his mother (Clara) died at Lac du Bonnet. His younger siblings were raised by his sister Caroline & James FROST (1869-1959) who were living in East Mapleton. Lawrence lived there only for a short time, but by about 1922-23 he began a connubial (common-law) relationship with Mary Elizabeth STEVENSON, daughter of John James STEVENSON (b-c1875) from the Fisher River Indian Reserve. Mary Elizabeth was a registered Treaty Indian at the time of her union with Lawrence. ** MORE ABOUT JOHN JAMES STEVENSON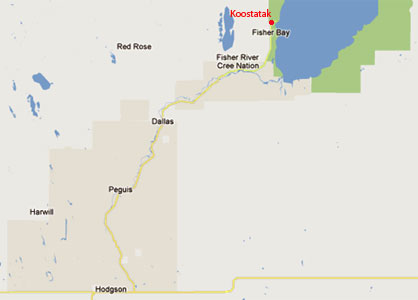 At least two of Lawrence's children were born at Koostatak in the Fisher River Indian Reserve; son Edgar in 1922 and daughter Clara in 1924.
In 1925 Lawrence's father (Edward) died in East Mapleton.
It is uncertain where Lawrence and his family were located during the 1920's and 30's (Perhaps Clara can help us out).
By 1939 the rest of Lawrence's children were born (probably in East Mapleton); Morley, Arthur, Edith, Gladys, Olive and Lawrence.
World War II
1939-1945
On Sept 4, 1939 Canada and Britain declared war on Germany, and almost immediately new recruits began pouring into Winnipeg to sign up with the Winnipeg Grenadiers and the Royal Rifles of Canada.
Around 1942 daughter Clara married Bill GORDON in Selkirk, son of Grace CONROD and Peter GORDON (b-1889).
On June 10, 1943 Mary STEVENSON and Lawrence TAYLOR were legally married.
Eldest son Edgar was a soldier in the War (Queen's Own Cameron Highlanders) and was taken a prisoner (POW) during the conflict in Germany.
In November of 1943 son-in-law Bill GORDON (Clara's hubby) enlisted for War service with the Royal Winnipeg Rifles and was also taken prisoner (POW).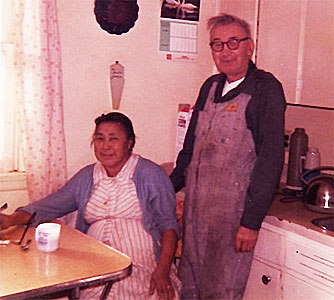 Mary & Lawrence Taylor

On May 7, 1945 Germany surrendered and the war in Europe ended; the next day, May 8, was declared VE Day.
Soon after the War ended, eldest son Edgar married Malvina Nora SABISTON, daughter of Nora CROMARTY & George Morris SABISTON (1900-1939). Edgar's father (Lawrence) owned property on Fox Ave in Selkirk, which he sold to Edgar after the rest of the family moved to Ontario.
The move to Ontario
1950
Around 1950 the Lawrence TAYLOR family moved to Ontario (first to Longlac, Ontario).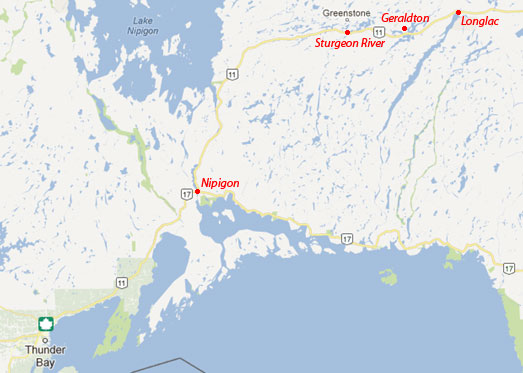 Clara: When we left Selkirk in 1950 to visit my grandparents, Lawrence & Mary TAYLOR in Sturgeon River, Ontario. Grandpa (Lawrence) was working for Camp 51 between Jellicoe (west of Surgeon River) and Geraldton.
Daughter Edith married Joseph HACHEY of unknown origins.
Daughter Gladys married Vincent JACKSON of unknown origins.
Youngest daughter Olive married Albert WYROZUB, son of Mary and Karl WYROZUB (1894-1942) from the Ukraine.
In 1974 Mary Elizabeth TAYLOR died. She would have been about 74 years old.
In 1981 Lawrence (widowed with 3 daughters) was living in Thunder Bay, Ontario.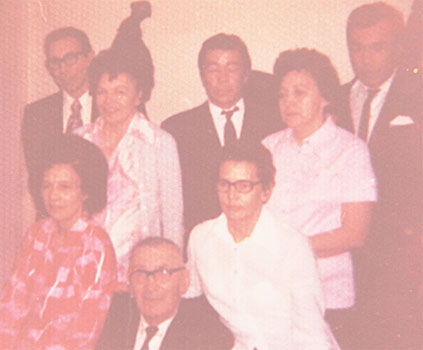 The Lawrence Taylor Family
L-R Back: Edgar, Arthur and Lawrence
Middle: Clara and Gladys
Sitting, L-R: Olive, Edgar Sr. and Edith
In 1989 Lawrence fell and broke his hip in the Red River Nursing Home in Selkirk (MB). Surgery was performed at Health Sciences but he did not survive (Clara). Lawrence TAYLOR died on Feb 14, 1989.
Please post comments and queries at this link: FORUM DISCUSSING the LAWRENCE TAYLOR FAMILY
============================ Family Details ============================
Step-child (child of Mary STEVENSON and Unknown):
1. MORLEY TAYLOR
Children of Lawrence & Mary:
1. Jun 28, 1922 EDGAR TAYLOR (m. Melvina Nora SABISTON)
2. May 18, 1924 CLARA MABLE TAYLOR (m. William John "Bill, Willie" GORDON)
** MORE ABOUT WILLIAM JOHN "BILL" GORDON
3. 1928 ARTHUR TAYLOR
4. 1931 EDITH TAYLOR (m. Joseph "Joe" HACHEY)
5. 1933 GLADYS TAYLOR (m. Vincent JACKSON)
6. Nov 14, 1934 OLIVE "OLLIE" TAYLOR (m. Albert WYROZUB)
7. c1939 LAWRENCE TAYLOR (?m. Jean)