EDGAR TAYLOR (1922-1997)
MALVINA NORA SABISTON (1929-2006)
(Last Updated: November 11, 2015)
Edgar TAYLOR was born June 28, 1922 in the Fisher River Indian Reserve, son of Mary Elizabeth STEVENSON and Lawrence TAYLOR (1900-1989). ** MORE ABOUT LAWRENCE TAYLOR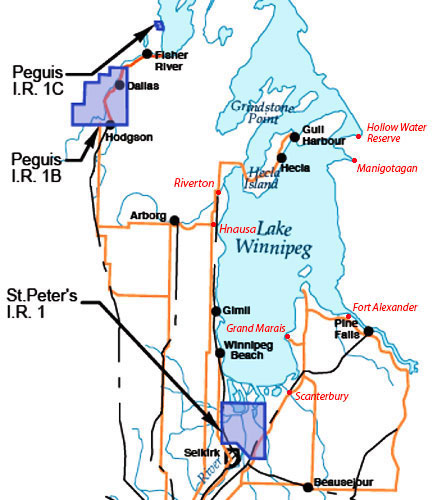 World War II
1939-1945
On Sept 4, 1939 Canada and Britain declared war on Germany, and almost immediately new recruits began pouring into Winnipeg to sign up with the Winnipeg Grenadiers and the Royal Rifles of Canada.
Edgar served with the Queen's Own Cameron Highlanders during the Second World War and was taken prisoner in Germany. He was captured by the Germans only a few days after his arrival at Normandy. He was treated very poorly and suffered many hardships.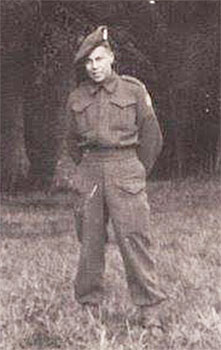 Click on the following video to learn more about Edgar's war experience:
CBC PLAYER – REMEMBERING A GRANDFATHER, SOLDIER, PRISONER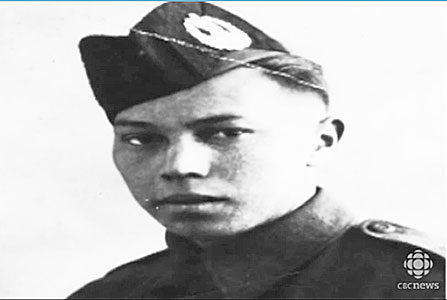 On May 7, 1945 Germany surrendered and the war in Europe ended; the next day, May 8, was declared VE Day.
Marriage to Malvina Nora SABISTON
1945
It was about 1945 (after the War ended) that Edgar married Malvina Nora SABISTON, daughter of Nora CROMARTY & George Morris SABISTON (1900-1939).
Taylor Family – 1967 Selkirk (Adams posted on Ancestry.ca)
Back L-R: Susan Taylor Tichburn, Gerrr, Lawson, Judith (Taylor) Adams, Garth, Jack
Middle L-R: Jeff & Mark
Front L-R: Melvina Sabiston, Darryl Taylor, Edgar Taylor holding Bradley Scott
In 1983 Edgar retired after 40 years of employment at the Manitoba Rolling Mills.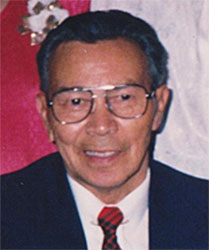 Edgar was a member of the Royal Canadian Legion, Branch Nol 42, Selkirk, and was actively involved with the community, serving on Town Council for two terms. He had to decline a third term due to ill health. He had served on the Selkirk Centennial, Hospital Restitution and Housing Committees. He was also a member of the Kiwanas Club which he loved dearly.
On Mar 18, 1997 Edgar TAYLOR died in Selkirk.
From his 1997 Obit: He leaves surviving his loving wife of 52 years, Melvina; eight sons, Jack (Francine), Garth (Cindy), Gerry (Shirley), Jeffrey and Scott (Isabel), all of Selkirk; Lawson (Connie) of Winnipeg; Mark (Pattie) of Edmonton and Darrell of Port Coquitlam, BC; two daughters, Judith ADAMS (Leslie) of Selkirk and Susan TICHBORNE of Winnipeg; three sisters, Gladys JACKSON of Selkirk, Olive WYROZUB and Edith HACHNEY, both of Thunder Bay; two brothers, Lawrence of Winnipeg and Arthur of Thunder Bay, as well one Uncle Bob TAYLOR of Selkirk. Edgar was predeceased by his mom and dad, Mary and Lawrence TAYLOR; Sister Clara GORDON and one grandson Alan TAYLOR.
On Aug 26, 2006 Melvina Nora (nee SABISTON) TAYLOR died in Selkirk at the age of 77.
Comments and queries at this link: FORUM DISCUSSING THE EDGAR TAYLOR FAMILY
============================ Family Details ============================
Children:
1. JACK TAYLOR (m. Francine)
2. GARTH TAYLOR (m. Cindy FROST)
3. SUSAN TAYLOR (m. Kevin TICHBORNE)
4. GERRY TAYLOR (m. Shirley)
5. LAWSON TAYLOR (m. Connie)
6. MARK TAYLOR (m. Patti)
7. JEFFREY TAYLOR
8. SCOTT TAYLOR (m. Isabel)
9. DARRELL TAYLOR
10. JUDITH TAYLOR (m. Leslie ADAMS)