JOHN JAMES STEVENSON (1875-?)
HELEN FRANCES SINCLAIR (?)
MARIA MURDOCK (1886-?)
(Last Updated: March 18, 2013)
John James STEVENSON was born around 1875 in the St Peters Indian Reserve.
It is my belief that John James was the son of Elizabeth DANIEL, second wife of "Swampy" John STEVENSON (1840-1932). Please note that I have so far not found any documentation to support my contention which is only based on circumstantial evidence. ** MORE ABOUT SWAMPY JOHN STEVENSON
In the 1881 Census John ("Swampy John") STEVENSON (age 32) was recorded as an Indian living in the St Peters Reserve with wife Elizabeth (age 32) and children Caroline (age 11), Alexander George (9), Alfred (7), John James (age 6), Riley (age 4) and Elizabeth, (6 months old). His parents (Juliet & John STEVENSON SR) and some siblings were recorded as next-door neighbours in the same census.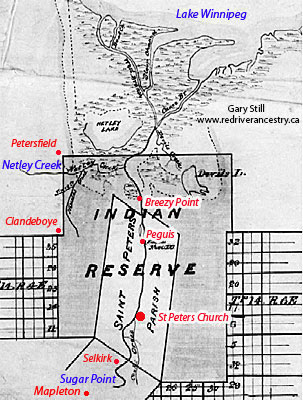 Boundaries of the St Peters Indian Reserve after Treaty Number One (1871)
Except for the John James (JJ) STEVENSON recorded in the census of 1881, there is no one by that name to be found in the census records of 1891 or 1901, indicating for one thing that the name was not very common. In 1901 JJ would have been about 26 years old; old enough to have had a wife and child(ren).
John James & Helen Frances SINCLAIR
1901
Around 1901 (according to Clara) a John James SINCLAIR was married to Helen Frances SINCLAIR who was the mother of Mary Elizabeth STEVENSON born on March 28, 1901 at Koostatak in the Fisher River Indian Reserve. We are sadly lacking information about this marriage and about the origins of Helen Frances SINCLAR. If anyone out there can provide some enlightenment, we would be most grateful to hear from you on the Forum.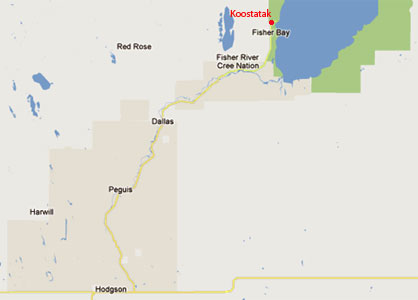 If the aforementioned Helen Frances did indeed have a child named Mary Elizabeth with this JJ STEVENSON, they don't appear to be with him in any of the following census records. There are of course several possible explanations for that; Helen Frances may have died, she & JJ may have parted ways and baby Mary Elizabeth (and/or Helen) may have been taken in by her grandparents, etc, etc.
John James STEVENSON & Maria MURDOCK
With the Census of 1906 in the Fisher River Reserve, we finally begin to get some documented evidence. John STEPHENSON (an obvious error as later records reveal this to be STEVENSON). His age recorded as 31. His wife's name at this time is Maria (age 20). With them is a "step-son of wife" named John (age 6) with same surname. Interestingly, their next-door neighbours are the family of Mary and Arthur OIG (b-1872) and there are lots of SINCLAIR neighbours as well.
The St Peters Indians surrender their Reserve and move to Fisher River
1907
Excerpt from the Indian Claims Commission Proceedings: Subsequent events (to the 1907 Surrender of the St Peters Reserve), in particular a 1911 Manitoba Royal Commission investigating the titles to the river lots and the surrendered land, were to vindicate those who had opposed the surrender's validity. In the meantime, however, a significant proportion of the Band had relocated to Fisher River, patented lots had been sold, a sale of the remaining surrendered reserve land had taken place, and proceeds had been distributed to band members. The dominion government was unwilling to turn back the clock and reopen the St Peter's land question. It was perhaps inevitable that the surrender would ultimately be validated by special legislation: the St. Peter's Reserve Act. Under its provisions, purchasers would be required to pay an extra $1 per acre (to be added to the St Peter's Band fund) to obtain a secure title to their land. The legislation had the effect of increasing the balance in the Band's trust account by $40,000, but the St Peter's Reserve was gone forever.
Of course JJ STEVENSON had already been in the Fisher River Reserve (Koostatak) long before the Surrender (almost 30 years prior).
The census of 1911 in the Fisher River Reserve provides us with further supporting details regarding Maria & JJ. This time his name is clearly John James STEVENSON (age 37; Cree) and his wife Maria (age 27); with children as John Robert (age 10; obviously the same John from the previous census) and a baby named Catherine.
The First World War
1914-1919
On Aug 14, 1914, Great Britain (and Canada) declared war on Germany and Austria-Hungary, to uphold treaties with France and Belgium which were under German attack.
In the 1916 census (the last one made available), still in the Fisher River Reserve we have John Jas. STEVENSON, a 39 year-old fisherman, his wife Maria (age 25) and children John Robert (age 16), Olive (3) and Madeleine (age 2)
November 11,1919, Armistice Day (Remembrance Day) marked the end of the First World War.
Our Mystery Lady, Mary Elizabeth STEVENSON
The lady I am most interested in learning about of course is Mary Elizabeth STEVENSON, said to be a daughter of a Helen Frances SINCLAIR and a John James STEVENSON of uncertain origins, but who most likely was the same JJ in the above narrative. Around 1921-23 Mary Elizabeth STEVENSON married Lawrence TAYLOR, son of Clara SPENCE & Edward TAYLOR (1870-1925). ** MORE ABOUT EDWARD TAYLOR
Except for what is revealed in the census records, we have very little information about the children of Maria & JJ STEVENSON, except perhaps a Manitoba Vital Statistics record indicating that on Oct 29, 1931 Olive STEVENSON married Stanley SINCLAIR in the Fisher River Reserve.
It seems most likely that Maria & JJ STEVENSON probably both died in the Fisher River Reserve. Help requested.
If anyone reading this narrative has more information about this John James STEVENSON or any other man by that name with a background similar to this one, please let us know on the Forum. Please post comments & queries at this link: FORUM DISCUSSING JOHN JAMES STEVENSON
============================ Family Details ============================
?Child by Helen Frances SINCLAIR:
1. Mar 28, 1901 MARY ELIZABETH STEVENSON (m. Lawrence TAYLOR)
** MORE ABOUT LAWRENCE TAYLOR
Children by Maria:
1. 1900 JOHN ROBERT STEVENSON
2. 1902 ALFRED (STEPHENSON) STEVENSON
3. 1911 CATHERINE STEVENSON
4. 1913 OLIVE STEVENSON (m. Stanley SINCLAIR)
5. 1914 MADELINE STEVENSON