WILLIAM JOHN "BILL" GORDON (1918-1994)
CLARA MABLE TAYLOR (1924-1994)

(Last Updated: January 26, 2017)
William John "Bill" GORDON was born Oct 29, 1918 in Lunenburg, Nova Scotia, the son of Grace Anastasia CONROD and Peter GORDON (born 1889 in Ireland). ** MORE ABOUT PETER GORDON
Census of 1921: William J (age 2) with his parents at 99 Gerrish St in Halifax.
The GORDONs move to Manitoba
1923
In 1923 Grace (Mrs. GORDON) and her two children, Margaret (age 8) and Bill (age 5) moved from Halifax to join her CONROD parents in Selkirk, MB. I don't have the details, but it seems that Peter only later joined Grace and his children in Manitoba.
World War II
1939-1945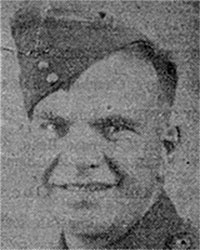 Cpl. William Gordon
On Sept 4, 1939 Canada and Britain declared war on Germany, beginning World War II. Almost immediately new recruits began pouring into Winnipeg to sign up with the Winnipeg Grenadiers and the Royal Rifles of Canada.
Marriage to Clara TAYLOR
1942
On June 5, 1942 Bill married Clara TAYLOR in Selkirk, daughter of Mary Elizabeth STEVENSON and Lawrence TAYLOR (1900-1989). ** MORE ABOUT LAWRENCE TAYLOR
Undated Newspaper Clip (with photo):  Cpl. W.J. GORDON, son of Mrs Grace GORDON, 248 Ferry Road, St James, is missing on active service overseas, according to word received by his wife, who resides at West Selkirk, MB. Cpl. GORDON enlisted in November, 1943, at Winnipeg, and after training at Fort Garry and Camp Shilo went overseas in 1944. A sister, Margaret, resides with her mother. His father-in-law, Pte Lawrence TAYLOR, serves in the Veteran Guards of Canada, and a brother-in-law, Edgar TAYLOR, is a prisoner in Germany.
Bill served overseas with the Royal Winnipeg Rifles during WW II.  He was wounded, taken prisoner and later liberated by the Allies.  He was a member of the GLPAA and the Legion
On May 7, 1945 Germany surrendered and the War in Europe ended; the next day, May 8, was declared VE Day.
Move to Ontario
1950
Clara: When we left Selkirk in 1950 to visit my grandparents, Lawrence & Mary TAYLOR in Sturgeon River, Ontario. Grandpa (Lawrence TAYLOR) was working for Camp 51 between Jellicoe and Geraldton. Dad was working in Tabor, Alberta for Nelson River Construction. Mom saw an opportunity for Dad to stay at home and work in the camp. He quit his job in Tabor and came to Sturgeon River that fall. We never went back to Selkirk. Mom and Dad went and closed out the house on Fox Avenue and sold it to Mom's (Clara nee TAYLOR's) older brother Edgar (TAYLOR) & his wife Melvina. Donald & Cathy were born there and then we moved to Geraldton in 1953 so we could attend school. The nearest school was in Jellicoe and that was 17 miles away. Bill had gone to school in Selkirk for grade one so he started off in grade two. I turned nine on February 15th and went to school for the first time on February 16th. I was the biggest grade one student for the first week and then they moved me to grade two.
From newspaper The Great Laker, Thunder Bay, ON, July 1983:  Bill GORDON - Grader Operator to retire Aug 1 - 17 years without an accident.  Born Halifax - moved (Selkirk, and then -) to Ontario in 1950 - worked for pulp and paper co's in Longlac and Jellico - Dept Hwys in Cochrane Dist - Cape Construction at Thunder Bay.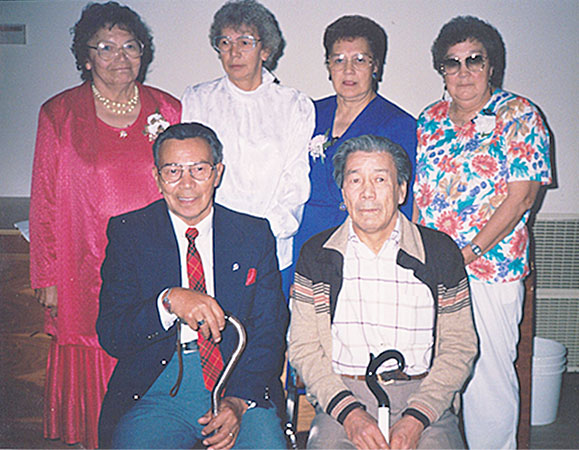 Clara's 50th Anniversary (That would be 1992?)
Back: Clara, Olive, Gladys and Edith Taylor
Front: Edgar & Arthur Taylor
On March 4, 1994 Clara (nee TAYLOR) GORDON died, and 10 days later on Mar 14 William GORDON died, both in Thunder Bay.
Their obituaries indicate that they were survived by their 11 children: Bill Jr. (Rhonda), Clara (Bill) JEFFREY, Linda (Paul) BRUINS, Valerie, Donald (Shirley), Cathy (Ron) FOSSUM, Bruce (Phyllis), Nina (Al) KOZLOWSKI), Edwim. Marlene and Larry (Barb).
Comments and queries at this link: FORUM for DISCUSSING THE FAMILY OF BILL GORDON
========================== Family Details ==========================
Children: 
1. 1943 WILLIAM EDGAR "BILL" GORDON (m. Rhonda)
2. Feb 15, 1944 CLARA MARGARET GORDON (m. William Howard "Bill" JEFFREY)
3. 1947 LINDA GAIL GORDON (m. Paul BRUINS)
4. 1948 VALERIE JUNE GORDON
5. 1950 DONALD ARTHUR GORDON (m. Shirley PEDERSON)
6. 1951 CATHERINE ANGELA GORDON (m. Ron FOSSUM)
7. 1956 BRUCE IVAN GORDON (m. Phyllis)
8. 1957 NINA LOUISE GORDON (m. Al KOZLOWSKI)
9. 1958 EDWIN GARNET GORDON
10. 1961 MARLENE ELLEN GORDON
11. 1962 LAWRENCE CONROD (LARRY) GORDON (m. Barbara)