CAPTAIN ANDREW CONROD  (1812-1902)
SUSAN ELIZABETH "BETSY" CRAWFORD (c1815-1870)
(Last Updated: August 28, 2012)
Andrew Jacob CONROD was born Sep 23, 1812.  He was baptized in the "Little Dutch Church" in Halifax on Nov 23, 1815, son of Susan Elizabeth CONRAD & Andrew CONRAD SR (1790-1851).
Andrew was a descendant of Anna WORTHER & Lorentz CONRAD (1701-1762) who immigrated from Kleinheubach, Germany in 1751 to begin a new life at Halifax. ** MORE ABOUT LORENTZ CONRAD
His mother Ann (also nee CONRAD) died in 1815, when Andrew was only three years old. His father, Andrew Sr b-1790, re-married in 1816 in Halifax to Mary Magdalene GAETZ, daughter of Anna Margaretha CONRAD & JOHN LEONARD GAETZ (b-1759).  Andrew's grandfather (Lorentz CONRAD b-1760) died around 1832 in Eastern Passage. Several of Andrew's aunts & uncles married GAETZ's, as well as his father, so Andrew had many GAETZ cousins.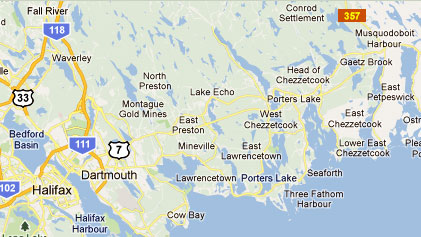 In 1833 the first steamship to cross the Atlantic was the "Royal William" from Halifax. Andrew was about 11 years old at that time.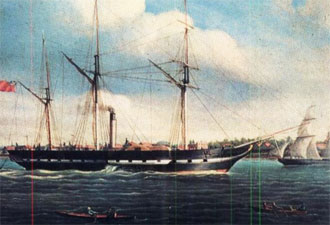 More about the SS Royal William in Wikipedia
Marriage to Elizabeth CRAWFORD
1838
On Aug 17, 1838, Andrew married in Chezzetcook to Elizabeth CRAWFORD, daughter of Elizabeth LESLIE & Andrew CRAWFORD (1785-1849). Betsy had married in 1837, in Seaforth, to Andrew GAETZ and they had a child (Anne Elizabeth GAETZ). Andrew was therefore Betsy CRAWFORD's 2nd husband. Betsy CRAWFORD's was of Scottish ancestry, as perhaps were the LESLIE's. Until this marriage, our CONRAD ancestry seems to have been entirely of Germanic-Nova Scotian origin. Andrew's children also married into non-Germanic families with names like GRAHAM, SMITH, FERGUSON, NEIFORTH, CONDON, MOMBOURQUET, BALLARD and more CRAWFORD's, probably relatives and/or acquaintances introduced via the influence of Betsy CRAWFORD. Betsy's grandfather, Captain Edward CRAWFORD, came from the Isle of Skye in Scotland, via South Carolina. Although our ancestral LASSLE\LESLIE's arrived from Germany, one source suggests they originated in Scotland as well, and had emigrated to Germany.
Andrew probably moved to East Chezzetcook after he married Betsy.  It seems all of their children were born there, beginning with George Jacob in 1840.
The inauguration of regular transatlantic Steamship service via the Cunard liner SS Britannia took place in 1840.
A Personal Census of Nova Scotia 1860-61, Halifax District, which appeared to be taken to determine who was able to read and write, lists Andrew (45 yrs old by then) as follows:  ANDREW CONRAD - 7M.  7F,  total 14,  1 under 1 year.  Unable to read or write.  4 males over 5 and under (16?), 1 female, 2 males above 15 and 2 females.  My grampa, Nelson, wasn't included in this census because he wasn't born till November of 1860. 
CONRAD becomes CONROD
JohnC:  Andrew became a Sea Captain. Captain Andrew changed his name to CONROD, perhaps because that is how he heard the old Germans pronounce it. Most of the CONRAD's along the Eastern Shore changed their name to CONROD, perhaps for the same reason, or quite by accident, since the early pioneers in most cases were illiterate. When some of them learned to spell, they spelled their family name the way it sounded to them, thus creating a new family name. Andrew, however, was apparently illiterate, as was his son Nelson, my grandfather.
Canadian Confederation
1867
On July 1, 1867 the British colonies in North America were united under the British North American Act to become the Dominion of Canada.  Sir John A MACDONALD (1815-1891) was appointed as Canada's first Prime Minister.
On Dec 18, 1870 Betsy died of Typhoid Fever. She was buried at Lower East Chezzetcook. When Betsy died, she left a sizeable family of youngsters and teenagers. Her youngest child was three year old toddler, John Albert b-1867. Fanny b-1865 was 5 yrs old;  Sarah b-1861 was 9; Grampa Nelson b-1860 was 10. The eldest, George Jacob b-1840 was 30 yrs old, then married for about five years (to MEISNER).
In the Census of 1871 Andrew was recorded in East Halifax as a "Coaster" and farmer. He was 53 years old and widowed. Children at home were Sarah (age 24); Elizabeth (17); David (14); James (12); Nelson (age 7); Fanny (6) and Albert (age 4).
According to my mother, my grandfather Nelson b-1860 (Andrew's son) went to sea when he was 12-14 years old (around 1873). It looks like his father (Andrew) took the motherless teenager with him on his voyages (Mom mentioned the West Indies, Jamaica, etc).
In the Census of 1881 Andrew was back at Musquodoboit Harbor . He was 65 years old, still widowed and children at home were James (age 24); Nelson (age 21) and Albert (age 14). Also living with him were his son David (age 25), his wife Isabella, (age 23) and their 16 year old daughter Fanny.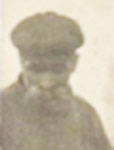 Is this Captain Andrew Conrod?
I clipped this from the photo shown on the Nelson Conrod Page
I wouldn't be a bit surprised if this was Great Grandpa Andrew
(Same walrus moustache that Grandpa Nelson later grew)
On Feb 2, 1886, son Nelson (my grandfather) was married at the Head of Chezzetcook to Susan Maud GRAHAM. He was 26 years old; she was 19.
In the Census of 1891, Chezzetcook, Andrew was 76 years old and the only child at home was Albert (age24). Son Nelson (Grandpa), a miner, and his family were recorded as next-door neighbors.
In the Census of 1901: Andrew, (age 88), a fisherman living in East Chezzetcook with the family of his daughter Sarah, (age 55), and her husband John MIESNER, 59.
In November of 1902 Andrew CONROD died in East Chezzetcook at the age of 89.
I look forward to comments and queries about my great-grandpa Andrew. Please post them at the following link: FORUM DISCUSSING ANDREW CONROD (1812-1902)
============================ Family Details ============================
Children:
1. Nov 30, 1840 GEORGE JACOB CONROD (m. Elizabeth Catharine "Eliza?" MEISNER)
2. Feb 8, 1842 ANDREW WILLIAM "ANDY" CONROD (Died age 26)
3. c1843 ABIGAIL CONROD re JohnC
4. Aug 7, 1845 SARAH ANN CONROD (m. John Matthias MEISNER)
5. Dec 16, 1845 JANE MARGARET CONROD (m. Joseph John FURGUSON)
6. 1849 ANNE CATHERINE "CASS" CONROD (m. Jacob A. MEISNER)
7. Oct 6, 1852 ELIZABETH MARGARET CONROD (m. George Peter CONROD JR)
8. Sep 24, 1854 MARY ANN CONROD (m. Isaac Edward CONROD)
9. Sep 20, 1856 DAVID THOMAS CONROD (m. Jane Elizabeth (Isabella) CONROD)
10. Feb 10, 1857 JAMES JOSIAH CONROD (m1. Clara Elizabeth CONROD)
11. Oct 10, 1860 NELSON ARCHIBALD CONROD (m. Susan Maud GRAHAM)
** MORE ABOUT GRANDPA NELSON CONROD
12. 1861 SARAH CASSANDRA CONROD (m. George MOMBOURQUET)
13. 1865 FRANCIS ISABEL CONROD (m1. Richard BALLARD, m2. Frederick CONDON)
14. Mar 11, 1867 JOHN ALBERT CONROD (m. Susan Arabella CRAWFORD)