JOHN "JOCKIE" MILLER (1858-1936)
VICTORIA THOMAS (1859-1925)
(Last Updated: November 15, 2014)
John "Jockie" MILLER was born March 3, 1858 n Kildonan (MB), son of Elizabeth SETTER and Robert George MILLER (1802-1867), a retired Hudson's Bay Company (HBC) voyageur and fisherman from the Orkneys of Scotland. John grew up in St Paul Parish (Middlechurch). ** MORE ABOUT ROBERT GEORGE MILLER   
Around 1878 John married Victoria THOMAS, daughter of Victoria TAYLOR and Alexander THOMAS (1830-1869).
Saskatchewan
1878-1885
After they married Victoria & John lived in Puchan, Saskatchewan (near Prince Albert).  Daughter Mary was born there in 1880.
Census of 1881 in the Prince Albert District: John MILLER, age 24; wife Victoria, age 21; daughter Mary, age 1. With them is Albert THOMAS, age 11 (Victoria's younger brother).
Their next two children were also born in Prince Albert; Catherine in 1882 and Jane in 1884.
Manitoba
1885
In 1885 John and his family moved to the Birds Hill area (Springfield RM) for 5 years.
Census of 1891 in North Sprinfield: John MILLER, age 33; wife Victoria, age 30. Children: Elizabeth M (age 10), Jane Anne (7), William H (5) and Lawrence (age 3).
Then in 1890 John moved his family to Gonor, in St Clements RM where he and Victoria would remain for the rest of their lives.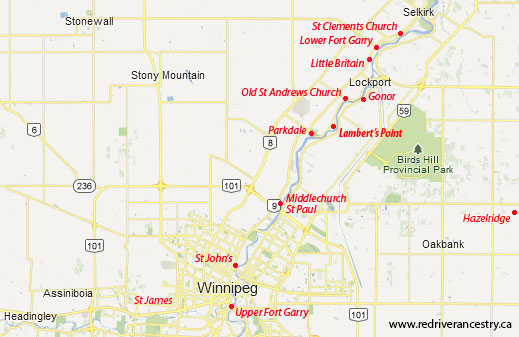 The family attended St Andrews Church on the west side of the river.
In 1900 eldest daughter Mary Elizabeth married George HARCUS in Winnipeg, the son of Nancy LILLIE & George HARCUS SR (1834-1880).
In 1909 daughter Jane married Charles McKAY in Winnipeg, the son of Caroline WALLER and Edward Richard McKAY (1845-1927). ** MORE ABOUT EDWARD RICHARD McKAY
Census of 1911 in Gonor: John MILLER, age 55; wife Victoria, age 51. Children: William (age 26), Lawrence (24) and Ralph Ross (age 18).
World War I
1914-1918
On Aug 4, 1914 Great Britain (Canada on Aug 5) declared war on Germany and Austria-Hungary to uphold treaties with France and Belgium which were under German attack. This marked the beginning of World War I.
Around 1915 son Lawrence married Julia ROSS, probably in Saskatchewan, the daughter of Roee PARENTEAU and John ROSS SR (b-1832).
Census of 1916 at Gonor (Lot 212): John MILLER, age 59; wife Victoria, age 57. Children at home: William (age 30; a soldier) and Olive (age 20).
On Apr 9, 1917 son Willie died in France at the age of 31, a soldier in the 78th Battalion, Canadian Infantry (Manitoba Regiment.
November 11,1918, Armistice Day (Remembrance Day) marked the end of the First World War.
Census of 1921: John MILLER, age 64; wife Victoria, age 62. Granddaughter Alice Irene TRUTHWAITE, age 14 (b-1907).
In 1925 Victoria (nee THOMAS) MILLER died.
On June 14, 1936 John MILLER died at his home on River Lot 212 in Gonor. His obituary indicates he was survived by two sons; Lawrence at Elk Point (AB) and Ralph Ross at Moose Jaw (SK); three daughters; Mrs. George HARCUS, Mrs. Charles McKAY and Mrs. Andrew TRUTHWAITE, all of Lockport.
In 1939 son-in-law George HARCUS died in St Andrews, and widowed daughter Mary re-married to an Archibald FLETT (born about 1873, of uncertain origins.
Comments and queries at this link: FORUM DISCUSSING the JOHN MILLER FAMILY
============================ Family Details ============================
Children:
1. Sep, 1880 MARY ELIZABETH "TANNIE" MILLER (m1. George HARCUS, m2. Archie FLETT)
2. Sep 20, 1882 CATHERINE MILLER (Died age 8)
3. Feb 21, 1884 JANE ANN MARY "JENNIE" MILLER (m. Charles Albert McKAY)
4. Dec 22, 1885 WILLIAM HUNTER "WILLIE" MILLER (Died in France; age 31)
5. Mar 10, 1888 LAWRENCE MILLER (m. Julia ROSS)
6. Jan 9, 1890 JOHN MILLER
7. May 5, 1893 RALPH ROSS MILLER
8. Dec 19, 1895 OLIVE MARGARET EVEYLYNE "LEAFIE" MILLER (m. Andrew Thomas TRUTHWAITE)
** MORE ABOUT ANDREW THOMAS TRUTHWAITE