ROBERT GEORGE MILLER (1802-1867)
ELIZABETH SETTER (1822-1900)
(Last Updated: November 15, 2014)
Robert MILLER was born on Mar 22, 1802 in Orkneys (Wick), Scotland.
Hired by the Hudson's Bay Company
1816
On Sep 25, 1816 Robert arrived at York Factory aboard the ship Prince of Wales.
** MORE ABOUT ROBERT MILLER in HBC ARCHIVES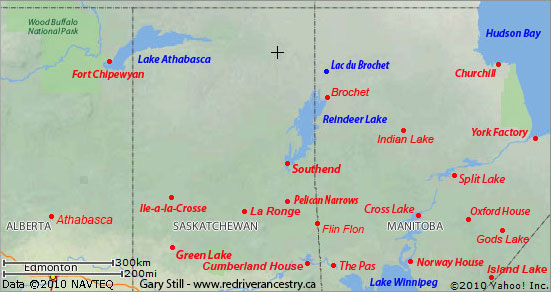 By 1840 Robert had experience as a laborer, voyageur and fisherman, working inland as far as Cumberland and Fort Pelly in the Swan River District.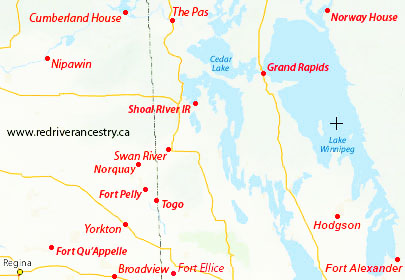 Marriage to Elizabeth SETTER
1840
On Aug 17, 1840 Robert married Elizabeth SETTER at Grand Rapids, daughter of Margaret SPENCE and Andrew SETTER (1777-1870) from the Orkneys. ** MORE ABOUT ANDREW SETTER
Red River
1846
In 1846 Robert retired to Red River.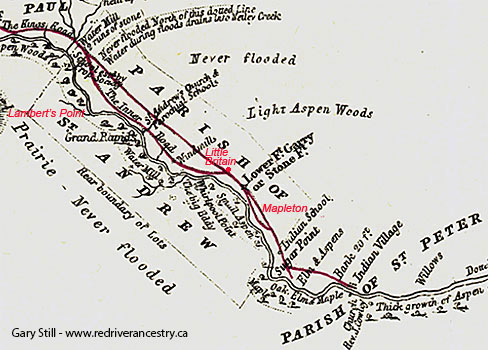 St Andrews Parish from Hind's Map of 1857
In 1859 daughter Margaret married Alexander Kamloops BLACK, son of Angelique CAMERON and the notorious Samuel BLACK (1780-1841). ** MORE ABOUT SAMUEL BLACK in DCBO
In 1862 daughter Ann married William GOWLER, son of Mary (nee NEVILLE) BRAYBROOKE and Oliver GOWLER (1805-1865).
In 1866 daughter Elizabeth married Thomas NORQUAY, son of Isabella TRUTHWAITE & John NORQUAY (1810-1849). ** MORE ABOUT JOHN NORQUAY
Canadian Confederation
A Métis Rebellion
Manitoba becomes a Province
1867-1870
On July 1, 1867 the British colonies in North America were united under the British North American Act to become the Dominion of Canada.  Sir John A MACDONALD (1815-1891) was appointed as Canada's first Prime Minister. William McDOUGALL (1822-1905) was appointed as the Lieutenant Governor Designate of the North-West Territories (Rupert's Land). McDOUGALL sent surveyors to Red River in anticipation of an influx of settlers.
In 1867 daughter Jessie married Joseph NORQUAY, son of Mary MONKMAN and Henry NORQUAY (1810-1874).
On Oct 18, 1867 Robert MILLER died in St Andrews. 
On Oct 11, 1869, Louis RIEL (1844-1885) placed his foot on the surveyors' chain to tell them their work was finished. This led to the historic Red River Rebellion. ** MORE ABOUT THE RED RIVER REBELLION in WIKIPEDIA
Around 1869 son George married Margaret MONZINI, daughter of Maria KIPLING and John MONJEUNIER dit MONZINI (b-1825). It is unknown what happened to Margaret, but in 1872 George re-married to Elizabeth Jane BROWN, daughter of Nancy RICHARDS and John BROWN (b-1810).
On July 15,1870, the Rebellion was essentially over, and Manitoba became the fifth province of Canada, the Canadian Government having acquired the territory previously governed by the HBC.
In 1870 the following MILLER children were recorded on Lot 77 in St Paul Parish: George (age 22), Alexander (16), Robert (15), John (13), Joseph (10), Mary (7) and Angus (age 5).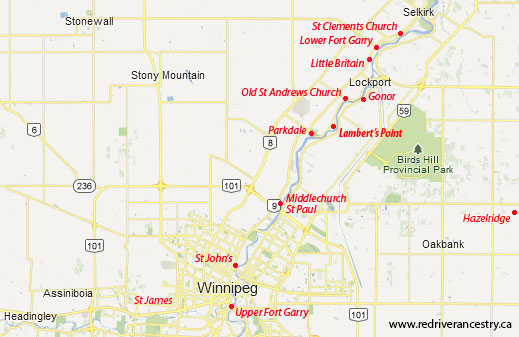 In 1870 daughter Catherine Caroline married James PRUDEN, son of Josephte JOLICOEUR & Peter PRUDEN (1807-1889). ** MORE ABOUT PETER PRUDEN
In 1873 son Alexander married Mary Jane McKENZIE, daughter off Nancy SETTER & James Bruce McKENZIE (1825-1894).
In 1876 daughter Barbara married James CAMPBELL, son of Elizabeth McGILLIVRAY and Colin CAMPBELL (1787-1853). ** MORE ABOUT COLIN CAMPBELL
Also in 1876 son Robert James married Maria Jane IRWIN, daughter of Matilda TATE and James IRWIN (1816-1903).
In 1877 Widow Elizabeth MILLER of St Andrews Parish claimed her Half-breed Scrip.
In 1877 daughter Ellen married Joseph WORK in Kildonan, son of Barbara HALCROW & William WORK (b-1825).
Around 1879 son John married Victoria THOMAS, daughter of Victoria TAYLOR and Alexander THOMAS (1830-1869).
In 1885 son Angus married Ellen Harriet BREMNER, son of Letitia FIDLER and James BREMNER (1833-1910).
** MORE ABOUT JAMES BREMNER
In 1889 son Joseph Thomas married Catherine TAYLOR in Winnipeg, daughter of Margaret CROMARTIE & Robert TAYLOR (b-1837).
On Nov 27, 1900 Elizabeth MILLER died and was buried at Parkdale.
Comments and queries at this link: FORUM DISCUSSING the ROBERT MILLER FAMILY
============================ Family Details ============================
Children:
1. 1840 WILLIAM MILLER (Died in infancy)
2. Oct 13, 1842 MARGARET MILLER (m. Alexander Kamloops BLACK)
3. Dec 25, 1843 BARBARA MILLER (m. James CAMPBELL)
4. Feb 1, 1845 ANN MILLER (m. William GOWLER)
5. Nov 27, 1846 ELIZABETH MILLER (m. Thomas NORQUAY)
6. Nov 30, 1848 GEORGE MILLER (m1. Margaret MONZINI, m2 Elizabeth Jane BROWN)
7. Sep 20, 1850 CATHERINE CAROLINE MILLER (m. James PRUDEN)
8. Mar 5, 1852 JESSIE MILLER (m. Joseph NORQUAY)
9. Mar 27, 1854 ROBERT JAMES MILLER (m. Mary Jane IRWIN)
10. Jun 1, 1855 ALEXANDER MILLER (m. Mary Jane McKENZIE)
11. Mar 3, 1858 JOHN "JOCKIE" MILLER (m. Victoria Abner THOMAS)
** MORE ABOUT JOHN "JOCKIE" MILLER
12. 1861 JOSEPH THOMAS MILLER (Catherine "Kate" TAYLOR)
13. 1861 DAVID ANDREW MILLER (Died in infancy)
14. Dec 5, 1863 MARY HELEN "ELLEN" MILLER (m1. Joseph WORK, m2. George KNIGHT)
15. 1865 ANGUS MORRISON MILLER (m. Ellen Harriet BREMNER)