THOMAS BUNN (1765-1853)
JANE ROPER (1769-1795)
SARAH McNAB (1780-1806)
PHOEBE SINCLAIR (1792-1848)
(Last Updated: May 26, 2015)
Thomas BUNN was born around 1765 in Hendon, Middlesex, England, son of Elizabeth STREEKE and Benjamin BUNN (1730-1804).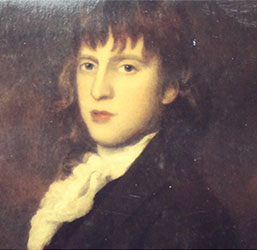 Thomas Bunn (Painting from Moore & Tillyer)
Marriage to Jane ROPER
1789
Interestingly, HBC Governor Thomas THOMAS (1766-1828) was also from London, and he was about the same age as Thomas BUNN. Some sources indicate that THOMAS was the first husband of Jane ROPER, and that BUNN married her soon after THOMAS sailed to Hudson Bay to begin his career with the HBC.
** MORE ABOUT GOVERNOR THOMAS THOMAS
On Dec 22, 1789 Thomas BUNN married Jane ROPER.in London, England.
1789 was also the year that Sir Alexander MACKENZIE (1764-1820) made his historic voyage to the Arctic Ocean.
** MORE ABOUT SIR ALEXANDER MACKENZIE in DCBO
On Nov 17, 1795 wife Jane (ROPER) died in England. ** No evidence that there were any children from this marriage.
Service with the HBC begins at Fort Albany
Union with Sarah McNAB
1797-1803
On March 21, 1797 Tom began his lifelong service with the Hudson's Bay Company (HBC). He sailed aboard the Prince of Wales and spent the first six years of his career as a 'Writer' at Fort Albany on the west side of James Bay.
** MORE ABOUT THOMAS BUNN in HBC ARCHIVES

Not long after he arrived at Albany Tom began a connubial relationship with Sarah McNAB, daughter of a Cree woman and Governor John McNAB (1755-1820). In the spring of 1798 Sarah gave birth to a daughter (Mary) at Fort Albany.
** MORE ABOUT GOVERNOR JOHN McNAB

York Factory District
1803
In 1803 Tom was moved up to the York Factory District where he continued as an Accountant and Storekeeper for the rest of his Company career. His second child, John was born soon after he got there.
In 1806 Tom's wife Sarah died. His mother-in-law, Mrs. John McNAB, (the Governor's wife) then assumed the role as caregiver and surrogate mother to Toms children.
Thomas & Phoebe SINCLAIR
1809
Around 1809 Thomas was 'country wed' to Phoebe SINCLAIR at York Factory, daughter of NAHOVWAY (Cree) and William SINCLAIR (1766-1818) from the Orkneys, an HBC inland trader. ** MORE ABOUT WILLIAM SINCLAIR
On Nov 9, 1809 daughter Sarah was born.
Creation of the Northern and Southern Departments
Arrival of the First Selkirk Settlers
1810-1814
By 1810 Thomas DOUGLAS (1771-1820), better known as LORD SELKIRK, and his brother-in-law, Andrew COLVILLE aka WEDDERBURN (b-1779) held a controlling interest in the Hudson's Bay Company. They turned to the task of reorganizing the Hudson's Bay Company (HBC). WEDDERBURN's plan for the management of the fur trade, known as the "retrenching system," called for the elimination of extravagance, a profit-sharing scheme for company officers, and the division of trading posts into Northern and Southern departments. Thomas THOMAS (1765-1828) was appointed Superintendent of the Southern Department (Fort Albany, Moose Factory and Eastmain Factory). William AULD (1770-1830) was appointed Superintendent of the Northern Department (Churchill, York Factory, Winnipeg and Saskatchewan Districts).
SELKIRK soon convinced the HBC to give him a land grant to create a settlement at Red River. The District of Assiniboia, as the region was called, held as much land as the combined totals of England, Ireland and Scotland.
** MORE ABOUT LORD SELKIRK in DCBO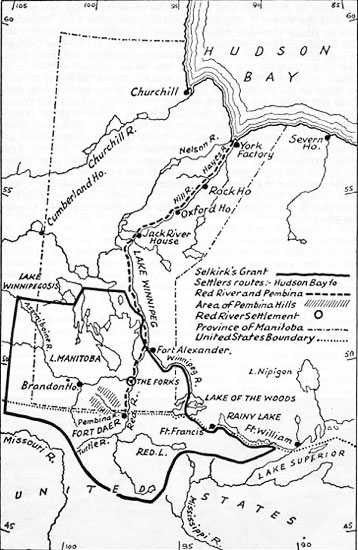 On Sep 24, 1811 the first group of Selkirk Settlers arrived at York Factory.
In 1815 eldest daughter Mary married William McKAY in St Paul Parish (Red River), son of Mary FAVEL and John McKAY (1758-1810). ** MORE ABOUT JOHN McKAY
In 1820 Reverend John WEST (1778-1845) arrived at York Factory from England as the first Chaplain in the northwest. He was sponsored by the Church Missionary Society (CMS) and the HBC. On Sep 9, 1820, on his way south to Red River he performed his first marriage in the northwest at Rock Depot (Gordon House), that of Thomas BUNN to Phoebe SINCLAIR. He also baptized their children: Sarah (age 12), Frances (10) and Eleanor (age 8).
** MORE ABOUT the FIRST CHURCHES, CLERGYMEN and SCHOOLS in RED RIVER
The North West Company is absorbed by the HBC
Tom is retired to Red River
1821-1822
At Norway House on Aug 11, 1821 Nicholas GARRY (1782-1856) presided over the first Council of the Northern Department. Also attending was the illustrious George SIMPSON (1786-1860), new Acting Governor of Rupert's Land and Simon McGILLIVRAY (1792-1840), formerly of the NWC. It was at this meeting that everyone received the first news of the official NWC-HBC Union and of impending austerity policies that would mean the loss of jobs and forced early retirements for employees at all levels, including voyageurs, laborers and senior officers as well, including Thomas BUNN.
Red River Census of 1827: Thomas BUNN, a 62 year old Protestant from England; with a wife and one adult son and one young son (John & William) and three young daughters (Sarah, Frances & Eleanor). He has a house and stable; a horse, cow and calf and two swine; also a canoe. Two acres are under cultivation.
In 1829 eldest son John married Catherine THOMAS at St John's in Red River, the daughter of Sarah (Cree) and the late HBC Governor, Thomas THOMAS (1766-1828). ** MORE ABOUT GOVERNOR THOMAS THOMAS
Also in 1829, daughter Sarah married Ebenezer SUTHERLAND, son of Isobel & William SUTHERLAND (1761-1838), Selkirk Settlers in 1815.
1835: Thomas BUNN family on Lot 12 in St Paul Parish. Four people in household; he's farming four acres of land. He has 10 cattle, a farm implement and a cart.
In 1843 youngest son William married Magdalena CAMPBELL, daughter of Elizabeth McGILLIVRAY (Metis) & Colin CAMPBELL (1787-1862). ** MORE ABOUT COLIN CAMPBELL
In 1848 wife Phoebe died, and on Jan 15, 1853 Thomas BUNN died. They were both buried in St John's Cathedral Cemetery.
In 1853 daughter Frances became the third wife of John Edward HARRIOTT (1797-1866).

Comments and queries at this link: FORUM DISCUSSING the THOMAS BUNN FAMILY
========================= Family Details =========================
Children by Sarah McNAB:
1. Apr 15, 1798 MARY BUNN (m. William McKAY)
2. 1803 JOHN BUNN (m. Catherine THOMAS)
Children by Phoebe SINCLAIR:
1. Nov 9, 1809 SARAH SINCLAIR BUNN (m. Ebenezer SUTHERLAND)
2. c1810 FRANCES BUNN (m. John Edward HARRIOTT)
** MORE ABOUT JOHN EDWARD HARRIOTT
3. 1812 ELEANOR BUNN (m. William THOMAS)
4. Nov 25, 1816 WILLIAM BUNN (m. Magdelena CAMPBELL)