WILLIAM McKAY (1793 -1864)
MARY BUNN (1798-1873)
(Last Updated: July 17, 2015)
William McKAY was born Apr 15, 1793 at Albany Factory, son of Mary FAVEL and John McKAY (1758-1810), both half-breeds. ** MORE ABOUT JOHN McKAY
William joins the Hudson's Bay Company
1809
In 1809 William joined the Hudson's Bay Company (HBC) and, after the death of both of his parents in 1810, seems to have gone with Joseph BEIOLEY (1785-1859) to the James Bay area where he served at various posts. Around 1814 Joseph BEIOLEY married William's sister (Isabella McKAY). ** MORE ABOUT JOSEPH BEIOLEY
Marriage to Mary BUNN
1815
In 1815 William married Mary BUNN in St Paul (Red River), daughter of Sarah McNAB and Thomas BUNN (1765-1852), an HBC Accountant who was born in England. ** MORE ABOUT THOMAS BUNN
Union of the North West Company with the Hudson's Bay Company
1821
In 1821 the union of the North West Company (NWC) and the Hudson's Bay Company (HBC) occurred, ending the years of bitter rivalry for dominance of the fur trade in Western Canada. George SIMPSON (1786-1860) became the Governor of Rupert's Land.
After the HBC-NWC union William's brother-in-law Joseph BEIOLEY was made a Chief Factor and was appointed as a Rupert's Land Councillor in charge of the Rupert River District on the east side of James Bay. In addition, from 1824-25 BEIOLEY managed the affairs of the Moose River District. In 1825 he was reappointed to the Rupert River district.
Mistassini
1832-1857
In 1832 BEIOLEY put William in charge of the HBC post at Mistassini (PQ). At that time his children would have been Louisa (age 16), Matilda (15), Margaret (9), Isabella (8), Joseph (3) and twins Mary and Nancy (both age 1).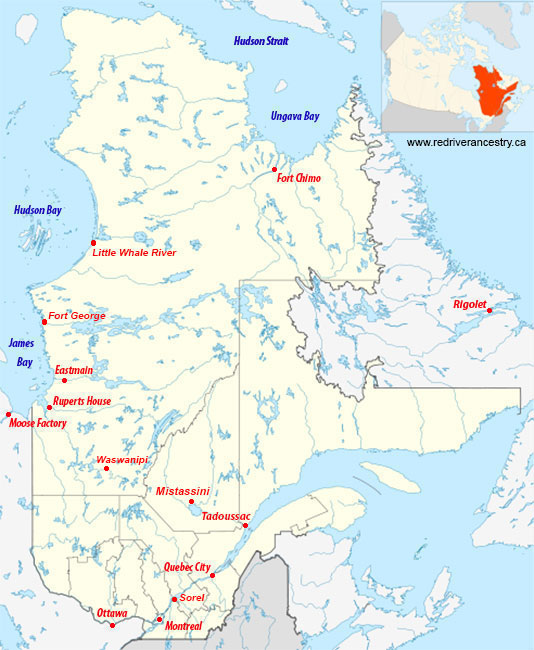 At Mistassini, five more children were born to William and Mary: Robert in 1835, Elizabeth in 1838, John in 1838, Maria in 1840 and Frances in 1842.
In 1841 eldest daughter Louisa married James ROBERTSON in Mistassini, son of LAT-O-WAY-SHO and James ROBERSTON SR, an HBC carpenter from the Orkneys of Scotland.
In 1847 daughter Nancy married Samuel TAYLOR at Rupert's House, an HBC Stonemason from the Orkneys.
In 1849 daughter Mary Fletcher married Thomas RICHARDS at Moose Factory, son of Margaret MOORE and Thomas RICHARDS SR of uncertain origins.
In 1854 daughter Margaret married William CORSTON from the Orkneys, the HBC Postmaster at Little Whale River.
In 1855 daughter Elizabeth married Thomas MOORE in the Key Indian Reserve, son of Clementine ROSS and John MOORE (1777-1843).  ** MORE ABOUT JOHN MOORE
William Retires to Red River
1857
In 1857 William McKAY retired to the Red River Settlement, hoping to get land promised by the HBC to its retiring employees, a promise on which the company reneged. He took up land in Mapleton (South of Selkirk, MB).
In 1859 daughter Isabella became the second wife of James PEEBLES, son of Mary or Nancy (Indian) and James PEEBLES SR (1780-1840) from the Orkneys of Scotland. ** MORE ABOUT JAMES PEEBLES SR
In 1860 son Joseph married Helen HOLMES in Victoria (BC), daughter of Agnes and John HOLMES.
In 1863 daughter Maria married Adam McDONALDin the Key Indian Reserve, son of Jeanette BEAUDRY and Donald McDONALD (1794-1876).
On March 12, 1864 William McKAY died in St Andrews.
Census of 1870 in St Andrews Parish: Mary McKAY (age 74) and her daughter Louisa, (age 55).
On May 23, 1873 Mary (nee BUNN) McKAY died in St Andrews.
In 1864 son John married Margaret DREVER, daughter of Helen ROTHNEY and William DREVER (1803-1887) from the Orkneys.
In 1864 Thomas MOORE died, and in 1867 widowed daughter Elizabeth re-married to her cousin, John McKAY in Mapleton (MB), son of Mary ENGLAND & John McKAY SR (1816-1922). 
In 1888 son Robert married Fanny BALDWIN (of uncertain origins) in Tacoma, Washington (USA).
Comments and queries at this link: FORUM DISCUSSING the WILLIAM McKAY FAMILY
=========================== Family Details ===========================
Children:
1. May 16, 1816 LOUISA McKAY (m. James ROBERTSON)
2. 1817 MATILDA McKAY (Died age 16)
3. 1823 MARGARET McKAY (m. William CORSTON)
4. 1824 ISABELLA McKAY (m. James PEEBLES)
5. Jan 31, 1829 JOSEPH WILLIAM McKAY (m. Helen HOLMES)
6. May 11, 1831 MARY FLETCHER McKAY (m. Thomas RICHARDS)
7. May 11, 1831 NANCY McKAY (m. Samuel TAYLOR)
8. Sep 8, 1835 ROBERT THOMAS McKAY (m. Fanny BALDWIN)
9. Apr 25, 1838 ELIZABETH McKAY (m1. Thomas MOORE, m2. John McKAY) 
10 July 14, 1838 JOHN ALEXANDER McKAY (m. Margaret DREVER)
11. 1840 MARIA McKAY (m. Adam McDONALD)
12. 1842 FRANCES JANE McKAY (Died age 18)