JOHN MOAR aka MOORE (1777-1843)
CLEMENTINE ROSS (1788-1863)
(Last Updated: May 26, 2015)
On Jan 20, 1777 John MOAR aka MOORE was born in Birsay, Orkney, Scotland, son of George BANKS & John MOAR (born 1739 in Birsay) and a grandson of Margaret VELZIAN & Magnus MOAR.
We don't know when John MOAR arrived in Red River. His name doesn't appear on any of the lists of Selkirk Settlers who arrived in the Kildonan area between 1812 and 1814. Nor do any Hudson's Bay Company (HBC) recruits by that name and age appear in the HBC Archive listings.
John & Clementine ROSS
c1816
Our first knowledge of the presence of John MOAR in Rupert's Land is revealed in his relationship with Clementine ROSS at some time before 1816. Clementine was born around 1788-90; daughter of an Orkney Scot named Malcolm ROSS, an HBC inland trader based at York Factory, and an Indian woman (most likely Cree) named ABICOW SHIES. Malcolm ROSS died by drowning in 1799 when Clementine was around 11 or 12 years old. Much of the information about Clementine ROSS (including her marriage to John MOORE) can be seen at this link:
After her father died in 1799, Clementine would have been raised thereafter, essentially as an Indian by her widowed mother, either at York Factory or somewhere along the inland rivers to the west of York, wherever her mother's people dwelled. This suggests that John MOAR may have arrived in the York Factory area aboard one of the HBC ships of that era, either as an HBC employee or as a sailor.
HBC – NWC Merger
1821
By October of 1821, the Hudson's Bay Company (HBC) and the North West Company (NWC), after many years of bitter rivalry,  agreed on terms and approved an "amalgamation." The new, merged Company retained the HBC name and governing board in London. At the time of the union, (Sir) George SIMPSON (1786-1860) became the Governor of Rupert's Land.
After the HBC Merger, almost 1,300 employees lost their jobs since the single HBC organization that emerged had no need for most of the voyageurs and retired fur traders.
The Nor'Westers (NWC retirees) and those retirees of French Canadian origin tended to settle in areas to the south and west of the Forks of the Red and Assiniboine Rivers. Orkney Scots and Englishmen settled mostly to the north of the Forks, where they established the Parishes of Kildonan, St Johns, St Paul (Middlechurch), St Andrews (Lockport and Little Britain) and St Clements.
It seems that John and his family most likely settled in St Paul Parish.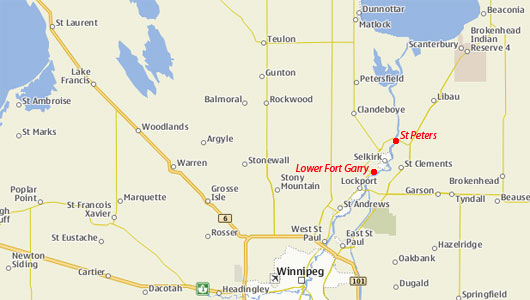 A Church-wedding in Red River
Four Children Baptized
1824
On Sep 16, 1824, Clemen(tine) was baptized at St Johns (Red River) by Reverend David JONES (1796-1844), as the daughter of a Native Woman & Malcolm ROSS, deceased. John and Clementine were then church-wed in the presence of John MARK & Joseph SPENCE (1772-1856). The next day, four of their children were baptized (Eleanor, Mark, Clementine & Rachel). No birthdates are provided for these children.
On Apr 27, 1826, daughter Catherine was born.
Recorded in the Red River Census of 1827 was John MOAR (age 50; a Protestant from the Orkneys). He had a wife and five children. He was apparently well established with a house and stable, a horse five cows and a calf and an ox. He had a plough and harrow and a canoe and had six acres of land under cultivation. His five children were described as follows (my guess at their names in italics): One son under 16 (Mark; about 7 years old)) and four daughters under the age of 15 (Eleanor, Rachel, Catherine and Clementine).
On Feb 28, 1828, son Caesar was born, followed by sons Thomas around 1829, Hebron in 1831. The last child of Clementine and John was daughter Margaret in 1834.
I have seen original handwritten census records for John and his family, including 1828, 1837, 1838 and 1840 in which some of the information appears to be erratic and puzzling with regards to the ages/ birthdates of John and his children, etc.
Sprague & Frye information indicates a second marriage for John to Nancy THOMAS. After thorough review, this appears to be an error (It was John MOORE born c1805 who married Nancy THOMAS).
John MOAR dies
1843
In 1843 John MOAR died.
In the Census of 1849 Clementine is recorded as a 58 year old widow with three daughters over the age of 16 and two younger daughters.
In 1855 son Thomas married Elizabeth McKAY, the daughter of Mary BUNN and William McKAY (1793-1864).
** MORE ABOUT WILLIAM McKAY
In 1855 son Hebron married Louise CAMPBELL, daughter of of Louise RICHARD & Alexander CAMPBELL.
On Jan 5, 1857 daughter Margaret became the second wife of Joseph FAVEL, son of Sarah TROUT & Thomas FAVEL (1781-1848). They were married in St Paul (Middlechurch). ** MORE ABOUT THOMAS FAVEL
On July 14, 1857 daughter Catherine became the second wife of Louis (Lowe) LOUTIT (1816-1865). They were married in St Paul (Middlechurch).
In 1858 son Caesar conceived a child with Jane "Jenny" MONKMAN, daughter of a Cree Woman and James MONKMAN (1775-1865) from England. Son Caesar Jr was born around that time.
Clementine Dies
1863
On Nov 27, 1863 Clementine MOAR died in St Andrews Parish.
In 1864 son Thomas died. His widow (Elizabeth McKAY) re-married in 1867 to her cousin, John McKAY, son of Mary ENGLAND and John McKAY SR (1816-1922). ** MORE ABOUT JOHN McKAY SR
In 1865, son-in-law (Catherine's husband) Louis LOUTIT died.
Census 1881, 1891: Both Mark (Roderick) (age 65, 70) and Clementine (age 63, 69) are with their sister, Widow Catherine LOUTIT (age 54, 69) in St Andrews Parish.

Census 1901: Clementine (age 80) with her sister, Widow Catherine LOUTIT (age 74) in St Andrews Parish.
Please post comments and queries at this link: FORUM DISCUSSING the JOHN MOAR aka MOORE FAMILY
========================== Family Details ==========================
Children:
1. c1816 RODERICK MARK MOAR aka MOORE
2. c1818 CLEMENTINE MOAR aka MOORE
3. Est c1820 ELEANOR MOAR aka MOORE
4. Est c1822 RACHEL MOAR aka MOORE
5. Apr 27, 1826 CATHERINE MOAR aka MOORE (m. Louis (Lowe) LOUTIT)
6. 1828 CAESAR MOAR (m1. Jane MONKMAN, m2. Isabelle SANDERSON, m3. Margaret Knight CUMMINGS)
7. c1830 THOMAS MOAR aka MOORE (m. Elizabeth McKAY)
8. Aug 14, 1831 HEBRON MOAR aka MOORE (m. Louise CAMPBELL)
9. Jun 24, 1834 MARGARET MOAR aka MOORE (m. Joseph FAVEL)