JOSEPH BEIOLEY (1785-1859)
ISABELLA MARGARET McKAY (1797-1835)
(Last Updated: April 12, 2015)
Joseph BEIOLEY was born May 16, 1785 at Woodford, near London, England, the son of Mary FLETCHER and Joseph BEIOLEY SR (b-1766).
Fort Albany on James Bay
1800-1808
In 1800 Joseph was only 15 years old when he was hired by the Hudson's Bay Company (HBC). On October first that year he arrived at Fort Albany aboard the ship King George III. For the next eight years he served at Albany as an apprentice clerk.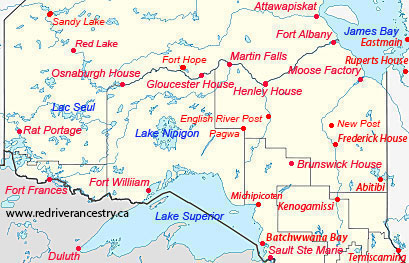 Brandon House
Joseph meets Isabella McKAY
1808-1810
In 1808 Joseph was sent to Brandon House in the Red River District to serve as an Assistant to John McKAY (1758-1810) who was seriously ill with consumption. John McKAY was married to Mary FAVEL and they were the parents of eleven year-old Isabella McKAY who would later become Joseph's wife. ** MORE ABOUT JOHN McKAY
During the outfit year 1809-1810, Joseph was serving at "Little Winnipeg" (Winnipegosis, north of Dauphin Lake, an outpost of Brandon House).
Brandon House Mutiny
1810
On July 5, 1910 John McKAY (Isabella's father) died after contracting a cold which persisted till his death. On March 19 his wife Mary (nee FAVEL) died in childbirth.
From an Article by Norman James Williamson: In 1810 the workmen at Brandon House were a mixed group of long service veterans who knew that they faced a return to an uncertain economy if they left the Company or were ejected from the Company, and alongside these were men in their first or second three year agreement who had joined the service after working conditions in Scotland had become particularly bad. However, in spite of the danger entailed in getting into a labour dispute with the Company, men from both these categories were involved in the combination at Brandon House. That was because the working conditions created by the Company committee had become intolerable at the post.
From an article in Canada Tree written by Margaret Clarke: When John McKAY died he was replaced at Brandon House by HUGH HENEY (b-1765) whose behaviour during his short stay there appeared central to a mutiny that took place that winter by the men under his rule. Among HENEY's transgressions, he apparently tried to take Isabella, John McKay's fourteen-year-old orphaned daughter. She was taken under the protection of Joseph BEIOLEY, the clerk who later became Chief Factor while serving in the posts on the east side of the Bay, and Isabella later became his wife.
Moose Lake Post
1810
In 1810 Joseph, along with Isabella and her brother, William McKAY (1793-1864), were sent to Moose Lake Post in the Osnaburgh District where Joseph became a Master Trader by 1811. ** See Osnaburgh House o above map.
Albany Post
Isabella becomes Joseph's Wife
1811 1814
From 1811 to 1814 Joseph was an Accountant at Albany Post. By this time Isabella McKAY was recognized as Joseph's wife. Son Joseph Alexander was born around 1813-14.
Accountant for the Southern Department at Moose Factory
1814-1819
From 1814 to 1819 Joseph was an accountant for the Southern Department at Moose Factory.
In 1815 son Richard William Fletcher was born, and on Feb 2, 1817 daughter Mary Fletcher was born. On April 6 that year Mary Fletcher was baptized by Reverend George GLADMAN (1765-1821). ** The Fletcher part of their names of course was the maiden surname name of their grandmother.
On July 15, 1818 Joseph himself performed a baptism, that of Isabella TRUTHWAITE, daughter of Elizabeth VINCENT and JACOB TRUTHWAITE (1786-1873).
On Sep 19, 1819 Joseph sailed to Europe aboard the Eddystone with son "Fletcher" (Richard William). In 1820 he returned to Moose Factory and he spent time at Abitibi and Timiskaming during the next two years.
Union of the North West Company with the Hudson's Bay Company
1821
In 1821 the union of the North West Company (NWC) and the Hudson's Bay Company (HBC) occurred, ending the years of bitter rivalry for dominance of the fur trade in Western Canada. After the merger, almost 1,300 employees lost their jobs since the single HBC organization that emerged had no need for most of the voyageurs and fur traders. George SIMPSON (1786-1860) became the Governor of Rupert's Land.
Under the Deed Poll of 1821 Joseph was made a Chief Factor.
Rupert River – Moose Districts
1822-1835
On Jan 22, 1822 son Robert Fletcher was born. That year Joseph was appointed as a Rupert's Land Councillor in charge of the Rupert River District on the east side of James Bay. In addition, from 1824-25 he managed the affairs of the Moose River District. In 1825 he was reappointed to the Rupert River district.
Isabella Dies
Leave of Absence in Europe
1835-1837
In 1835 Isabella (nee McKAY) BEIOLEY died, and Joseph was granted a two year leave of absence which he spent in Europe. In 1837 he returned to serve the next year as Chief Factor at Esquimaux Bay and Mingan.(Quebec).
Moose Factory
1838-1841
From 1838 to 1841 Joseph was the Chief Factor at Moose Factory in the Moose District.
In 1840 the first permanent mission was established at Moose Factory by George BARNLEY (1816-1904) of the Wesleyan Mission Methodist Missionary Society.
Joseph's Final Years in London
1841-1859
In 1841 Joseph went on a final furlough to Europe (London) after serving again in the Eskimo Bay, Mingan, and Moose districts.
In 1843, while in London, Joseph retired from the Hudson's Bay Company.
According to his HBC Archives Biography, in 1843-44 Joseph's address was in West Camden Town (London, England), and in the 1851 census he was listed as "widower", "living on dividends from stock of various kinds" with his nieces, Eliza and Isabella.
On Apr 8, 1859 Joseph BEIOLEY died at 14 Stanhope Street, Park Place, Regent's Park in the County of Middlesex, England.
Comments and queries at this link: FORUM DISCUSSING DESCENDANTS of JOSEPH BEIOLEY
======================== Family Details ========================
Children:
1. 1813 JOSEPH ALEXANDER BEIOLEY (m. Ann MOORE)
2. 1815 RICHARD WILLIAM FLETCHER BEIOLEY
3. Feb 2, 1817 MARY FLETCHER BEIOLEY
4. Jan 22, 1822 ROBERT FLETCHER BEIOLEY