JOHN McKAY (1758-1810)
MARY FAVEL (1775-1810)
(Last Updated: May 26, 2015)
John McKAY was born around 1758 in Brora or Clyne (Sutherlandshire), Scotland, son of John McNab McKAY (1731-1792), and a brother of Donald (Mad) McKAY.(1753-1833). ** MORE ABOUT JOHN McKAY in DCBO
** MORE ABOUT DONALD McKAY in DCBO
With Angus SHAW at Nipigon
1788
Brothers John & Donald McKAY entered the fur trade by way of Montreal, and by 1788 John was working for Alexander SHAW and his son Angus SHAW at Lake St Ann (Lake Nipigon, ON). ** MORE ABOUT ANGUS SHAW in DCBO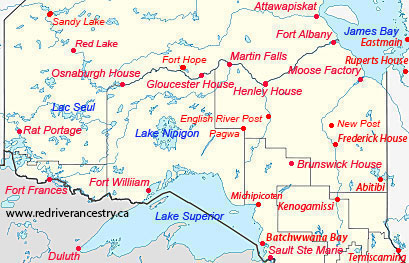 Hudson's Bay Company
Albany River District
1790
In 1790 both John and his brother Donald went to Osnaburgh House and Fort Albany to join the Hudson's Bay Company (HBC). John started out as a Post Master at St Annes (near Fort Albany).
** MORE ABOUT JOHN McKAY in HBC ARCHIVES
Marriage to Mary FAVEL
1791
Around 1791 John married Mary FAVEL, daughter of TITAMEG and John FAVEL (1740-1784) from England, at one time the Chief Factor at Albany. ** MORE ABOUT TITAMEG & JOHN FAVEL
John's first two children were born at Albany; John Richards in 1792 and William in 1793.
Lac la Pluie
1793-1797
In 1793 John was moved to Lac La Pluie (near Fort Frances in the Rainy River region) as a Post Master. In 1795 son Edward was born. He began to keep a Journal there that continued through to 1797 in which he described the fauna of the region which is often referred to by botanists and biologists.
Brandon House
1797-98, 1800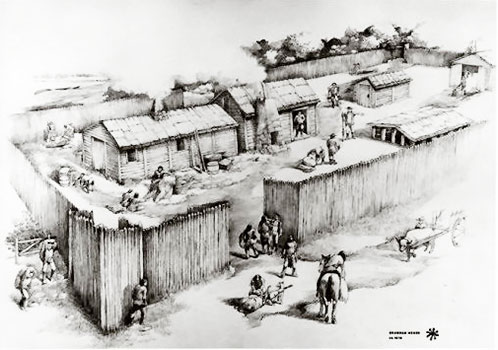 Brandon House around 1810
It was John's brother Donald McKAY (1753-1833) who first established Brandon House in 1793 on the north bank of the Assiniboine River, above the mouth of the Souris RiverRiver, a few kilometers to the east of the present City of Brandon, Manitoba. This was during a period in which the HBC was establishing itself in the North West Company's provisioning area along the Assiniboine River. Brandon House was located near the North West Company posts of Fort Souris and Fort de l'Epinette. (Manitoba Archives).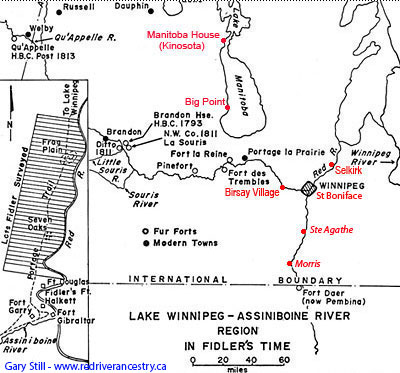 During 1797-98 John McKAY was sent to Brandon House as a temporary replacement for James SUTHERLAND (1751-1797) who died that year. Then to Osnaburgh House for two years before being sent back to Brandon House again in 1800, this time for the rest of his life.
In the fall of 1800 eldest son John Richards was sent to England to be educated.
From about 1804 John began to show signs of failing health. 
In 1808 son Charleswas born at Brandon House. That summer, son Edward (age 13) was admitted to school at Fort Albany.
In 1809 son William seems to have gone with Joseph BEIOLEY to the James Bay area where he served at various posts.
Death of Mary & John McKAY at Brandon House
1810
In January of 1810 John contracted a cold which persisted till his death on July 5. On March 19 wife Mary died in childbirth (daughter Mary).
The death of their parents must have presented quite a dilemma for this McKAY family. Orphaned children still at home at that time would have been Isabella (13), Elizabeth (11), Alexander (5), Charles (2) and baby Mary. Who would they have turned to for support?
Fortunately, eldest son John Richards was at Brandon House.at the time. After being educated in England, he had been hired by the HBC as a 'Writer' (Accountant) two years earlier and was serving under his father at Brandon. Nevertheless, he was still only 18 years old and yet a single man. His maternal grandmother, Widow TITAMEG-FAVEL would have been about 55 years old, and as far as we can tell she was there at Brandon House. Some of the older children may have stayed with her.
It is uncertain whether son John Richards' future wife and mother-in-law,  Harriet BALLENDINE and her mother (Jane) were already at Brandon House at the time of the elder John McKAY's death, or whether they came from Albany along with John Richard Jr. In any case, Harriet (and perhaps her mother Jane) became the foster parents of the two youngest McKAY children who were just babies (Charles & Mary).
=========================== // ===========================
When John McKAY died he was replaced at Brandon House by HUGH HENEY whose behaviour during his short stay there appeared central to a mutiny that took place that winter by the men under his rule. Among HENEY's transgressions, he apparently tried to take Isabella, John McKay's fourteen-year-old orphaned daughter. She was taken under the protection of Joseph BEIOLEY, the clerk who later became Chief Factor while serving in the posts on the east side of the Bay, and Isabella later became his wife.
In September of 1811 Captain Alexander KENNEDY (1781-1832) arrived at Brandon House to take charge and reassert control. He found the men there to be demanding and rebellious, but fared better than his predecessor.
Selkirk Settlers Arrive at the Forks
Peter FIDLER takes charge at Brandon House
1812
On August 30, 1812, Miles MACDONELL (1767-1828), the new HBC Governor of Assiniboia, arrived at the junction of the Red and Assiniboine rivers (the Forks) with the first (advance party) of Lord SELKIRK's settlers. It was too late for any crops to be planted or any other serious improvements to be undertaken, so MACDONELL proceeded to Pembina with the settlers. Around the same time Englishman Peter FIDLER (1769-1822) arrived with his family to take charge of Brandon House and to assist the new settlers by surveying lots and helping them to build houses north of the Forks (Kildonan).
By Oct 15, 1813, Governor Miles MACDONELL (1767-1828) found it necessary to again send the settlers south to Pembina for the winter. Crops had failed and buffalo meat was in short supply. This time their reception by the Métis there was not so friendly as before. ** MORE ABOUT MILES MACDONELL in DCBO

The NWC and the HBC had of course been in fierce competition for many years. The Nor'Westers were opposed to the increasing influx of settlers into what they considered their domain. They would do whatever they could to make things difficult for them. They purposefully encouraged opposition from the Indians and Métis buffalo hunters of the region. Settlement would cause the already diminishing buffalo herds to move away. During the winter of 1813-14, John PRITCHARD (1777-1855), under orders of John WILLS (1775-1815), both in the employ of the NWC, bought up most of the provisions available at the Forks and sent them off to their fort at La Souris (SE of Brandon House). This of course created a shortage for the Settlers. The NWC would later claim they needed pemmican as food supply for their voyageurs

In 1814 daughter Elizabeth married Cuthbert GRANT (1796-1854) at Fort Gibraltar, son of Margaret UTINAWASIS and Cuthbert GRANT SR (1751-1799). ** MORE ABOUT CUTHBERT GRANT SR

By 1814 daughter Isabella was recognized as Joseph BEIOLEY's wife.
In 1815 the McKAY-FAVEL family bonds were strengthened when son John Richards. married his own cousin, Harriet BALLENDINE, daughter of Jane FAVEL (his aunt) and John BALLENDINE (1758-1817). Harriet BALLENDINE & John Richard McKAY JR. shared the same grandmother (TITAMEG). ** MORE ABOUT JOHN BALLENDINE
Also 1815 son William married Mary BUNN, daughter of Sarah McNAB and Thomas BUNN (1765-1852).
Cuthbert GRANT on a Rampage
1816
In 1816 Brandon House was looted by Metis under the leadership of sib-in-law Cuthbert GRANT. The next year, a fire destroyed the post.
In 1817 daughter Elizabeth disappeared with her son James while her husband, Cuthbert GRANT was on trial in Montreal for his part in the Seven Oaks Massacre.
In 1818 Peter FIDLER rebuilt Brandon House across the river from the original site. By 1821, the post was moved back to its original site on the north bank of the Assiniboine.
Union of the North West Company with the Hudson's Bay Company
1821
In 1821 the union of the North West Company (NWC) and the Hudson's Bay Company (HBC) occurred, ending years of bitter rivalry for dominance of the fur trade in Western Canada. After the merger, almost 1,300 employees lost their jobs since the single HBC organization that emerged had no need for most of the voyageurs and retired fur traders. George SIMPSON (1786-1860) became the Governor of Rupert's Land.
In 1822 Brandon House became the headquarters of the newly created Upper Red River District. In June of 1824 it was closed again, as Fort Pelly was established to take over the trade in the area.
In 1825 Widow TITAMEG-FAVEL died at Brandon House.
In 1826 daughter Mary married John Philip BIRD, son of Elizabeth MONTOUR & James Curtis BIRD (1773-1856) from England, a retired HBC Chief Factor. ** MORE ABOUT JAMES CURTIS BIRD

In 1827 son Charles married his sister-in-law, Letitia BIRD (brother of John BIRD who married his sister, Mary)
In the fall of 1828, Brandon House was reopened about 12 miles from the old site. In 1832, it was closed for good.
In 1833 son Alex married Catherine ROBERTSON at Ruperts House, daughter of LAT-O-WAY-SHO & James ROBERTSON of uncertain origins.
In 1845 daughter Mary, widowed, re-married to John CALDER, son of Nancy LINDSAY and Captain James CALDER (1775-1824). ** MORE ABOUT CAPTAIN JAMES CALDER
Comments and queries at this link: FORUM DISCUSSING the JOHN McKAY FAMILY
========================== Family Details ==========================
Children:
1. Aug 10, 1792 JOHN RICHARDS McKAY (m. Harriet BALLENDINE)
** MORE ABOUT JOHN RICHARDS McKAY
2. Apr 15, 1793 WILLIAM McKAY (m. Mary BUNN)
3. 1795 EDWARD McKAY
4. 1797 ISABELLA MARGARET McKAY (m. Joseph BEIOLEY)
5. 1799 ELIZABETH "BETHSY" McKAY (m. Cuthbert GRANT)
6. May 18, 1805 ALEXANDER McKAY (m. Catherine ROBERTSON)
7. Feb 8, 1808 CHARLES RICHARD McKAY (m1. Letitia BIRD, m2. Marguerite WALLA WALLA)
** MORE ABOUT CHARLES RICHARD McKAY
8. Mar 19, 1810 MARY McKAY (m1. John BIRD, m2. John CALDER, m3. William DOWLAND)