JOHN FAVEL (1740-1784)
TITAMEG "WHITEFISH" (1755-1825)
(Last Updated: September 10, 2016)
John FAVEL was born around 1740 at Southwark, London, England.
Hudson's Bay Company
Fort Albany on James Bay
1754
In 1754 John FAVEL (age 14) came to Fort Albany on James Bay as a young clerk for the Hudson's Bay Company (HBC). During his career, his positions included Writer, Second Accountant, Second in Command, Master and finally Deputy).
** MORE ABOUT JOHN FAVEL in HBC ARCHIVES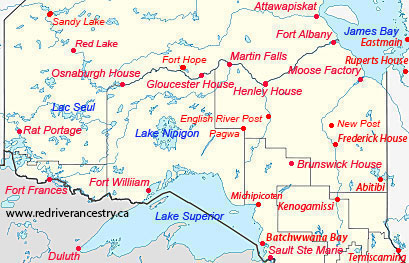 John FAVEL and TITAMEG
1769-70
It is difficult to be sure just when John began his lifelong relationship with TITAMEG, a mere teenager in 1769; John was about 25-26 years old. It seems likely that it was before he departed to England in 1769. TITAMEG or "Whitefish", a Cree woman, was born about 1755 in the Swampy Cree Indian Settlement at York Factory.
In 1770 John returned to the Bay to resume as Second Factor at Fort Albany, where he would remain for the rest of his life. Daughter Jane was born that year, followed by son Humphrey Martin in 1771.

In 1774 Thomas HUTCHINS (1742-1790), a surgeon and naturalist, became the Chief Factor at Albany (for the next eight years). ** MORE ABOUT THOMAS HUTCHINS in DCBO 
HBCA: *1774-79: Second Albany; Master at Henley House. *1775 - "Greatly chagrined to find that after 20 years of service, he was superseded in command - - "
In June of 1776 KIPLING was appointed in command of Henley House by HUTCHINS, on FAVEL's departure (to Albany). Two months later (August of 1776) KIPLING relinquished command of Henley, upon the arrival of Edward JARVIS. He was again temporarily in command of Henley from September until October, when John FAVEL returned.
** MORE ABOUT EDWARD JARVIS in DCBO
The Founding of Gloucester House
1777
In June of 1777, John KIPLING (1724-1794) founded Gloucester House [on Washi Lake some 300 miles up the Albany River; north of Lake Nipigon] He arrived at "the place the Indians appointed for us to build a settlement". 
A couple of times FAVEL was sent inland on the Albany River, about a 100 mi, where he built Fort Henley. This was an attempt to compete with the NWC who were moving inland over the Great Lakes system and through the Winnipeg River system to the prairies. Up until that time, the HBC had sat in their forts on the Bay and let the Indians come to them with furs.
HBCA: 1779-84: Deputy, Albany Post; Albany District.
Around 1783 some sources indicate that eldest daughter Jane had a relationship with John RICHARDS, son of an Indian woman and William RICHARDS from England, an HBC Surgeon in the Albany District. This seems rather doubtful; Jane was only about 13 years old at that time. We would like to hear from anyone who might be able to substantiate this.
John FAVEL dies at Henley House
1784
John served as 2nd Factor at Fort Albany until his death on Nov 2, 1784 at Henley House (he was in his 30th year of HBC service). Shortly before he died, he drew up a Will whch provided an annuity for his Indian wife TITAMEG and their four children who at that time were Jane (age 14), Humphrey (13), Mary (10) and Thomas (age 5).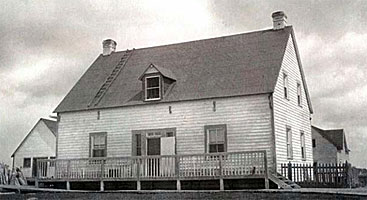 Hudson's Bay House at Fort Albany
Around 1789 eldest daughter Jane married John BALLENDINE (1758-1817) from the Orkneys, the HBC Post Master at Fort Severn.
In 1791 daughter Mary married John McKAY (1758-1810) from Scotland, an HBC Post Master in the Albany District.
Around 1793 son Humphrey married an Indian woman named Jenny (Jane) "PAWPITCH", probably at Brandon House.
Around 1797 youngest son Thomas married a Cree woman named Sarah TROUT, probably at Brandon House.
In 1810 Son Humphrey, and both daughter Mary FAVEL and her husband (JR McKAY) all died at Brandon House.  TITAMEG died there after 1825.
Comments and queries at this link: FORUM DISCUSSING the TITAMEG-JOHN FAVEL FAMILY
========================== Family Details ==========================
Children:
1. 1770 JANE FAVEL (m. John BALLENDINE)   
2. 1771 HUMPHREY MARTIN FAVEL (m. Jenny "Jane" INDIAN)
3. 1775 MARY FAVEL (m. John McKAY)
4. 1779 THOMAS FAVEL (m. Sarah TROUT)