CHARLES RICHARD McKAY (1808-1873)
LETITIA BIRD (1809-1897)
MARGUERITE WALLA WALLA (1825-1847)
(Last Updated: February 11, 2015)
Charles Richard McKAY was born Feb 8, 1808 at Brandon House, son of Mary FAVEL and John McKAY (1758-1810). His parents died when Charles was only two years old. ** MORE ABOUT JOHN McKAY
Charles and his sister Mary were taken in by their Uncle John Richards "Little Bearskin" McKAY (1792-1877).
** MORE ABOUT JOHN RICHARDS McKAY
Charles' early education was pretty much in the hands of his brother. From John, he derived knowledge of the classics and a deep appreciation for the lore and literature of Scotland, not the usual educational curriculum for a child on the frontier. (WCHS)
Arrival of Reverend John WEST
Union of the North West Company with the Hudson's Bay Company
1820-1821
In the fall of 1820 Reverend John WEST (1778-1845) arrived at Red River from England as the first Anglican Clergyman in Rupert's Land. That winter he made a trip to Qu'Appelle and Brandon House where John Richards McKAY (Charles' uncle) was spending the winter.
In 1821 the union of the North West Company (NWC) and the Hudson's Bay Company (HBC) occurred, ending years of bitter rivalry for dominance of the fur trade in Western Canada. After the merger, almost 1,300 employees lost their jobs since the single HBC organization that emerged had no need for most of the voyageurs and retired fur traders. George SIMPSON (1786-1860) became the Governor of Rupert's Land. It has been said that Charles was a member of George SIMPSON's party that crossed the Rocky Mountains into Snake Country in 1823. ** Would love to have more definitive information about this. Charles would have only been about 15 years old at that time.
** MORE ABOUT GOVERNOR GEORGE SIMPSON
Red River
Marriage to Letitia BIRD
1823-1827
During the outfit year 1823-24, Uncle John McKAY was posted to the Upper Red River District (St Johns-Winnipeg), and in 1824 he retired and became a colonist in the Red River Settlement for the next six years. Charles would have been about 15 years old then, and being his uncle's foster-child probably also went to Red River at that time.
In 1827 Charles married Letitia BIRD at St Johns, the daughter of Elizabeth CREE & James Curtis BIRD (1772-1856) from England.  ** MORE ABOUT JAMES CURTIS BIRD
First Party of Settlers to Oregon
1841-1842
In 1841 the HBC organized a party (The First James SINCLAIR Party) of 23 families from Red River to immigrate to the Columbia River, hoping that, as settlers, they would strengthen British claims to the Oregon Territory, then in dispute with the United States. James SINCLAIR (1811-1856) was Charles' brother-in-law, having married Letitia's sister, Elizabeth BIRD. ** MORE ABOUT THE OREGON SETTLERS and JAMES SINCLAIR
Charles and his family were among those first settlers to Oregon in 1841. By that time he had four surviving children; Charles (age 12), Maria (10), Mary Ann (5) and Isabella (age 3). Daughter Harriet was born along the way.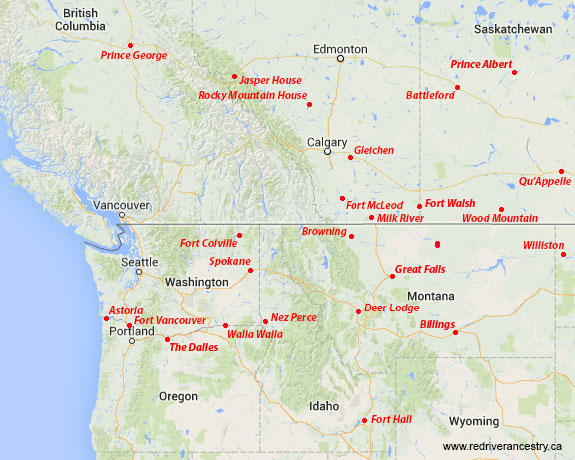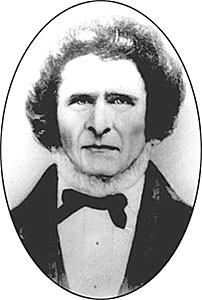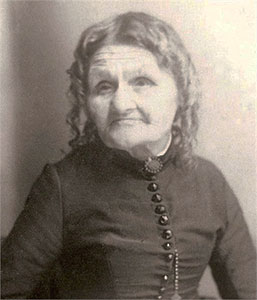 Charles Richard McKay and Letitia (nee Bird) McKay
Charles and Marguerite WALLA WALLA
1845
In June of 1845, Chas had a child named Adelaide with Marguerite WALLA WALLA. Adelaide was baptized Jun 10, 1845 at St James Mission, Vancouver Oregon
.
In 1846 eldest daughter Maria married Thomas Hardeman SMITH (1824-1890). This marriage ended in a divorce, and in 1872 Maria remarried to George Leon PLUMEY.
In 1850 eldest son Charles Richard Jr. married Mary SPENCE in Oregon, the daughter of Margaret WHITFORD and Archibald Steward SPENCE (1797-1851), a retired HBC employee from the Orkneys of Scotland who took his family from Red River to Oregon with the James SINCLAIR party of settlers in 1841.
In 1852 daughter Mary Ann married Samuel Hayden ELLIOTT in Oregon, son of Jane TOLLICK and John Williams ELLIOTT (1804-1871).
SECOND SINCLAIR PARTY TO OREGON
JAMES SINCLAIR DIES AT THE CASCADES
1854 1856
In order to rid Fort Garry of James SINCLAIR (Charles' brother-in-law) and others who clashed with the HBC ideas, Governor George SIMPSON (1786-1860) proposed to lead another party to Oregon. In return, SINCLAIR would be put in charge of one of the Oregon posts. The group set out from Ft Garry in May, 1854, and arrived at Walla Walla, Washington in November where SINCLAIR took over as Chief Trader.
DCBO: In October 1855 trouble with the Indians flared up and the Indian agent ordered SINCLAIR to evacuate Walla Walla. He returned with 150 American volunteers to find, after several days' fighting, that the post had been looted and the livestock killed or dispersed. Travelling on HBC business, James SINCLAIR was killed on March 26, 1856 in an Indian attack on the settlement at the Cascades.
In 1856 Charles' daughter Isabella married John Privity BROOKS in Oregon, son of Hannah KEMP and Dickerson BROOKS (b-1787).
In 1857 daughter Harriet married her brother-in-law, Joseph Stewart SPENCE, son of Margaret WHITFORD and Archibald Stewart SPENCE (1797-1851). Harriet's brother Charles was married to Joseph's sister, Mary SPENCE. Joseph SPENCE died in 1858, and in 1859 Harriet remarried to Miles BIRTSON, son of Grizzel ROWLAND an James BIRSTON (b-1809) who was also among the 1841Red River settlers to Oregon in 1841.
On Feb 14, 1859 Oregon was admitted to the American Union as a State. Previously known by Canadians as the Columbia District.
In 1862 daughter Nancy Ann married Charles Wilson EPPLER of uncertain origins.
In 1864 daughter Cecilia married Clement PHILLIPS, son of Nancy Ann KENNEDY and Noble Philander PHILLIPS (1807-1892).
On May 28, 1873 Charles Richard McKAY died at Glencoe, WA County (west of Portland, OR).  He was buried in Forest Grove.
On Feb 26, 1897 Letitia (nee BIRD) McKAY died also at Glencoe
Comments and queries at this link: FORUM DISCUSSING the FAMILY OF CHARLES RICHARD McKAY
========================== Family Details ==========================
Children with Letitia BIRD:
1. Jan 16, 1829 CHARLES RICHARD McKAY JR (m. Mary SPENCE)
2. 1831 MARIA McKAY(m1. Thomas H SMITH, m2. George L PLUMEY)
3. Jun 26, 1835 ELIZABETH McKAY (Died in infancy)
4. Nov 20, 1836 MARY ANN McKAY (m. Samuel Hayden ELLIOTT)
5. Apr 14, 1839 ISABELLA McKAY (m. John Privity BROOKS)
6. 1841 HARRIET McKAY (m1. Joseph SPENCE, m2. Miles BIRSTON)
7. 1842 CECILIA McKAY (m. Clement PHILLIPS)
8. 1843 NANCY ANN McKAY (m1. EPLER, m2. Charles WILSON)
Child with Marguerite WALLA WALLA:
1. Jun, 1845 ADELAIDE McKAY