JOHN RICHARDS "LITTLE BEARSKIN" McKAY (1792-1877)
HARRIET BALLENDINE (1797-1854)
LAREINE TROTTIER (1800-)
CATHERINE (WHITE DOG) SMITH (1836-)
(Last Updated: March 20, 2015)
John Richards "Little Bearskin" McKAY was born Aug 10, 1792 at Albany Factory, the eldest son of Half-breed Mary FAVEL and HBC Chief Trader John McKAY (1758-1810) from Scotland. In the fall of 1800 John was sent to England to be educated. ** MORE ABOUT JOHN McKAY
** MORE ABOUT JOHN RICHARDS McKAY in DCBO
Often referred to regarding the McKAY Families are the researches conductied by Serena Willis and Stan Hulme
An Accountant for the Hudson's Bay Company
Albany Factory – Brandon House
1808-09
 John returned to Hudson Bay in the summer of 1808, being described in the passenger list of the Prince of Wales as a 'writer' (Accountant), bound for Albany Factory where he was stationed during 1808-09. 
** JOHN RICHARDS McKAY in HBC ARCHIVES
During the season 1809-10 he joined his father at Brandon House, serving under him as an Accountant.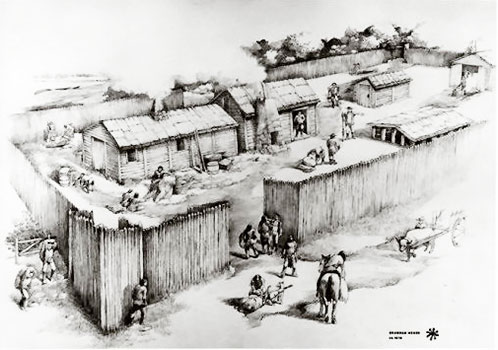 Brandon House around 1810
It was John Richard's Uncle Donald McKAY (1753-1833) who first established Brandon House in 1793 on the north bank of the Assiniboine River, above the mouth of the Souris RiverRiver, a few kilometers to the east of the present City of Brandon, Manitoba. This was during a period in which the HBC was establishing itself in the North West Company's provisioning area along the Assiniboine River. Brandon House was located near the North West Company posts of Fort Souris and Fort de l'Epinette. (Manitoba Archives).
In January of 1810 John's father (the elder John) contracted a cold which persisted till his death on July 5. On March 19 his mother (Mary) died after giving birth to his sister Mary.
It is uncertain whether son John Richards' future wife and mother-in-law,  Harriet BALLENDINE (his cousin) and her mother (Jane; his mother's sister) were already at Brandon House at the time of the elder John McKAY's death, or whether they came from Albany along with John Richard. In any case, Harriet (and perhaps her mother Jane) became the foster parents of the two youngest McKAY children who were just babies (Charles Richard and Mary). Harriet was the daughter of Jane FAVEL and Chief Factor John BALLENDINE (1758-1817).  ** MORE ABOUT JOHN BALLENDINE
** MORE ABOUT CHARLES RICHARD McKAY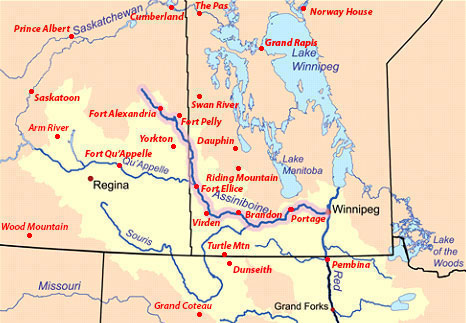 Assiniboine River Forts
In 1811 John Richard was sent to Pembina River.
Selkirk Settlers Arrive at the Forks
Peter FIDLER takes charge at Brandon House
1812
From 1812 to 1814 John was at Brandon House and in the West Winnipeg District.
On August 30, 1812, Miles MACDONELL (1767-1828), the new HBC Governor of Assiniboia, arrived at the junction of the Red and Assiniboine rivers (the Forks at Winnipeg) with the first (advance party) of Lord SELKIRK's settlers. It was too late for any crops to be planted or any other serious improvements to be undertaken, so MACDONELL proceeded to Pembina with the settlers. Around the same time Englishman Peter FIDLER (1769-1822) arrived with his family to take charge of Brandon House and to assist the new settlers by surveying lots and helping them to build houses north of the Forks (Kildonan). ** MORE ABOUT PETER FIDLER 
By Oct 15, 1813, Governor Miles MACDONELL (1767-1828) found it necessary to again send the settlers south to Pembina for the winter. Crops had failed and buffalo meat was in short supply. This time their reception by the Métis there was not so friendly as before. ** MORE ABOUT MILES MACDONELL in DCBO
l
The NWC and the HBC had of course been in fierce competition for many years. The Nor'Westers were opposed to the increasing influx of settlers into what they considered their domain. They would do whatever they could to make things difficult for them. They purposefully encouraged opposition from the Indians and Métis buffalo hunters of the region. Settlement would cause the already diminishing buffalo herds to move away. During the winter of 1813-14, John PRITCHARD (1777-1855), under orders of John WELLS (1775-1815), both in the employ of the NWC, bought up most of the provisions available at the Forks and sent them off to their fort at La Souris (SE of Brandon House). This of course created a shortage for the Settlers. The NWC would later claim they needed pemmican as food supply for their voyageurs.
Fort Qu'Appelle
1814
During1814-15 John Richard was stationed at Riviere Qu'Appelle.
John Richard probably met Cuthbert GRANT (1796-1854) during his stay at Brandon House. Cuthbert was a clerk with the rival North West Company, but nevertheless the two became close friends.  In fact, his sister "Bethsy" married Cuthbert GRANT in 1814. ** John Richard was even remembered in Cuthbert's 2nd will, after Bethsy's death or disappearance.
** MORE ABOUT CUTHBERT GRANT in DCBO
John & Harriet BALLENDINE
1815
In 1815, Alexander MACDONELL (NWC) moved his fort to a new site on the north side of the Qu'Appelle River.  In the same year, our John Richards of HBC built a fort about a hundred yards from MACDONELL's post and entered into fierce competition.  Left unguarded that summer, when John Richards returned in the autumn with a brigade of 12 men, they found their fort had been burned down by the NWC. JR immediately started to rebuild, but MACDONELL ordered him to remove his fort to some other location.  HBC men threatened to blow them to pieces.  However, the Indians rallied to the support of JR, and he remained in possession of the fort until spring.
In 1816 John Richards' first child with Harriet BALLENDINE was born, indicating that his relationship with her dated from 1815. If he met her during his time at the Bay, it is possible, if not very probable, that she went with him inland, and was foster-mother to his brother and sister. It seems more likely to this writer that some of the native wives of HBC men lent him a hand. This may have deepened the animosity of the community against the inexperienced man (Hugh HENEY) who replaced his father (John McKAY). Among HENEY's transgressions, he apparently tried to take Isabella, John Richards' fourteen-year-old orphaned sister. She was taken under the protection of Joseph BEIOLEY, the clerk, who later became Chief Factor while serving in the posts on the east side of the Bay, and became his wife.
Between 1816 and 1820 John Richards moved around quite a bit; 1816 at Qu'Appelle and later at Hibernia, Beaver Creek and Fort Pelly (all in the same area), sub-posts of Brandon House where he spent the winter of 1820.
Arrival of Reverend John WEST
Union of the North West Company with the Hudson's Bay Company
1820-1821
In the fall of 1820 Reverend John WEST (1778-1845) arrived at Red River from England as the first Anglican Clergyman in Rupert's Land. That winter he made a trip to Qu'Appelle and Brandon House where John Richards McKAY was spending the winter. On Jan 20, 1821, WEST recorded in his Journal "- - married the officer of the post and baptized his two children. These of course were the marriage of John Richards  to Harriet BALLENDINE. WEST only mentions baptizing two of their children, which is puzzling because it seems they had three children at that time; John (age 5), William (3) and Mary (age 1). **MORE ABOUT REVEREND JOHN WEST
On the same day of his own marriage, John Richards McKAY and George McRAE were witnesses to the marriage of Mary Suzette DeMORAN and James ANDERSON (1775-1856). ** MORE ABOUT JAMES ANDERSON
In 1821 the union of the North West Company (NWC) and the Hudson's Bay Company (HBC) occurred, ending years of bitter rivalry for dominance of the fur trade in Western Canada. After the merger, almost 1,300 employees lost their jobs since the single HBC organization that emerged had no need for most of the voyageurs and retired fur traders. George SIMPSON (1786-1860) became the Governor of Rupert's Land.
An Affair with LaReine TROTTIER
1822
During the 1821-22 outfit year, John was assigned to the Lower Red River District.
In 1822 John had an illicit affair with LaReine TROTTIER of unknown origins. Scrip records show that in March of 1823 a child named William was born. ** Some sources suggest that this may be the Victoria Reine who later married William Wallack SPENCE, also of unknown origins.
Retired to Red River
1823-1831
In March of 1823 LaReine TROTTIER gave birth to William McKAY. John Richards was the father.
During the outfit year 1823-24, John was posted to the Upper Red River District (St Johns-Winnipeg), and in 1824 John was retired and became a colonist in the Red River Settlement for the next six years. In an 1829 census he was recorded there with four sons and two daughters which would have been John (age 13), William (11), Mary (9), Edward (5), Alexander (3) and Eliza (age 2).
Serena Willis: His (John Richards') name appeared in the Red river Census Papers dated June 1, 1829, when he was described as a Protestant, aged 39, a native of Rupert's Land, married with four sons and two daughters. His age was given as 37 years in the Census Papers for the following year. After an unsuccessful attempt to open an academy to teach, amongst other things, French, dancing and fencing, he joined the American traders in the autumn of 1830, and it was, no doubt, on this latter account, that he was (again) given employment by the HBC in 1831.
Back in the Portage la Prairie and the Swan River District
1832-1844
In 1832 John Richards was back in the employ of the HBC as the Post Master at Portage la Prairie. During 1833-34 he was at Fort Ellice in the Swan River District.
Around 1840 eldest son John Jr. married Mary ENGLAND, daughter of Margaret MOREAU and James ENGLAND who at one time was a voyageur with the North West Company.
In 1842 daughter Mary married John WELLS,son of Josephte GRANT & John WELLS SR (1775-1815).
In 1842 John made his Will, referring to his wife, six sons and five daughters.
A second retirement to Red River
1844-46
In 1844 John made his second retirement from the HBC and in 1845 he settled in Red River.
In 1845 John's illegitimate son William (by La Reine TROTTIER) married Susan VERSAILLES, daughter of Josephte LETENDRE and Pierre VERSAILLES.
In 1846 son William married Mary COOK at St Johns (Red River), daughter of Catherine SINCLAIR and Joseph COOK (1788-1848). ** MORE ABOUT JOSEPH COOK
John Richards' final years in the Swan River District
1846
1846-1847: Rejoined the Service. Clerk in Charge of Partridge Crop (Fairford) and Riveiere Poule d'eau,    Swan River Dist

In 1847 son Alexander married Catherine McCORRISTER in St Andrews, daughter of Catherine JONES and Alexander McCORRISTER (1784-1845). ** MORE ABOUT ALEXANDER McCORRISTER
Shoal River
1848-1854
From 1848-1854 John was the Clerk in Charge at Shoal River, Swan River District
In 1850 daughter Letitia married Peter ANDERSON at Portage la Prairie, son of Mary Suzette DeMORAN and James ANDERSON (1775-1856), an HBC Tailor from the Orkneys. ** MORE ABOUT JAMES ANDERSON
In 1854 wife Harriet died at Shoal River.
1855-1857: Post Master Touchwood Hills and Cree Camps, Swan River District.
In 1856 daughter Harriet married John Dougall McKAY at Fort Pelly, son of Julie CHALIFOUX and William McKAY (1795-1887). ** MORE ABOUT WILLIAM McKAY
In 1857 son John McNab married Mary Anne McCORRISTER in Winnipeg.
** Note: This is NOT the McKAY who was a Guide on the Palliser-Hind Expedition of 1857-58, as some researchers imply. Our John was about 65 years old at that time. That was more likely either John McKAY (b-1831) or James McKAY (1827-1879).
Marriage to Catherine SMITH (WHITE)
Final Retirement
1858-59
In 1858 John became the Post Master in Touchwood Hills (Swan River District). Soon after, he re-married Catherine SMITH, daughter of Catherine SMITH and William (John) WHITE DOG of uncertain origins.

In 1858 John had been widowed for four years. He was about 65-66 years old by this time but obviously he still had seeds to sow.
               
In 1858 daughter Caroline married William LINKLATER in Fort Pelly, son of Elizabeth SANDERSON and John LINKLATER (b-1799).
In 1859 when James CARNEGIE (1827-1905), the Earl of Southesk, visited Fort Ellice he mentioned that John Richard was assisting his son William who was then in charge at that post.
** MORE ABOUT the EARL OF SOUTHESK in WIKIPEDIA

In 1859 John made his final retirement and was later granted a pension.
In 1860 son Charles married Margaret CAMPBELL at Manitoba House, daughter of Louise RICHARDS and Alexander CAMPBELL(1815-1877).
In 1864 son Joseph married Margraret POITRAS in St Francois Xavier, daughter of Marie BRUYERE & Pierre POITRAS (1810-1889).
In 1870 (Sprague & Frye) John's family was recorded at St Francois Xavier with son Albert (age 9) and daughter Amelia (age 8).
In 1877 Métis Scrip was claimed by John R McKAY of St Clements Parish, formerly of Baie St Paul.
On Dec 11, 1877 John Richards McKAY died at the Fairford Mission at the age of 85. He was buried in the St Clements Anglican Church Cemetery in Mapleton.
Youngest daughter Amelia marred George TAYLOR of uncertain origins.
Comments and queries at this link: ** FORUM DISCUSSING the JOHN RICHARDS McKAY FAMILY
=========================== Family Details ===========================
Children by BALLENDINE:
1. Nov 15, 1816 JOHN McKAY JR (m. Mary ENGLAND)
2. Feb 16, 1818 WILLIAM McKAY (m. Mary COOK)
3. July 21, 1820 MARY McKAY (m. John WELLS)
Illegitimate Child by TROTTIER:
1. Mar, 1823 WILLIAM McKAY (m. Susan VERSAILLES)
More Children by BALLENDINE:
4. May 11, 1824 EDWARD McKAY (m. Caroline COOK)
5. Feb 16, 1826 ALEXANDER McKAY (m. Catherine McCORRISTER)
6. Oct 5, 1828 ELIZA McKAY
7. June 7, 1831 JOHN McNAB McKAY (m. Mary Anne McCORRISTER)
8. Mar 12, 1833 LETITIA "LETTY" McKAY (m1. Peter ANDERSON, m2. George PARK)
9. July 6, 1835 HARRIET McKAY (m. John Dougall McKAY)
10. Aug 25, 1838 CAROLINE McKAY (m. William LINKLATER)
11. July 28, 1840 CHARLES McKAY (m. Margaret CAMPBELL)
12. Aug 7, 1842 JOSEPH McKAY (m. Margaret POITRAS)
Children by Catherine SMITH-WHITE:
1. 1859 JANE HARRIET McKAY (Died in infancy)
2. 1861 ALBERT EDWARD McKAY
3. 1862 AMELIA McKAY (m. George TAYLOR)