WILLIAM McKAY (1795-1887)
JULIE CHALIFOUX (1804-1860)
JANET (nee MATHESON) JORDAN (1817-1909)
(Last Updated: December 13, 2014)
William McKAY was born Mar 27, 1795 at Brandon House, son of Hannah SUTHERLAND and Donald (Mad) McKAY (1753-1833). ** MORE ABOUT DONALD McKAY in DCBO
During the winter of 1796-97 William's father (Donald) withdrew from his post at Osnaburgh House and the family subsisted on fish. That spring his father made the difficult canoe voyage to York Factory (Man.) accompanied only by baby William, his mother (Hannah) and her sister.  
In 1802 William (age 7) and his father (Donald) were away hunting when their home (near York Factory) was raided by hostile Indians. His mother was killed in the raid and his 11 year old brother (Donald McKAY JR) was left for dead but his father nursed him back to health. His brother Donald was left with some of his mother's people, but William was taken to Scotland with his father for about four years.
In 1806 William and his father returned aboard the King George to Churchill where his father was re-engaged by the HBC as an Inland Trader.
William Employed by the Hudson's Bay Company
1809-1811
In 1809 William's father (Donald) retired to Scotland, and William was hired by the HBC in the York District.
William Educated in Scotland
1811-1817
Around 1811 William returned once again to Scotland where he received an education.
Jack River (Norway House)
1817
In 1817 William (age 22) re-entered service with the HBC and was posted to the York District, and for the next five years he worked as a Laborer at Berens River and Norway House.
Union of the North West Company with the Hudson's Bay Company
1821
In 1821 the union of the North West Company (NWC) and the Hudson's Bay Company (HBC) occurred, ending the years of bitter rivalry for dominance of the fur trade in Western Canada. At the time of the HBC-NWC union, (Sir) George SIMPSON (1786-1860) became the Governor of Rupert's Land. On May 20, 1822, SIMPSON reported to the board of governors of the HBC that he had established a fort at the junction of the Red and Assiniboine Rivers. He named it Fort GARRY (the Upper Fort). Around this fort was to grow the city of Winnipeg.
In 1824-25 William worked as a Guide in the Lake Winnipeg district.
Marriage to Julie CHALIFOUX
1826
From 1826 to 1828 William was a Guide in the Lac La Pluie District (Rainy Lake region). On Aug 23, 1826 he married Julie CHALIFOUX at Norway House. Julie's origins are uncertain; said to be the daughter of Adelina and a Joseph CHALIFOUX (b-1790). In 1827 son John Dougal was born at Rainy Lake.
From 1828 to 1843 William was a Post Master in the Island Lake District.
Trout Lake
1843-1856
From 1843 to 1856 William was the Post Master at Trout Lake in the Severn District.
In 1853 eldest son William Jr. married Elizabeth GRANT in St Francois Xavier (MB), daughter of Marie McGILLIS and the famous Metis leader, Cuthbert GRANT SR (1796-1854). ** MORE ABOUT CUTHBERT GRANT
Berens River
1856
In 1856 William became the Postmaster at Berens River.
In 1857 son John Dougal was church-wed to Harriet McKAY in Headingly (MB), the daughter of Harriet BALLENDINE and John Richards McKAY (1792-1877). ** MORE ABOUT JOHN RICHARDS McKAY
In 1860 Julie (nee CHALIFOUX) McKAY died at Berens River. She was buried in the old St Andrews Church Cemetery on the Red River.
In 1861 eldest daughter Mary married Jacob BERENS (1835-1916) at Norway House. Jacob became the Chief of the Berens River Indian Band. ** MORE ABOUT CHIEF JACOB BERENS in DCBO
William marries Widow Janet (nee MATHESON) JORDAN
1863
On July 15, 1863 William re-married to Janet (nee MATHESON) JORDAN. The daughter of Janet MATHESON and Alexander MATHESON (1774-1874), and the widow of Hector JORDAN who died in 1855. In doing so, William became the step-father of Janet's three children; Mary JORDAN (age 14), Alexander JORDAN (12) and Catherine JORDAN (age 10).
By 1864 youngest daughter Nancy McKAY was the wife of Joseph EVERETT, an Ojibway Indian who it is said had been adopted by Nancy's uncle, the aforementioned Cuthbert GRANT (1796-1854). At that time EVERETT was working under our William McKAY at Trout Lake.
From 1865 to 1871 William was a Clerk at Berens Rive in the Norway House District.
In 1867 step-daughter Catherine JORDAN married Angus CAMPBELL (1845-1905) from Scotland, an HBC employee in the Norway House District.
Canadian Confederation
A Red River Rebellion
Manitoba becomes a Province
1867-1870
On July 1, 1867 the British colonies in North America were united under the British North American Act to become the Dominion of Canada.  Sir John A MACDONALD (1815-1891) was appointed as Canada's first Prime Minister. William McDOUGALL (1822-1905) became the Minister of Public Works, and he began negotiations to acquire Rupert's Land from the HBC; surveyors were sent to Red River to prepare the way for an expected influx of settlers.
On Oct 11, 1869, Louis RIEL (1844-1885) placed his foot on the surveyors' chain to tell them their work was finished! This marked the beginning of the historic Red River Métis Rebellion.
On July 15, 1870 the Rebellion ended when RIEL's Provisional Government accepted the terms of the Manitoba Act and Manitoba became the fifth province of Canada.
St Andrews Parish, Red River
1870
Census of 1870 in St Andrews Parish (Lot 18-19): William McKAY, age 76; wife Janet, age 50. This location is south of Lambert's Point on map below.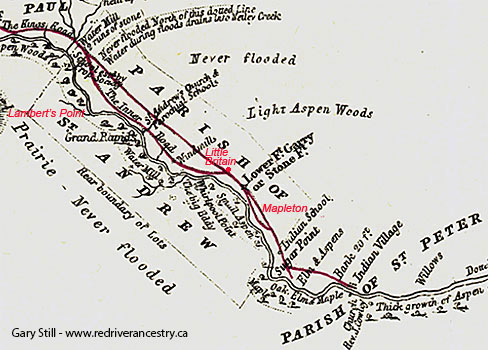 St Andrews Parish from Hind's Map of 1857
In 1873 step-daughter Mary JORDAN married John MOAR (1840-1926) from the Orkneys, an HBC voyageur and interpreter at Norway House.
In 1875 William claimed his Half-breed Scrip in St Andrews
Census of 1881 in St Andrews: William McKAY, age 86; wife Janet, age 64. With them is step-son Alexander JORDAN; granddaughter. Julia BERENS (age 17); and William James MOORE, HBC Servant (age 17).
On Jan 13, 1887 William McKAY died at Parkdale, MB, after a "long and successful career as a clerk for the HBC at various posts east of Lake Winnipeg".
Censuses of 1891 and 1901: Widow Janet McKAY (age 74, 84) with her son Alexander JORDAN in St Andrews Parish. In 1905 son Alex JORDAN died.
On Sep 7, 1909 Janet (nee MATHESON) McKAY died in RM of St Andrews, (age indicated as 100).
Comments and queries at this link: FORUM DISCUSSING the WILLIAM McKAY FAMILY
========================== Family Details ==========================
Children with Julie CHALIFOUX:
1. Nov 25, 1825 1828 WILLIAM McKAY (m. Elizabeth "Betsy" GRANT)
2. 1827 JOHN DOUGAL McKAY (m. Harriet McKAY)
3. 1830 JOSEPH McKAY
4. 1834 (before) MARY McKAY (m. Chief Jacob BERENS)
5. May 16, 1837 NANCY (ANN) McKAY (m. Joseph EVERETT)
Step-children (Children of Janet MATHESON and Hector JORDAN):
1. 1849 MARY JORDAN (m. John MOAR)
2. Apr 14, 1851 ALEXANDER JORDAN
3. Jul 11, 1853 CATHERINE JORDAN (m. Angus CAMPBELL)