ALEXANDER McBEATH (1760-1848)
CHRISTIAN GORDON GUNN (1765-1855)
(Last Updated: January 17, 2015)
Alexander McBETH aka McBEATH was born in Kildonan Parish, Sutherlandshire, Scotland. There are many conflicting versions concerning the birth date for Alex. Some say he was born in 1741, others say 1746 and others 1757. The Passenger List of Selkirk Settlers indicates he was born around 1760.
Marriage to Christian GUNN
1791
In 1791 Alex married Christian GORDON GUNN at Dallagen, Sutherlandshire, Scotland. On Feb 17, 1792 their first child, John was born there.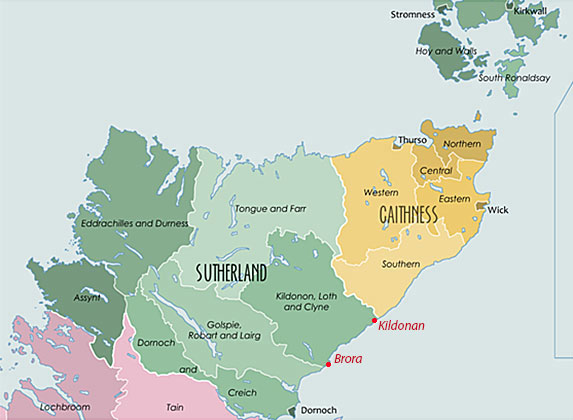 The Highland Clearances and the Selkirk Settlers
In 1802, after a tour of northern Scotland during "The Clearances", Lowlander Thomas Douglas (1771-1820), 5th Earl of Selkirk, (LORD SELKIRK) took up the plight of the dispossessed crofters. A large shareholder in the Hudson's Bay Company (HBC), SELKIRK made plans for the creation of a settlement at Red River by recruiting impoverished Scottish farmers. The HBC thereupon handed over to SELKIRK 116,000 sq miles in the valley of the Red and Assiniboine Rivers for that purpose. He selected Miles MACDONELL (1767-1828), a Loyalist Captain, as Governor of the settlement, and he extended his recruiting to include disadvantaged Irish would-be emigrants.
In 1812 eldest son John married Helen MATHESON, daughter of Jean POLSON & Hugh MATHESON (1754-1813). In 1813 the newly-weds were recruited as part of 'the Churchill Party' of Selkirk Settlers led by the aforementioned Miles MACDONELL.
The Sutherland Settlers
In 1815 Alexander McBEATH and the rest of his family became part of SELKIRK's fourth group of settlers who were recruited from the rural parish on the East Coast of Sutherlandshire (the majority of them hailing from the Parish of Kildonan) in Scotland, the Sutherland Settlers.The passenger list for the Prince of Wales, departing from Thurso included Alexander McBEATH (age 55). wife Chrisitana GUNN (age 50), and eight children as Margaret (age 18), Molly (18), George ( 16),  Christian (14), Roderick(12), Robert (10), Adam(  6) and Morrison (age 4). Then, on June 17, 1815, this group (about 72 to 100 persons) embarked at Stromness aboard the ship 'Hadlow'. They were led by led by Robert SEMPLE (1777-1816), the newly appointed HBC Governor of Assiniboia.
On Aug 26, 1815, the Sutherland Settlers landed at York Factory and soon began their long journey from Hudson Bay to Lake Winnipeg and thence to Red River.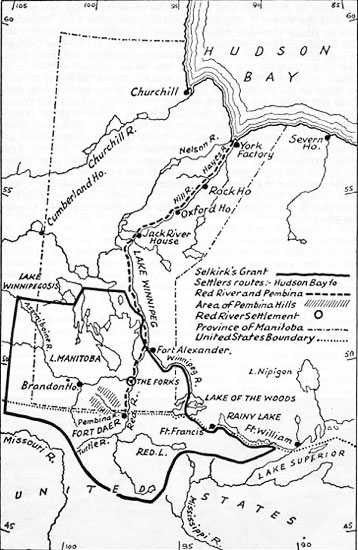 Map of 1817 showing Lord Selkirk's Grant of 116, 000 square miles, known as Assiniboia
The Family Arrives at Red River
Nov 3, 1815
On Nov 3, 1815, they arrived at Red River (The Forks). The colony was in ruins, having been pillaged by the North West Company, and the McBEATHs had to sustain themselves over the winter near Pembina (North Dakota) by hunting and fishing. They returned to the colony in 1816 but when on June 19 Robert SEMPLE, the governor of the Hudson's Bay Company, and 20 of his men were killed at Seven Oaks by a group of Nor'Westers under Cuthbert GRANT, the colonists' houses and goods were ransacked and they were forced to seek refuge at Jack River House, at the northern end of Lake Winnipeg. The McBEATHs spent the next two years at Pembina when grasshoppers ravaged the colony.
Alex McBEATH is listed on the 1817 Honour Roll of Selkirk Settlers which indicates that he was an "old soldier of the 73rd Regiment."
In 1817 eldest daughter Margaret married John SUTHERLAND, son of Catherine GRANT and John SUTHERLAND SR (1753-1813).
Around 1820 daughter Mary "Molly" married Donald ROSS (1798-1852). ** MORE ABOUT DONALD ROSS
Union of the North West Company with the Hudson's Bay Company
1821
In 1821 the union of the North West Company (NWC) and the Hudson's Bay Company (HBC) occurred, ending years of bitter rivalry for dominance of the fur trade in Western Canada. At the time of the union, (Sir) George SIMPSON (1786-1860) became the Governor of Rupert's Land. On May 20, 1822, SIMPSON reported to the board of governors of the HBC that he had established a fort at the junction of the Red and Assiniboine Rivers. He named it Fort GARRY (the Upper Fort). Around this fort was to grow the city of Winnipeg.
Also at the time of the Union, Rev John WEST (1778-1845) arrived from England as the first Chaplain in the northwest. He was sponsored by the Church Missionary Society (CMS) and the HBC.
In the summer of 1823 Reverend WEST departed Red River for York Factory where he met his replacement, Reverend David JONES (1796-1844).
In 1823 son George married Catherine SUTHERLAND, daughter of Mary POLSON & James "The Parson" SUTHERLAND (1769-1828).
In 1827 daughter Christiana married Robert McVICAR, son of Margaret McEACHERN and Archibald McVICAR (1752-1817). Robert had been in charge of the HBC post at Fort Resolution. He and Christina later moved to Fort William (Thunder Bay, Ontario).
In 1832 son Roderick married Mary LIVINGSTONE, daughter of Nancy Anne McGILLIVRAY and Donald LIVINGSTONE (1787-1876). That same year son Robert married Mary McLEAN, daughter of Catherine McGILLIVRAY & Hector McLEAN (1784-1813).
In 1835 son Morrison married Isabella GUNN at St Johns, daughter of Nancy SUTHERLAND and John GUNN (1791-1866). ** MORE ABOUT JOHN GUNN
In 1838 son Adam married Mary McKENZIE at Fort Simpson, daughter of Angelique MALETTE and Roderick McKENZIE (1772-1859). ** MORE ABOUT RODERICK McKENZIE
On Sep 24, 1848 Alexander SUTHERLAND died and in 1855 Christiana died, both were buried in St John's Cemetery.
Please post comments and queries at this link: FORUM DISCUSSING the ALEXANDER McBEATH FAMILY
============================ Family Details ============================

Children:
1. Feb 17, 1792 JOHN McBETH (m. Helen "Ellen" MATHESON)
2. 1796 MARGARET McBEATH (m. John SUTHERLAND)
3. May 1, 1797 MARY "MOLLY" McBEATH (m. Donald ROSS)
4. 1798 GEORGE McBEATH (m. Catherine SUTHERLAND)
5. Aug 18, 1801 CHRISTINA McBEATH (m. Robert McVICAR)
6. Jun 26, 1803 RODERICK McBEATH (m. Mary LIVINGSTONE)
7. Apr 14, 1805 ROBERT McBEATH (m. Mary McLEAN)
8. Sep 17, 1809 ADAM McBEATH (m. Mary McKENZIE)
9. Aug 16, 1811 MORRISON McBEATH (m. Isabella GUNN)