JOHN GUNN (1791-1866)
NANCY ANNA "ANNE" SUTHERLAND (1796-1879)
(Last Updated: January 13, 2020)
John GUNN was born Apr 17, 1791 in Kildonan (Helmsdale), Sutherlandshire, Scotland, son of Christine GORDON and Alexander GUNN (1764-1830). ** MORE ABOUT ALEXANDER GUNN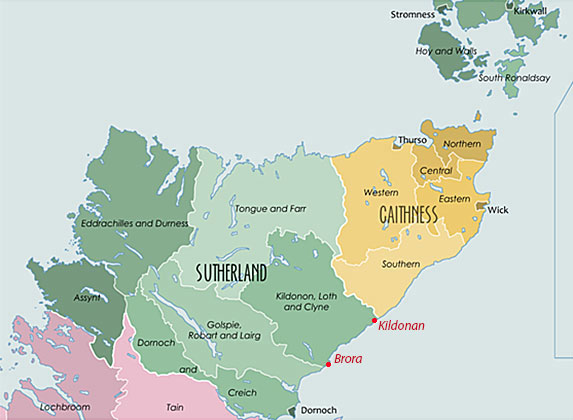 The Scottish Clearances
1809
Around 1809 the Scottish Clearances began in the Parish of Clyne. The Clearances form a dark chapter in the history of the parish, and of the wider Highlands, when the tenants of the townships were forcibly removed and the land was converted to great sheep farms or walks, which were deemed to be more profitable for the landowners, in this case the wealthy House of Sutherland. Most of the former inhabitants of the townships were re-settled in new coastal villages on small lots of land, which were not large enough to sustain the families. This was so that they would be encouraged to take up fishing as a main occupation and, in particular in Brora, or another job in one of the many industrial adventures set up by the SUTHERLAND family at that time. Others emigrated, never to return.
The first GUNN Emigrants to Canada – Selkirk Settlers
1813
Kildonan was savagely cleared in the years between 1813 and 1819 - so savagely that these clearances provoked the first recorded dissent against the evictions anywhere in the Highlands. The clans here were GUNNs, MATHESONs, MACKAYs, MACBETHs and SUTHERLANDs - all the peoples of the Sutherland/Caithness border region, but Kildonan was predominantly GUNN territory, and it was the GUNNs who resisted in 1813.
Nearly 100 tenants of Strath Kildonan emigrated to Canada aboard the Prince of Wales
In 1813 John's parents (Christina & Alexander GUNN) and his younger brother William (18 years old) were among this group.
It is uncertain why John remained behind in Scotland at that time, but when the ships returned from Hudson Bay, he would learn of the Typhus outbreak that forced the settlers to land at Fort Churchill rather than York Factory and of the death of his mother (Christina) soon after they landed there.
It would be two more years before the next group of Selkirk Settlers would depart for the new land, and the news wasn't getting better. His father and brother (Alex and William) did not fare well. Starvation, a grasshopper plague, crop failures and a Métis Rebellion followed. Disheartened by their treatment at Red River, about 134 settlers (including his father and brother) were easily convinced to abandon their allegiance to Lord Selkirk and to leave the  new settlement with Nor'Wester Duncan CAMERON (1764-1848) who led them to Upper Canada. John's father and brother later moved to West Gwillimbury, Ontario.
Marriage to Ann SUTHERLAND
1815
In 1815 when another group of Selkirk Settlers, the Sutherland Settlers, departed from Scotland bound for Red River, John had lots of reasons not to go with them. Instead, he married Anne SUTHERLAND, daughter of Isabella and William SUTHERLAND (1761-1838) and began to raise a family.
By 1822 Ann and John had five children, all born in Scotland:  Isabella & Margaret (both 6 years old; twins?), William (3), Henrietta (2) and Catherine (a baby).
Union of the North West Company with the Hudson's Bay Company
1821
In 1821 the North West Company was absorbed by the HBC, ending many years of bitter conflict over control of fur trade in the great Northwest; the troubles at Red River were over. At the time of this union, (Sir) George SIMPSON (1786-1860) became the Governor of Rupert's Land.
On May 20, 1822, Governor SIMPSON reported that he had established a fort at the junction of the Red and Assiniboine Rivers. He named it Fort GARRY (the Upper Fort). Around this fort was to grow the city of Winnipeg.
After the merger, almost 1,300 fur trade employees lost their jobs since the single HBC organization that emerged had no need for most of them. The Nor'Westers (NWC retirees) and those retirees of French Canadian origin tended to settle in areas to the south and west of the Forks of the Red and Assiniboine Rivers. Orkney Scots and Englishmen settled mostly to the north of the Forks, where they established the Parishes of Kildonan, St Johns, St Paul (Middlechurch), St Andrews (Lockport and Little Britain) and St Clements.
The John GUNN Family Arrives at Red River
1823
It was in 1823 that John GUNN, his wife Nancy and their five children sailed from Scotland to York Factory and made the long trip south to the Red River Settlement.
In 1823 Ann was therefore reunited with her parents, Isobel and William SUTHERLAND and about six of her siblings who were already in Kildonan Parish at Red River. They had been among the original group of Selkirk Settlers who arrived there in 1815. Although Nancy's father remained at Red River until he died in 1838, her mother and most of her siblings later departed to settle in Scotch Grove, Iowa, USA. Of course, as previously mentioned John's father (Alexander GUNN) and his brother (William GUNN) wee already living in Iowa.
In 1825 daughter Ellen was the first of John's children born in the Red River Settlement.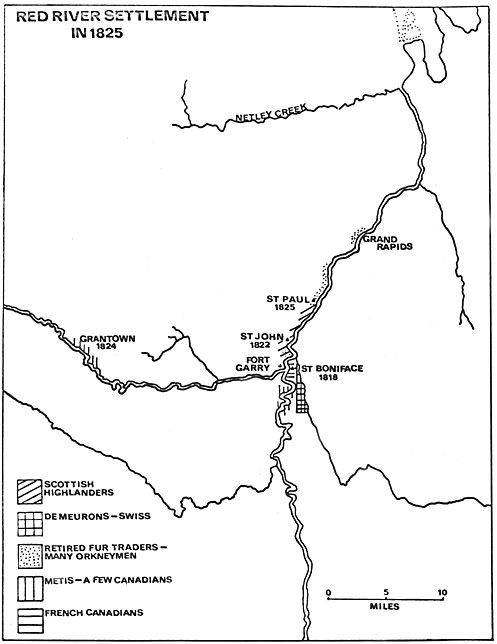 It was in the spring of 1826 that the Great Red River Flood occurred, the worst ever experienced by the settlers at that time. On May 1l, 1826 Reverend David JONES (1796-1844) wrote in his journal that the year-old St. Paul's Middlechurch at Image Plain was completely destroyed by the flood. Meanwhile, St. John's (Upper Church) was left relatively unscathed.
In the 1827 Red River Census, John GUNN was recorded on River Lot 777 as a 40 year old married Protestant man from Scotland with two young sons and five daughters. He had a house and stable; three cows, four oxen and three calves. He had a cart, a harrow and a canoe and he had five acres under cultivation. Although the children were not named, the two sons would have been William (age 8) and Alexander (a baby). The five daughters would have been Isabella (age 16), Margaret (16), Henrietta (7), Catherine (5) and Ellen (age 2).
In 1835 John and his family were recorded on Lot 62 in Kildonan Parish. There were 6 persons in his household. That was also the year that eldest daughter Isabella married Morrison McBEATH, son of Christiana GUNN and Alexander McBEATH (1760-1848). ** MORE ABOUT ALEXANDER McBEATH
Around 1836 daughter Margaret married Angus MATHESON, son of Janet and Alexander MATHESON (1774-1874) who also arrived at Red River from Scotland in 1823.
In 1837 daughter Henrietta married George SUTHERLAND, son of Christiana McBEATH and John SUTHERLAND (b-1780).
Perhaps around 1841 daughter Catherine married William McDONALD (1805-1874) from Scotland.
In 1842 son William married Mary McBEATH at St Johns, daughter of Helen Ellen MATHESON and John McBETH (1792-1872).
In 1851 daughter Johanna married William TAIT, son of Mary AULD & William TAIT (1795-1872).
Around 1853 daughter Ellen married her brother-in-law James TAIT, son of Mary AULD and William TAIT (1795-1872).
In 1854 son Donald married Catherine MATHESON, daughter of Anne POLSON and John MATHESON (1796-1878).
Around 1858 son Alexander married his sister-in-law Ann MATHESON, daughter of Anne POLSON and John MATHESON (1796-1878).
In 1861 daughter Ann married Christopher McINTOSH (born c1822 in Scotland).
In 1862 son Jeremiah married his sister-in-law, Jane MATHESON, daughter of Ann POLSON and John MATHESON (1796-1878).
On Feb 5, 1866 John GUNN died in Kildonan, Red River.
In 1867 youngest son Robert married Barbara McKAY, daughter of Elspeth McKAY & Selkirk Thomas Douglas McKAY (1815-1878).
In 1875 Ann claimed her Scrip as the Widow of John GUNN.
On Feb 7, 1879 Ann SUTHERLAND-GUNN died in Kildonan.
Please post comments and queries at this link: FORUM DISCUSSING the JOHN GUNN FAMILY
=========================== Family Details ===========================
Children:
1. June 16, 1816 ISABELLA GUNN (m. Morrison McBEATH)
2. Jun 16, 1816 MARGARET GUNN (m. Angus MATHESON)
3. 1819 WILLIAM GUNN (m. Mary McBEATH)
4. 1820 HENRIETTA GUNN (m. George SUTHERLAND SR)
5. 1822 CATHERINE GUNN (m. William McDONALD)
6. 1825 ELLEN GUNN (m. James TATE)
7. Apr 30, 1827 ALEXANDER GUNN (m. Ann MATHESON)
8. 1829 JOHANNA GUNN (m. Hon William Auld TAIT)
9. Nov 17, 1832 DONALD GUNN SR (m. Catherine MATHESON)
10.  Jan 31, 1834 ANN GUNN (m. Christopher McINTOSH)
11. Jan 14, 1837 JEREMIAH GUNN (m. Jane MATHESON)
12. 1839 MARY ANN GUNN
13. Sep 29, 1842 ROBERT M GUNN (m. Barbara McKAY)