ALEXANDER GUNN (1763-1839)
CHRISTINE GORDON (or FRASER) (1763-1813)
HENRIETTE McBEATH (1785-1830)
(Last Updated: October 25, 2013)
Alexander GUNN was born around 1763 in Kildonan, Sutherlandshire, Scotland.
Marriage to Christine GORDON or FRASER
1790-1813
Around 1790 Alex was married in Scotland  to Christine GORDON or FRASER of unknown origins.They had at least two children, sons John (born in 1791) and William (born in 1793).
The maiden surname of Christine is an unsolved puzzle at this time. Various sources conflict in that regard. If anyone can clarify this, we would like to hear from you on the Forum of this website (at the Topic Link provided at the end of this narrative.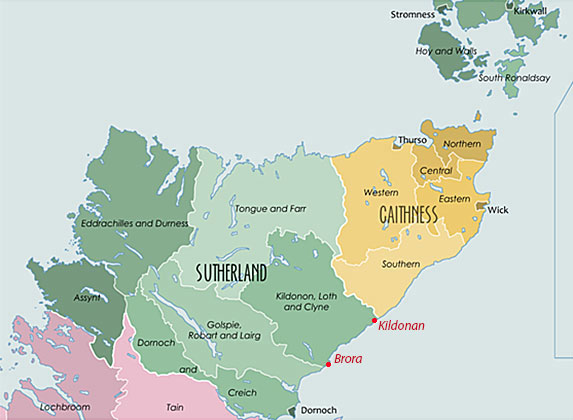 The Scottish Clearances
1809
Around 1809 the Scottish Clearances began in the Parish of Clyne. The Clearances form a dark chapter in the history of the parish, and of the wider Highlands, when the tenants of the townships were forcibly removed and the land was converted to great sheep farms or walks, which were deemed to be more profitable for the landowners, in this case the wealthy House of Sutherland. Most of the former inhabitants of the townships were re-settled in new coastal villages on small lots of land, which were not large enough to sustain the families. This was so that they would be encouraged to take up fishing as a main occupation and, in particular in Brora, or another job in one of the many industrial adventures set up by the SUTHERLAND family at that time. Others emigrated, never to return.
The First Selkirk Settlers
1811-1812
Thomas DOUGLAS (1771-1820), the 5th Earl of Selkirk, better known as LORD SELKIRK was the Hudson's Bay Company (HBC) Scottish philanthropist who sponsored immigrant settlements at Red River (Assiniboia).
** MORE ABOUT LORD SELKIRK in WIKIPEDIA
In June of 1811 Miles MACDONELL (1767-1828) was appointed by the HBC as Governor of the District of Assiniboia. He was to be SELKIRK's agent and superintendant, the Settlers being his main responsibility. The following month (July), SELKIRK orchestrated the departure of the first expedition to Red River, which was to assemble in the Scottish Highland port of Stornoway (more than 100 men from Scotland and Ireland).
On Sep 24, 1811 the ships arrived at York Factory on Hudson Bay, too late in the season for a long overland trek inland. They would have to wait for spring. An Advance Party was assembled (about 20 able-bodied men) to go on ahead and prepare the way for the rest of the settlers. This group arrived at the Forks of the Red River on Aug 30, 1812. The rest of the settlers arrived there on October 17 that year.
Kildonan (Scotland) was savagely cleared in the years between 1813 and 1819 - so savagely that these clearances provoked the first recorded dissent against the evictions anywhere in the Highlands. The clans here were GUNNs, MATHESONs, MACKAYs, MACBETHs and SUTHERLANDs - all the peoples of the Sutherland/Caithness border region, but Kildonan was predominantly GUNN territory, and it was the GUNNs who resisted in 1813.
The first GUNN Emigrants to Canada
1813
In 1813 nearly 100 tenants from Strath Kildonan emigrated to Canada aboard the Prince of Wales as Selkirk Settlers. This group is often referred to as the Churchill Party. Chrisine & Alexander GUNN (both age 50) and their youngest son William (age 18) were among them,according to passenger lists provided by several sources.
Eldest son John remained behind. It would be more than 10 years before he would emigrate to Red River.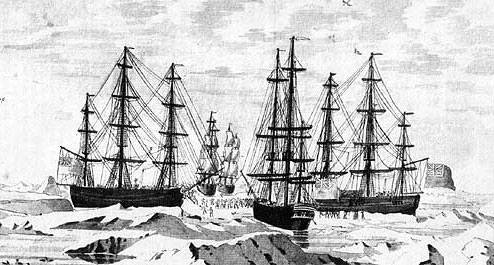 The third party of settlers (1813) were aboard the Prince of Wales
HBC men were aboard the Eddystone.
Sketch by Peter Rindisbacher, showing these two vessels abreast
Captain Parry's squadron in Hudson Bay, July 15, 1821
On On June 28, 1813 Archibald McDONALD (1790-1853) sailed from Stromness, Scotland, with a group of 94 Kildonan emigrants on the Prince of Wales for York Factory, as second in command to Dr. Peter LASERRE. Typhus broke out during the voyage and LASERRE was among those infected.
On Aug 13, the captain of the ship was anxious to be rid of his passengers and landed them at Fort Churchill, to avoid spreading the disease among the residents at York.
On Aug 16, LASERRE died, and McDONALD was left to take charge of the party. They would now be forced to spend an uncomfortable winter at Churchill, poorly equipped and short of provisions.
 Sep 20, 1813 Christian GUNN (Alex's wife) died at Fort Churchill, probably from Typhus.
The Pemmican War
1814
On Jan 8, 1814, anticipating the arrival of the SUTHERLAND Settlers and seeking to solve the colony's food problems, Governor MACDONELL issued his historic Pemmican Proclamation. He would have been at Pembina at that time. The proclamation prohibited the export of provisions of any kind from within the limits of Assiniboia without a special license from the Governor (himself). For two winters the Métis had provisioned the colonists with bison meat, so this severe measure was considered an insult, not only to them but to the North West Company (NWC).
On Apr 6, 1814, Archibald McDONALD led 41 of the settlers, most of them in their teens or early 20s, on snow-shoes 150 miles south along the shore of Hudson Bay to York Factory, a march of 13 days. Alex's son William GUNN, being 18 years old at the time was probably a member of this party. They reached York Factory on April 13, and from there, on May 27, they continued on their way south.They travelled by boat up the Hayes River to Lake Winnipeg, arriving at Red River on June 22.
On Sep 2 the small remaining Churchill party, consisting of 14 men and one woman, arrived at York Factory, and proceeded inland with none other than Governor MACDONELL himself. Undoubtedly Alex GUNN, due to his age would have been with this latter group. On Oct 19, 1814 they arrived at the Forks.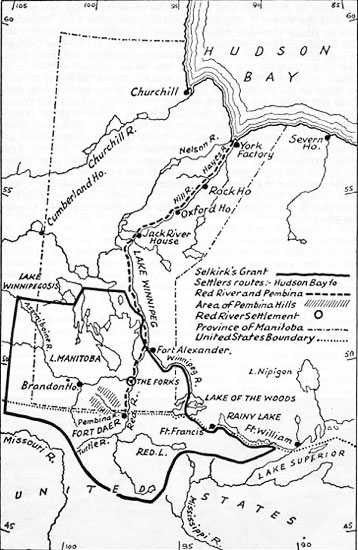 Map of 1817 showing Lord Selkirk's Grant of 116, 000 square miles, known as Assiniboia
On Oct 20, 1814, it could hardly have been a stable Miles MACDONELL who once again found himself at the centre of more trouble. SPENCER had been arrested by the Nor'Westers and Duncan CAMERON (1764-1848) was in charge of the NWC's Red River Department.
Marriage to Henriette McBEATH
1814
On Nov 4, 1814 Alex re-married to Henriette McBEATH at Red River. Henriette, of uncertain parentage was also born in Kildonan, Scotland. Apparently Miles MACDONELL was authorized to perform baptisms and marriages at that time.
Cuthbert GRANT on a Rampage
1815
Throughout the winter and the spring of 1815 the colony was subjected to harassing raids by the Métis led by Cuthbert GRANT (1796-1854) and by the intrigues of the Nor'Westers. By casting doubt on the legality of the SELKIRK Grant, creating fear of Indian attacks, and making invidious comparisons between the lot of settlers in Upper Canada and those in the west, Duncan CAMERON tried to induce the colonists to leave. When he offered free passage to Upper Canada more than 40 settlers abandoned the colony in the spring of 1815.
On June 16, 1815, Governor MACDONELL surrendered himself to the NWC in an attempt to avert an attack on the colony.
The Cameron Settlers
West Gwillimbury, Ontario
On June 22, 1815 Duncan CAMERON led 134 settlers to Upper Canada (taking the prisoner MACDONELL with them).  Apparently Alex GUNN and his son William were in this group and they eventually settling in West West Gwillimbury, Ontario.
Around 1825 son William married Elizabeth BANNERMAN in West Gwillimbury, daughter of Elizabeth and John BANNERMAN.
On Mar 24, 1830 Henriette GUNN died in West Gwillimbury.
On Mar 23, 1839 Alexander GUNN died in West Gwillimbury, aged 70 years.
In 1854 son William diedin West Gwillimbury.
Ann Hickie: Alexander GUNN, Hannah McBeath GUNN and William GUNN are all buried in Auld Kirk Cemetery (Old Presbyterian Church Cemetery) Conc.6 Lot 8 West Gwillimbury, Ontario.
Numerous family trees found on Ancestry.com present us with a nightmare of confusing, conflicting and contradictory information about Alex and his descendants, a good topic for hot debate. This page will be updated when good solid evidence is presented to justify changes.
Please post comments and queries at this link: FORUM DISCUSSING ALEXANDER GUNN DESCENDANTS
============================== Family Details ==============================
Children by Christine:
1. Apr 17, 1791 JOHN GUNN (m. Nancy Anna "Anne" SUTHERLAND)
** MORE ABOUT JOHN GUNN
2. Nov 19, 1793 WILLIAM GUNN (m. Elizabeth BANNERMAN)