ISAAC MUMINAWATUM (1794-?)
REBECCA BUDD (c1800-?)
(Last Updated: November 21, 2013)
Isaac MUMINAWATUM, a Cree Indian, was born around 1794 in Norway House, son (or step-son) of Nancy (Indian) and Charles UCHEGUN CURLEYHEAD (1770-1855). There are many other variations in the spelling of this Indian word in the historic literature, including MEMENAWATUM, MEMINAWATUM. The translation is "O be joyful."
** MORE ABOUT CHARLES CURLEYHEAD from FRONTIER SCHOOL DIVISION

Isaac's parents, the UCHEGUN – CURLEYHEAD had their origins in the region of Hudson Bay. Sometime before 1812 the UCHEGUN family moved to Jack River (later named Norway House) where they were recorded in the accounts of the Hudson's Bay Company (HBC) post there.
Norway House
Prior to 1814 Jack River Post, Jackfish River was the name that referred to the location that would later become Norway House and the nearby Village of Rossville. This was the location where Hudson's Bay Company (HBC) voyageurs and fur traders travelling to and from York Factory stopped before proceeding across the north end of Lake Winnipeg to Grand Rapids, and thence westerly to Cumberland House and other inland posts.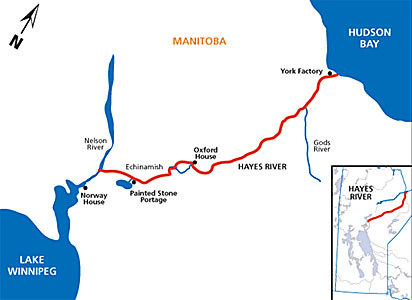 The Hayes River Route taken by the Selkirk Settlers
The First Selkirk Settlers travel from York Factory to the Forks of the Red River
1812
On Sep 24, 1811 the first group of Selkirk Settlers arrived at York Factory under the leadership of Miles MACDONELL (1767-1828), the new Governor of Assiniboia. Due to their late arrival they were forced to spend the winter there before proceeding to Red River in the spring of 1812. ** MORE ABOUT MILES MACDONELL in DCBO
By 1812 UCHEGUN-CURLEYHEAD had moved his family inland from the Bay to Jack River where he was recorded in the accounts of the HBC post that year.
It was in 1814 that Jack River Post was renamed as Norway House in recognition of exceptional skills of the Norwegian labourers who built a new post there at that time. The port acted as an inland storage facility of York Factory and the Northern Department Council began to hold its annual meetings there instead of at York Factory.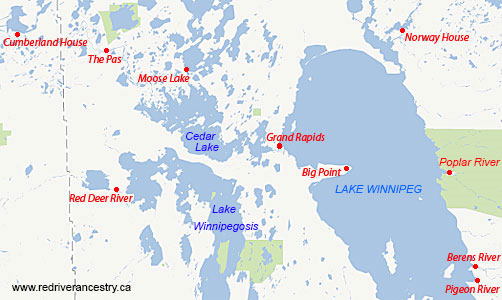 Marriage to Rebecca BUDD
1817
Around 1817 Isaac married (by custom of the country) Rebecca BUDD, daughter of Agatthas WASH-E-SOO-E'SQUEW COCKING and Mukego Cree BUDD (1765-1811). Around 1818 their first child, Thomas, was born.
** MORE ABOUT MUSKEGO CREE BUDD
Union of the North West Company with the Hudson's Bay Company
1821
In 1821 the union of the North West Company (NWC) and the Hudson's Bay Company (HBC) occurred, ending years of bitter rivalry for dominance of the fur trade in Western Canada. George SIMPSON (1786-1860) became the Governor of Rupert's Land.
Also at the time of the Union, Reverend John WEST (1778-1845) arrived from England as the first Chaplain in the northwest. He was sponsored by the Church Missionary Society (CMS) and the HBC. Governor SIMPSON and the HBC expected him to devote most of his efforts at providing religious services to the white settlers, but WEST had an agenda of his own. His passion was his missionary work with the Indians. Almost from the day he arrived at York Factory, he began to recruit Indian youngsters for the school he would build near the Forks (St Johns).
Frontier: According to the 1823 census, UCHEGUN's family consisted of a wife, two sons, and a daughter. Listed separately were his "first son" MUMINAWATUM, who had a wife, a son, and two daughters with him.
Rossville is named after Donald ROSS
1829
In 1829 Donald ROSS (1798-1852) from Scotland became the HBC Chief Factor at Norway House. The nearby Village of Rossville was named after him. ** MORE ABOUT DONALD ROSS in MHS
Frontier:  By 1838, when the HBC did another census MUMINAWATUM was listed with a wife, four sons and two daughters. ** None of Isaac's children are really clearly defined (in terms of their names and birthdates) in the literature I have found so far. In most cases, we can only make assumptions based on tidbits of information imbedded in the various narratives.
Reverend James EVANS arrives at Norway House
1840
On Jul 26, 1840, at dawn Reverend James EVANS (1801-1846) and his party arrived at Norway House. They were met by HBC Chief Factor Donald ROSS and his family and by the young English missionary, Robert RUNDLE (1811-1896), who would soon be dispatched to the new mission at Fort Edmonton. That year Reverend EVANS founded the Rossville Mission near Norway House. On June 6, 1842 Isaac's wife Rebecca (nee BUDD) was baptized by Reverend EVANS.On July 11, 1842 the union of Isaac and Rebecca was solemnized in a Christian wedding ceremony.  
** MORE ABOUT REVEREND JAMES EVANS in DCBO

By 1842 EVANS had been joined by assistants Reverend William MASON (1818-1893) and native preachers Peter (PAHTAHSEGA) JACOBS (1809-1890) and Henry Bird STEINHAUER (11818-1884).
** MORE ABOUT REVEREND WILLIAM MASON in RED RIVER ANCESTRY
** MORE ABOUT PETER JACOBS (PAHTAHSEGA) in DCBO
** MORE ABOUT HENRY BIRD STEINHAUER in DCBO
In 1844 son John married Margaret "Maggie" SINCLAIR, daughter of Half-breed Elizabeth SWAIN & Baikie SINCLAIR (1802-1887) a Scot. ** MORE ABOUT BAIKIE SINCLAIR
John and Maggie apparently had one child, William (MUMINAWATUM) MASON before John MUMINAWATUM died in 1846. ** MORE ABOUT WILLIAM (MUMINAWATUM) MASON
The Rossville Scandal
1846
The final problems between EVANS and the HBC began in January, 1846, when EVANS came under suspicion for impropriety with an Indian from Rossville, Maggie MUMINAWATUM (Isaac's daughter-in-law), and some other girls from the missionary school (formal charges were laid against EVANS by Indians of the Rossville community).
Son John and his wife Maggie would both later testify in the investigations and trial of Reverend EVANS.
** More details about the Rossville Scandal are provided at the Links (provided above) for EVANS and MASON
On Aug 5, 1846 eldest daughter Jessie Joyful (SEESEEB) married Henry Bird STEINHAUER at Norway House.
Comments and queries at this link: FORUM DISCUSSING the ISAAC MUMINAWATUM FAMILY
========================== Family Details ==========================
Children:
1. 1818 THOMAS "BIG TOM" MUMINAWATUM
2. c1820 JESSIE JOYFUL (SEESEEB) MUMINAWATUM (m. Henry Bird STEINHAUER)
3. Unknown Daughter MUMINAWATUM
4. c1820 JOHN MUMINAWATUM (m. Margaret SINCLAIR)
5. ROBERT MUMINAWATUM
6. BENJAMIN MUMINAWATUM
7. CHARLES MUMINAWATUM