WILLIAM (MUMIWATUM) MASON (1845-1921+)
MADELEINE MURDOCK (c1848-c1890)
RUBINA BRADBURN (1878-c1920)
(Last Updated: December 04, 2013)
William MUMINAWATUM aka MASON was born in 1845 at Rossville (Norway House, Manitoba), apparently the only child of Half-breed Margaret SINCLAIR & John MUMIWATUM (1820-1846), a Cree Indian.
When William was born at Rossville, his mother Margaret was just a teenager (about 16 years old), a household servant to Reverend James EVANS, (1801-1846) the Methodist missionary renowned for creating the Cree Syllabics. EVANS' assistant was Reverend William MASON (1818-1893). Margaret was the eldest daughter of Margaret Elizabeth SWAIN and Baikie SINCLAIR (1803-1887) from the Orkneys. ** MORE ABOUT BAIKIE SINCLAIR
In 1846, not long after William was born, the Rossville Scandal erupted. The main role-players in this drama were Reverends William MASON and James EVANS, and John MUMINAWATUM and Margaret SINCLAIR became witnesses in the investigations that followed.The controversy surrounding the Scandal raised many questions about the moral integrity of both of these 'men of the cloth'.
** MORE ABOUT REVERENDS EVANS and MASON and the ROSSVILLE SCANDAL
The fact that Reverend MASON was said to have had an illegitimate son might raise another interesting question. Is it possible that William's name was derived from his actual father? We do know that John MUMINAWATUM was apparently coerced by EVANS into marrying Margaret SINCLAIR and that in one version of the story he said that he didn't really love her. John MUMINAWATUM died as a young man in December of 1846, after the scandal was essentially ended.
William Baptized as William MASON
In 1856 Reverend William MASON visited Churchill. He married James DUNNING (b-1815), William OMAN (1802-1868), and William GIBEAULT (1800-1875), and baptized their wives and over twenty of their children at the same time. William (aka Guillaume or Belonie) GIBEAULT of course married Margaret SINCLAIR at that time, and William MUMINAWATUM was baptized with the name William MASON, the surname that would be used by his descendants.
Canadian Confederation
William MASON & Madeline MURDOCK
A Red River Metis Rebellion
Manitoba becomes a Province
1867-1870
On July 1, 1867 the British colonies in North America were united under the British North American Act to become the Dominion of Canada. Sir John A MACDONALD (1815-1891) was appointed as Canada's first Prime Minister. William McDOUGALL (1822-1905) became the Minister of Public Works, and he began negotiations to acquire Rupert's Land from the HBC, sending out surveyors to prepare the way for an expected influx of settlers.
Around 1868 William married Madeleine MURDOCK of uncertain origins, probably an Indian.
In 1869 the Red River Rebellion began and it ended in 1870 when Manitoba became a Province.
** MORE ABOUT the RED RIVER REBELLION in WIKIPEDIA

Treaty Number One
1871
In 1871 Wemyss SIMPSON (1824-1894) was selected by DIA as General Indian Agent, to make Treaties with the Indian Tribes, and to represent the Government in the Northwest.
On Aug 3, 1871 Treaty Number One was signed by Chief Henry (Red Eagle) PRINCE (1819-1902) on behalf of the St Peters Indian Band. ** MORE ABOUT CHIEF HENRY PRINCE and TREATY ONE
Treaty 5 at Berens River and Norway House
1874-75
In 1874 David RUNDLE, Chief of the "Christian Indians of Rossville" wrote to Lieutenant Governor MORRIS requesting that a treaty be made. Many people there expressed a desire to move south and establish an agricultural colony. When the treaty was signed there, the commissioners agreed that any who left the original settlement would receive a reserve at their new location.
In 1875 Treaty Number Five was signed by the Saulteaux and Swampy Cree Indians around Lake Winnipeg including the Norway House Band to which the MASON-MUMINAWATUM people belonged. Many of these people subsequently moved to the Fisher River Reserve. ** MORE ABOUT TREATY 5 in WIKIPEDIA

On Oct 7, 1876 the Federal Government passed the first Indian Act, and much like its predecessor, the Act continued to subordinate Aboriginal peoples to the discretion of federal lands.
The 1881 Census of the Northeast Lake Winnipeg district recorded William MASON (age 42), his wife Madeline (age 33), and their children as Margaret (age 13), Charles (11), Elizabeth (9), Sarah (6) and Mary (age 4). Unfortunately, this record does not indicate a specific location.
Marriage to Rubina BRADBURN
Fisher River Reserve
1895
Madeline must have died in the early 1890's, because around 1895 William MASON re-married to Rubina BRADBURN, daughter of Jessie COCHRANE & William BRADBURN of uncertain origin (believed to have been Treaty Indians). It was probably around this time that William and his family became members of the Fisher River Indian Band.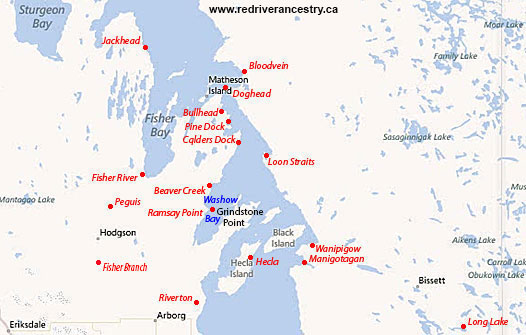 Around 1896 eldest son Charles married Lydia COOK of uncertain origins.
In 1905 daughter Mary Madeline married Frank Briscoe SHEAD in Winnipeg, son of Betsy CANDLIN and William Henry SHEAD (1845-1929).
In the Census records of 1906, 1911 and 1916, William & Rubena and their family were recorded in the Fisher River Reserve.
Around 1908 daughter Alice married Philip SINCLAIR, son of Mary and Elijah SINCLAIR (b-c1865). In 1912 son John married his sister-in-law, Georgina SINCLAIR in Fisher Branch, daughter of Mary and Elijah SINCLAIR (b-c1865).
Rubina must have died around 1920, because in the 1921 CensusWilliam MASON was recorded again in the Fisher River Reserve as a widower. Children still at home were Janet (age 20), Florence (18), Juliana (17, Louisa (10) and Lizzie (age 9).
In 1927 daughter Julia Ann married Richard CRATE in Fisher Branch, son of Margaret MURDOCK and Richard CRATE (1905-1992).
In 1928 daughter Louisa married Sam (Sigurdur Einar) JOHNSON (origins uncertain) in Winnipeg.
Also in 1928 daughter Lizzie married Gordon Stanley SMITH in Koostatak (Fisher River), son of Lydia STEVENSON and Benjamin SIMTH (1858-1945).
Comments and queries at this link: FORUM DISCUSSING the WILLIAM MASON FAMILIES
========================== Family Details ==========================
Children by MURDOCK:
1, 1869 MARGARET MASON
2. 1871 CHARLES MASON (m. Lydia COOK)
3. Dec 26, 1873 CATHERINE MASON
4. Jan 27, 1876 ELIZABETH MASON
5. Aug 24, 1878 SARAH JANE MASON
6. 1884 ALICE MASON (m. Phillip SINCLAIR)
7. 1885 JOHN MASON (m. Georgina SINCLAIR)
8. May 8, 1888 MARY MAGDELENE MASON (m. Frank Briscoe SHEAD)
9. Feb 23, 1890 GEORGE ALEXANDER JOHNSTONE MASON
10. Feb 5, 1893 WILLIAM "WILLIE" MASON (m. Lillian EVERETT)
Children by BRADBURN:
1. NORMAN MASON
2. 1897 JANET MASON (m. UNKNOWN)
3. Nov 12, 1900 FLORENCE "FLORA" MASON (m. Wiliam EVERETT SR)
4. Oct 8, 1903 FRANK MASON
5. Apr 11, 1906 JULIA ANN "JULIET" MASON (m. Richard CRATE)
6. 1910 LOUISA EMILY MASON (m1. Samuel JOHNSON, m2. Frank WALSH)
7. Sep 12, 1911 ELIZABETH MARGARET "LIZZIE" MASON (m. Gordon Stanley SMITH)
8. 1914 RUSSELL MASON