BAKIE\BAIKIE SINCLAIR (1802-1887)
ELIZABETH (MARGARET) "BETHSEY" SWAIN (1805-1857)
(Last Updated: June 19, 2015)
Baikie SINCLAIR was born Dec 4, 1802 in Orphir, Scotland (Orkneys), son of Margaret GOUDIE & George SINCLAIR (b-1760). It is said that Baikie had a twin sister named Frances.
Baikie's career with the Hudson's Bay Company
1821-1844
On May 26, 1821 Bakie entered the service of the Hudson's Bay Company (HBC) as a Labourer when he was about 19 yrs old. His first posting was at Fort Churchill. ** MORE ABOUT BAIKIE SINCLAIR in HBC ARCHIVES

1821 was the year that the HBC absorbed the North West Company (NWC) in a merger that ended many years of bitter rivalry between the two companies for domination of the fur trade in Rupert's Land. At the time of the union, (Sir) George SIMPSON (1786-1860) became the new Governor of Rupert's Land.
Marriage to Elizabeth SWAIN
1828
It seems that it must have been around 1827-28 that Baikie married Elizabeth SWAIN. Around 1828 daughter Margaret was born at Fort Churchill. What were Elizabeth SWAIN's origins? That is an unsolved mystery that nobody seems to have any plausible answers for. Countless queries can be found on the internet seeking information about her, mostly from her own descendants, but no one seems to have the answer.
Oxford House
1829-1839
From 1829 to 1839 Baikie worked as a Labourer and Cattle Herder at Oxford House in the Island Lake District. Around 1830 daughter Elizabeth was born there.
During his stay at Oxford House three more children were born: David, Isabella and William.
Cumberland House
1839-1844
In 1839 Baikie was sent to Cumberland House where he remained for the next five years as a Labourer and a Blacksmith. Daughter Fanny was born there around 1840 and son Joseph around 1843.
Retirement to Red River (St Andrews)
1844
In 1844 Baikie retired to Red River (St Andrews Parish).
On July 27, 1844, teenage daughter Margaret was married to John MUMINAWATUM (1820-1846) at Rossville by the aforementioned Reverend James EVANS. John was a Cree Indian, a son of Rebecca BUDD and Isaac MUMINAWATUM (born 1794). ** MORE ABOUT ISAAC MUMINAWATUM
In 1846 daughter Margaret (and her husband) became involved in the controversial Rossville Scandal in association with Reverend William MASON (1818-1893). ** MORE ABOUT REVEREND WILLIAM MASON
Margaret and John MUMINAWATUM apparently had one child together, William MUMINAWATUM – MASON, and John MUMINAWATUM died on Dec 14, 1846. ** MORE ABOUT WILLIAM (MUMINAWATUM) MASON
Perhaps around 1850 daughter Elizabeth (Betsy) married Robert BALSILLIE. This marriage was later verified in a Scrip Affidavit filed in 1875 at which time she was Robert's widow. The poorly handwritten document is difficult to read and Robert's surname could be interpreted as BAILLIE, a surname that doesn't appear anywhere else during that period and is more likely to be BALSILLIE, a name that is found in early records.
Around 1853 it seems that widowed daughter Margaret was in a relationship with William Douglas LANE (1819-1882), an HBC Chief Trader in the St Francois Xavier district (later Manitoba) who was born in France, son of a French mother and an Irish father. Details of this union are sketchy and further verification is needed. They had at least one child, Edouard LANE (born Dec 28, 1854 in St Francois Xavier according to his Scrip).
In 1856 daughter Margaret was married a third time to Belonie (Guillaume) GIBEAULT (1800-1875) at Churchill by Reverend William MASON, the same clergyman she had been associated with during the Rossville Scandal of 1846. GIBEAULT, a stonemason, butler and voyageur, was born in Montreal.
** MORE ABOUT BELONIE GIBEAULT in HBC ARCHIVES

By the fall of 1856 six more children were added to Baikie's family: Catherine, Mary, James, George, Thomas and Nancy.
In 1857 Bakie's wife Elizabeth died at the age of 45. On Sep 11, 1857 she was buried at St Andrews.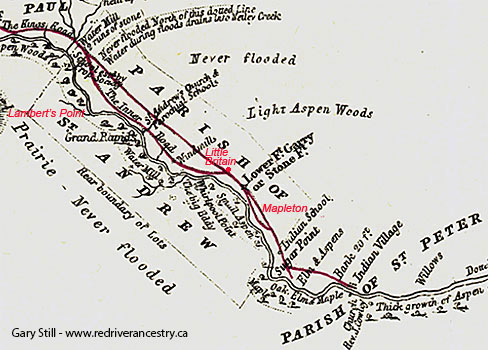 Part of Henry Hind's Map based on his observations of 1857
On Dec 31, 1857 in St Andrews, son William married Sarah WALLER, daughter of Nancy BIRSTON & James WALLER (1800-1876). ** MORE ABOUT JAMES WALLER

In 1859 son David married in Edmonton to Mary McDONALD of uncertain origins.
In 1860 daughter Fanny married John SANDERSON aka SAUNDERS in St Andrews, son of Harriet Charlotte FAVEL and John SANDERSON aka SAUNDERS SR (1801-1831).
In 1860 daughter Isabella married in St Andrews to Julius MUGGABERG (1834-1907) from Oslo, Norway.
** MORE ABOUT JULIUS MUGGABERG
Around 1863 daughter Catherine married Joseph DONALD, son of Elizabeth LAVIOLETTE and William DONALD (1813-1887).
Around 1865 daughter Mary married John COCHRANE, son of Emma (Indian) & Joseph COCHRANE (1802-1862).
Canadian Confederation
A Métis Rebellion
Manitoba becomes a Province
1867-1870
On July 1, 1867 the British colonies in North America were united under the British North American Act to become the Dominion of Canada. Sir John A MACDONALD (1815-1891) was appointed as Canada's first Prime Minister.William McDOUGALL (1822-1905) became the Minister of Public Works, and he begannegotiations to acquire Rupert's Land from the HBC. He sent surveyors to Red River in anticipation of a flood of new settlers to the area.
On Dec 8, 1867 daughter Jane married John FOLSTER, son of Flora McDONALD (1825-1864) & John FOLSTER SR (1813-1872).
In 1869 Louis RIEL (1844-1885) began to organize resistance to the anticipated transfer of the North-West to the Dominion of Canada without prearranged terms. On Oct 11, 1869, RIEL placed his foot on the surveyors' chain to tell them their work was finished. A Métis Insurrection had begun.
On July 15,1870 Manitoba became the fifth province of Canada. The Rebellion ended that fall with the arrival of Colonel Garnet Joseph WOLSELY (1833-1913) and his Canadian soldiers. RIEL fled to the United States.
On Jan 31, 1870 son James married his sister-in-law Maria WALLER.
Red River Census
1870
In December of 1870 a Census of Red River was completed. The results recorded 5, 757 French-speaking Métis; 4, 803 white settlers and 558 Indians in the census region. This information would be later used to determine who would be eligible for Land Grants and Scrip.
In the 1870 Census Baikie SINCLAIR was recorded as a 68 year old widower. With him are his children as follows: Bethsy (age 33), George (19), Thomas (17) and Nancy (age 15).
In 1875 the Town of Selkirk came into existence when the Railway located its offices there.
Around 1877 son Joseph married Mary Ann McKENZIE of uncertain origins.
In 1878 daughter Nancy married George FOLSTER, son of Isabel BROWN & John FOLSTER (1813-1872).
In the Census of 1881 Bakie was recorded in St Andrews as an 89 year old widowed Blacksmith. With him was his 26 year old son Thomas.
Around 1884 son George married Mary Jane McLEOD of unknown origins.
On Apr 21, 1887 Baikie SINCLAIR died at Little Britain (Lockport), buried St Clements.
Please post comments & queries at the following: FORUM DISCUSSING BAIKIE SINCLAIR & FAMILY
============================= Family Details =============================
Children:
1. c1828 MARGARET SINCLAIR (m1. John MUMINAWATUM, m2, Edouard LANE, m3. Belonie GIBEAULT)
2. 1830 ELIZABETH "BETSY" SINCLAIR (m. Robert BALSILLIE)
3. Feb 2, 1832 DAVID SINCLAIR (m. Mary McDONALD)
4. Apr 10, 1836 ISABELLA SINCLAIR (m. Julius MUGGABERG)
** MORE ABOUT JULIUS MUGGABERG
5. c1838 WILLIAM SINCLAIR SR (m. Sarah WALLER)
6. 1840 FANNY SINCLAIR (m. John SAUNDERS dit SANDERSON)
7. c1843 JOSEPH SINCLAIR (m. Mary Ann McKENZIE)
8. Nov, 1846 CATHERINE SINCLAIR (m. Joseph DONALD)
9. 1847 MARY SINCLAIR (m1. John COCHRANE, m2. George PARK JR)
10. 1848 JAMES SINCLAIR (m. Maria WALLER)
11. July 5, 1850 JANE SINCLAIR (m1. John FOLSTER. m2. Joseph Richard HARPER)
12. Mar 5, 1852 GEORGE SINCLAIR (m. Mary Jane McLEOD)
** MORE ABOUT GEORGE SINCLAIR
13. Jul 18, 1854 THOMAS SINCLAIR
14. Aug 21, 1856 NANCY SINCLAIR (m. George FOLSTER)