JULIUS TOBIAS MUGGABERG (1834-1907)
ISABELLA (ELIZABETH) SINCLAIR (1836-1921)
(Last Updated: June 20, 2015)
Julius Tobias MUGGABERG was born May 17, 1834 in Oslo, Norway.
In 1857 Julius sailed to Canada on the HBC Ship "Prince of Wales".
Marriage to Isabella SINCLAIR
St Andrews Parish
1860
On July 12, 1860 Julius married Isabella SINCLAIR in St Andrews (Red River), the daughter of Bethsey SWAIN & Baikie SINCLAIR (1802-1887). ** MORE ABOUT BAIKIE SINCLAIR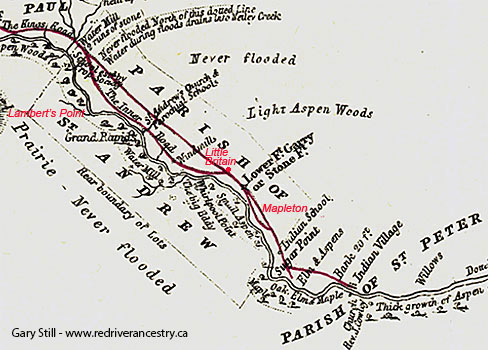 St Andrews Parish from Hind's Map of 1857
Canadian Confederation
A Red River Rebellion
Manitoba becomes a Province
1867-1870
On July 1, 1867 the British colonies in North America were united under the British North American Act to become the Dominion of Canada.  Sir John A MACDONALD (1815-1891) was appointed as Canada's first Prime Minister. William McDOUGALL (1822-1905) became the Minister of Public Works, and he began negotiations to acquire Rupert's Land from the HBC; surveyors were sent to Red River to prepare the way for an expected influx of settlers.
On Oct 11, 1869, Louis RIEL (1844-1885) placed his foot on the surveyors' chain to tell them their work was finished! This marked the beginning of the historic Red River Métis Rebellion.
On July 15, 1870 the Rebellion ended when RIEL's Provisional Government accepted the terms of the Manitoba Act and Manitoba became the fifth province of Canada.
In 1870 the MUGGABERG family was still in St Andrews and their children at that time would have been twins Julius Jr. and William (both age 8), Catherine (6), John (3) and Frances (age 1).
Around 1878 daughter Catherine was in a relationship with Henry FOLSTER, son of Isabelle BROWN and John FOLSTER (1813-1876) from the Orkneys.
Rat Portage (Kenora)
1881
Census of 1881 in Rat Portage:Julius MUGGABERG, age 42; wife Elizabeth, age 41. Children: Julius and William (both age 19), Catherine (17), John (14), Frances (12), Mary Ann (9), Jemima (6), George (5), Jessie (2) and baby Jane (age 3 months). In 1882 their last child, Thomas, was born in Rat Portage.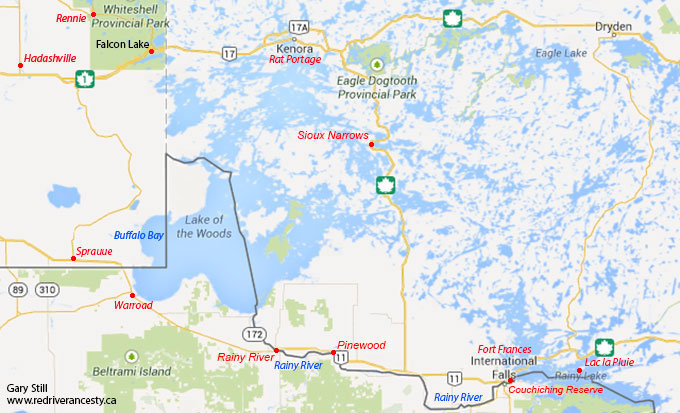 With the new railroad coming through to Winnipeg in the early 1880's, Rat Portage had become a thriving community. It had its beginnings as an HBC fur trading post in 1860. It was known as the "roughest town in Canada" for many years.  It was re-named Kenora in 1895.  Lake of the Woods was the world's largest source of caviar (sturgeon roe) then and commercial fishing was a major activity. Four steamers ran regularly between Kenora and Fort Frances, making round trips weekly. Mining, pulp and paper, and lumber industries thrived, as well as tourism.
In 1884 eldest son Julius Jr. married Margaret Ann PARK in Rat Portage, possibly Marguerite, a daughter of Julie GUIBOCHE and George PARK (1826-1911).
Also in 1884 son William married Ossa Louise TELEFSON in St Andrews.
Around 1887 daughter Mary Ann married William Charles BEGG in Rat Portage, son of Jane BOULTON and Duncan Finlayson BEGG (1835-1940). ** MORE ABOUT DUNCAN FINLAYSON BEGG
Around 1887 daughter Frances married Louis LALOIS (1861-1907) from Quebec.
In 1888 son John married Catherine DESMARAIS in Westbourne (MB), daughter of Isabella SINCLAIR and Michael DESMARAIS (b-1846).
In 1891 daughter Jemima married her brother-in-law James Rutherford BEGG in Rat Portage, son of Jane BOULTON Duncan Finlayson BEGG (1845-1940). ** MORE ABOUT DUNCAN FINLAYSON BEGG
Census of 1891 in Rat Portate: Julius MUGGABERT, Teamster, age 54; wife Isabella, age 52. Children: George (age 13), Jessie (10) and Thomas (age 8).
In 1896 son George married Margaret CORRIGAL in Rat Portage, daughter of Sarah McCORRISTER and William Charles CORRIGAL (1850 -1931).

In 1897 daughter Jessie married Edward McKAY in Rat Portage, son of Caroline WALLER and Edward Richard McKAY (1845-1927). ** MORE ABOUT EDWARD RICHARD McKAY
In 1899 son Julius Jr., widowed, re-married in Rat Portage to Lydia (nee BIDDISON) McKELVY, daughter of Prudence GREEN and Daniel BIDDESON (1831-1907).
Census of 1901 in Rat Portage: Julius MUGGABERG, age 66; wife Elizabeth, age 64; son Thomas (age 18).
On Sep 10, 1907 Julius MUGGABERG died in Rainy River.
World War I
1914-1918
On Aug 4, 1914 Great Britain (Canada on Aug 5) declared war on Germany and Austria-Hungary to uphold treaties with France and Belgium which were under German attack. This marked the beginning of World War I.
In 1915 son William, widowed, re-married in Portage la Prairie to Mary Jane DENNIS of uncertain origins.
On June 15, 1918 son Thomas enlisted at Port Arthur, stating his next of kin as his mother (Isabella) of Kenora.
November 11, 1918, Armistice Day (Remembrance Day) marked the end of the First World War.
Census of Jun 7, 1921 in Kenora: Widow Isabella MUGGABERG, age 83.
In November of 1921 Isabella (nee SINCLAIR) MUGGABERG died in Kenora.
Comments and queries at this link: FORUM DISCUSSING JULIUS MUGGABERG and his DESCENDANTS
============================= Family Details =============================
Children:
1. Jun 13, 1862 JULIUS (twin) MUGGABERG (m1. Margaret Ann PARK. m2. Lydia (nee BIDDISON) McKELVIE)
2. Jun 13, 1862 WILLIAM ALFRED (twin) MUGGABERG (m1. Louise TELEFSON, m2. Mary Jane DENNIS)
3. Mar 24, 1864 CATHERINE MUGGABERG (m1. Henry FOLSTER, m2. Joseph MOORE)
4. Sep 8, 1867 JOHN MUGGABERG (m. Catherine DESMARAIS)
5. Sep 21, 1869 FRANCES MUGGABERG (m. Louis LALOIS)
6. Dec 4, 1873 MARY ANN MUGGABERG (m. William BEGG)
7. Sep 15, 1874 JEMIMA MUGGABERG (m. James Rutherford BEGG)
8. 1875 GEORGE MUGGABERG (m. Margaret CORRIGAL)
9. May 27, 1877 JESSIE MUGGABERG (m. Edward McKAY)
10. Jan, 1881 JANE MUGGABERG
11. Feb 13, 1882 THOMAS MUGGABERG