DUNCAN FINLAYSON BEGG (1845-1940)
JANE RUTHERFORD BOULTON (1847-1901)
(Last Updated: June 20, 2015)
Duncan Finlayson BEGG was born Feb 23, 1845 in a small HBC trading post on the north shore of Lake Superior (Michipicoten). He was the eldest son of Catherine SPENCE and Charles Robert BEGG (1814-1902), an HBC voyageur and fur trader who was born in Scotland. ** MORE ABOUT CHARLES ROBERT BEGG
A Blacksmith with the Hudson's Bay Company
1860-1865
In 1860 Duncan entered the service of the Hudson's Bay Company (HBC) as an apprentice blacksmith in the Moose Factory District.
.
Marriage to Jane BOULTON
Mapleton – Red River
1865
In 1865 Duncan retired from the HBC and married Jane Rutherford BOULTON, the half-breed daughter of Mary and Joseph BOULTON of uncertain origins. They settled on Lot 5 in Mapleton (Old England) in St Clements Parish next to Duncan's parents (Catherine & Charles Robert BEGG). Sons William and James were born there in 1867 and 1869 respectively.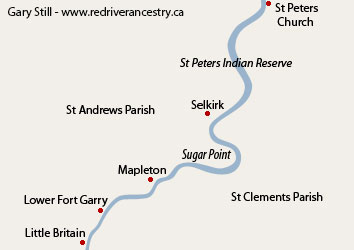 Canadian Confederation
A Red River Rebellion
Manitoba becomes a Province
1867-1870
On July 1, 1867 the British colonies in North America were united under the British North American Act to become the Dominion of Canada.  Sir John A MACDONALD (1815-1891) was appointed as Canada's first Prime Minister. William McDOUGALL (1822-1905) became the Minister of Public Works, and he began negotiations to acquire Rupert's Land from the HBC; surveyors were sent to Red River to prepare the way for an expected influx of settlers.
On Oct 11, 1869, Louis RIEL (1844-1885) placed his foot on the surveyors' chain to tell them their work was finished! This marked the beginning of the historic Red River Métis Rebellion.
On July 15, 1870 the Rebellion ended when RIEL's Provisional Government accepted the terms of the Manitoba Act and Manitoba became the fifth province of Canada.
Census of 1870 in St Clements Parish (Lot 5, Mapleton): Duncan F BEGG, age 25; wife Jane, age 23. Children: William C (age 5) and James R (age 1).
In June of 1872 daughter June was born in the Northwest Angle (NW shore of Lake of the Woods). She died there in 1873.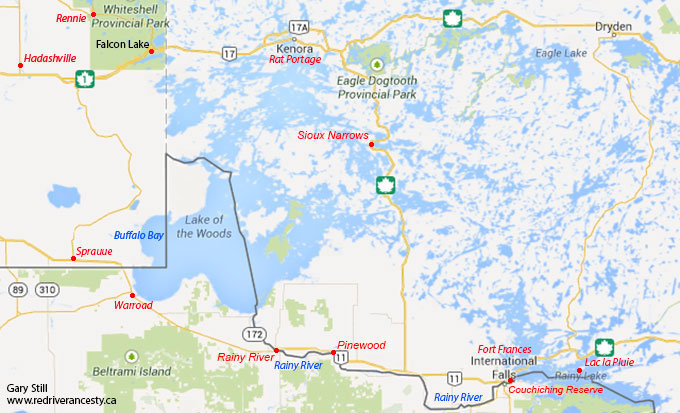 Treaty Number 3
1873
On Oct 3, 1873 the Dominion of Canada and the Saulteaux tribe of Ojibway Indians entered into treaty at the North-West Angle of the Lake of the Woods (Treaty No. 3), after three years of negotiations.
Bea BEGG-STILL:  My mother (Sadie BEGG) kept obituaries of most of the older people she knew especially around the district. I have all of these obits and it sure is interesting. Duncan BEGG and his mother acted as interpreters at the signing of the famous Indian Treaty No 3 in 1873 in Kenora. It took three days of negotiations. It says in the write up that Chief POW-WA-SANG was the hardest nut to deal with. He (Duncan) said he was the only Indian I ever struck in my life. Apparently the Chief insulted him over some bargaining for goods and "I knocked him down".
White Dog Post – Islington Reserve – Lac La Pluie District
1875-1886
In 1875-76, children Mary and John Robert were born in Islington. This was the Islington First Nation Reserve No. 29, also known as Wabaseemoong or White Dog Reserve, located on the east shore of Tetu Lake, 48 km NW of Kenora, 8 km east of Manitoba. In Ontario, east of Falcon Lake shown on the above map.
** I (Gary Still) once visited this reserve in the 1860's for the Canadian Forestry Service to investigate an alleged landing of a UFO there.
From 1876 through to 1886 Duncan worked as an Interpreter and Postmaster at the White Dog Post.
In September, 1877, Jane applied for her Scrip as the wife of Duncan BEGG, daughter of Mary and Joseph BOULTON.  She was living in St Clements Parish (Mapleton) at the time. In 1879 son Edward was born there.
Census of 1881: Duncan F BEGG, Trader, age 36; wife Jane, age 32. Children: William (age 11), James (9), Mary (7), John Robert (4), Edward (age 3) and baby Flora.

In 1881, sons William Charles (age 14) and James Robert (age 10) were also recorded with their grandparents (Catherine & Charles BEGG) in Mapleton, probably going to school there. ** Their ages seem to be screwed-up in these records.
In 1883 daughter Jessie was bornin Islington. 
Rat Portage
1886
In 1886 Duncan became a 'Freeman' (retired from, the HBC). He settled in Rat Portage (Kenora, Ontario).
With the new railroad coming through to Winnipeg in the early 1880's, Rat Portage had become a thriving community. It had its beginnings as an HBC fur trading post in 1860. It was known as the "roughest town in Canada" for many years.  It was re-named Kenora in 1895.  Lake of the Woods was the world's largest source of caviar (sturgeon roe) then and commercial fishing was a major activity. Four steamers ran regularly between Kenora and Fort Frances, making round trips weekly. Mining, pulp and paper, and lumber industries thrived, as well as tourism.
Around 1887 eldest son William married Mary Ann MUGGABERG, and in 1891 son James married Jemima MUGGABERG in Rat Portage, daughters of Isabella SINCLAIR and Julius MUGGABERG (1834-1907).
** MORE ABOUT JULIUS MUGGABERG
Census of 1891 in Rat Portage: Duncan F BEGG, HBC Trader; age 46; wife Jane. Children: Mary (age 17), John R (15), Edward (13), Flora (11) and Jessie C (age 8). Next-door in HH-24 is family of son William C BEGG, age 25.
During 1893-95Duncan was recorded as a Licensed Fisherman.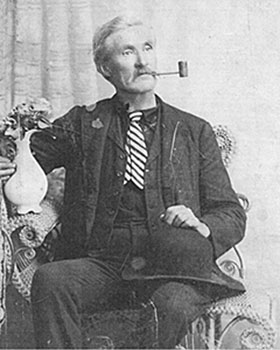 Duncan Finlayson Begg
(From Heather Pyrch)
Monranville Township, Minnesota, USA
1894
In 1894 Duncan moved his family to Moranville Township (SE of Warroad), Roseau County, Minnesota, USA.
In 1897 daughter Flora married George ASMUS in Warroad.
US Census of 1900 in Moranville Township: Duncan F BEGG, Farmer; age 53; wife Jane, age 52. Children: Mary (age 26), John R (23), Jessie C (16) and Julia (age 7).
In 1900 eldest daughter Mary Ann married Frank CLEMENTS in Warroad.
On Aug 5, 1901 Jane (nee BOULTON) BEGG died in St Andrews (Mapleton, MB).
In 1905 daughter Jessie married William Henry HOYEZ in Roseau, Minnesota, son of Agnes FRAZER and Irne HOYEZ (1847-1913).
In 1909 son John Robert married Millie Amelia MUIR in Fort William, daughter of Clara BAKER and John Cameron MKUIR (1831-1911) from Scotland.
On Feb 6, 1940 Duncan Finlayson BEGG diedin Kenora at the age of 95.
Comments and queries at this link: FORUM DISCUSSING THE DUNCAN FINLAYSON BEGG FAMILY
============================= Family Details =============================
Children:
1. Dec 4, 1866 WILLIAM CHARLES BEGG (m. Mary Ann MUGGABERG)
2. Mar 27, 1869 JAMES RUTHERFORD BEGG (m. Jemima MUGGABERG)
3. Jul 10, 1872 JUNE BEGG (Died in infancy, age 1)
4. Aug 25, 1875 MARY ANN BEGG (m. Frank CLEMENTS)
5. Dec 10, 1876 JOHN ROBERT BEGG (m. Millie Amelia MUIR)
6. Aug 16, 1879 EDWARD CHARLES BEGG (Died 1896, age 17)
7. Feb 23, 1881 FLORA BEGG (m. George ASMUS)
8. Oct 9, 1883 JESSIE CATHLEEN BEGG (m. William Henry HOYEZ)
9. March, 1893 JULIA BEGG