GEORGE SINCLAIR (1852-1939)
MARY JANE McLEOD (1859-1931)
(Last Updated: March 13, 2013)
George SINCLAIR was born Mar 5, 1852 in Fort Alexander (MB), son of Elizabeth SWAIN and Baikie SINCLAIR (1802-1887) from the Orkneys of Scotland. ** MORE ABOUT BAIKIE SINCLAIR
On May 9, 1852 George was baptized in St Andrews.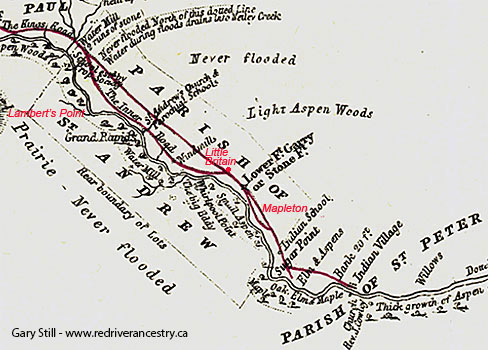 St Andrews Parish from Hind's Map of 1857
In 1857 his mother (Elizabeth) died in St Andrews when George was only five years old.
Canadian Confederation
A Métis Rebellion
Manitoba becomes a Province
1867-1870
On July 1, 1867 the British colonies in North America were united under the British North American Act to become the Dominion of Canada. Sir John A MACDONALD (1815-1891) was appointed as Canada's first Prime Minister.William McDOUGALL (1822-1905) became the Minister of Public Works, and he began negotiations to acquire Rupert's Land from the HBC. He sent surveyors to Red River in anticipation of a flood of new settlers to the area.
On Oct 11, 1869, Louis RIEL (1844-1885) placed his foot on the surveyors' chain to tell them their work was finished. This marked the beginning of the historic Red River Métis Rebellion.
On July 15,1870 Manitoba became the fifth province of Canada. The Rebellion ended that fall with the arrival of Colonel Garnet Joseph WOLSELY (1833-1913) and his Canadian soldiers. RIEL fled to the United States.
In 1870 George (age 19) was recorded with his parents in St Andrews Parish, Red River.
Hudson's Bay Company Service
1874
In 1874 George began to work for the Hudson's Bay Company (HBC) as a Labourer in the Swan River District.
Lac la Pluie
1875-1879
The last four years (1875-1879) of George's HBC career was spent as a Labourer and Interpreter in the Lac la Pluie District.
In 1877 George was in St Andrews Parish (Red River) when he claimed his Half-breed Scrip.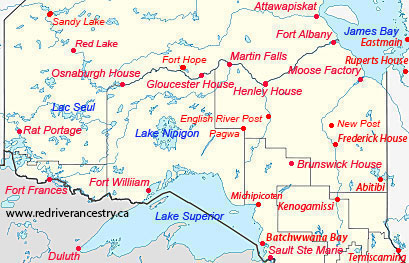 In 1879 George left the service of the HBC and seems to have settled in the Fort Frances area.
Marriage to Mary Jane McLEOD
1884
Around 1884 George married to Mary Jane McLEOD of unknown origins. Their first child, William is said to have been born in Minnesota Territories (USA) in 1885.
The rest of their children were born in the Rainy River District of Ontario; Mary Jane in 1903, Margaret in 1912 and Joseph in 1917.
In 1905 son William married Lottie HOWELL at his father's (George's) residence which was then at Hungry Hall. Lottie was the daughter of Maggie COCHRANE and Herman HOWELL. Hungry Hall is located in the State of Minnesota (USA) south of the Rainy River near Fort Frances (Ontario).
Around 1924 daughter Mary Jane married Joseph Edward Miles LYONS, son of Rosette JOURDAIN and John Henry LYONS (b-1854,)son of Mary STEVENS and Henry LYONS (1833-1868).
In 1930 daughter Margaret married Peter "Lute" CALDER of unknown origins.
On Sep 3, 1931 Mary Jane died in Fort Frances, and it is said that George SINCLAIR died around 1939 (he would have been about 87 years old then).
Please post comments and queries at this link: FORUM DISCUSSING this GEORGE SINCLAIR FAMILY
============================= Family Details =============================
Children:
1. Jul 12, 1885 WILLIAM SINCLAIR (m. Lottie HOWELL)
2. Jun 25, 1903 MARY JANE SINCLAIR (m. Joseph Edward Miles LYONS)
3. Sep 4, 1912 MARGARET BEATTIE SINCLAIR (m. Peter "Lute" CALDER)
4. Mar 17, 1917 JOSEPH SINCLAIR (?m. Marguerite)