LEVI BIRD (1801-1864)
JANE THOMAS (1816-1841)
NANCY (1800-1870+)
(Last Updated: August 13, 2015)
Levi or Levy BIRD was born about 1801 at Edmonton House (Northwest Territories), son of OO-MENAHOMISK and James Curtis BIRD (1773-1856).** MORE ABOUT JAMES CURTIS BIRD
In 1818 Levi's father, James BIRD, was replaced as Governor by William WILLIAMS (1770-1837). In 1818-19 he resumed his position as Chief of the Cumberland District and that winter he and his fellow ex-Governor Thomas THOMAS and their families spent the winter together at Cumberland House. And that was the winter that romance blossomed between three of James' sons and three of Thomas' daughters as follows: George BIRD and Nancy THOMAS; Joseph BIRD and Elizabeth THOMAS; and Levi BIRD and Jane THOMAS.
In 1820, according to some sources, Levi's mother, Mary OO-MENAHOMISK, died in Red River. By 1821 his father had remarried to Elizabeth MONTOUR.
Union of the North West Company and the Hudson's Bay Company
Norway House
1821
On Aug 11, 1821 at Norway House, Nicholas GARRY (1782-1856) presided over the first Council of the Northern Department of the HBC. It was then that the first announcement was made of a merger agreement between the NWC and the HBC. ** MORE ABOUT NICHOLAS GARRY in DCBO

At the time of the Union James BIRD was made the Chief Factor for the Red River District with his headquarters at the Forks of the Red and Assiniboine rivers (Winnipeg).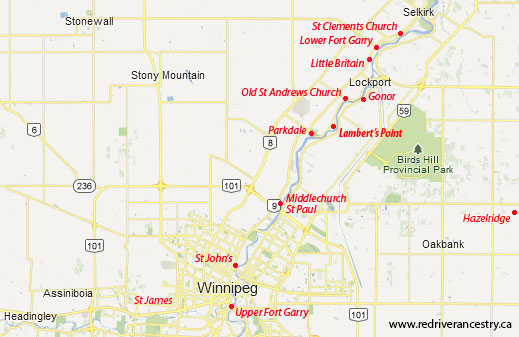 Marriage to Jane THOMAS
1831
Around 1831 Levi married Jane THOMAS, daughter of Sarah (CREE) and Governor Thomas THOMAS (1766-1828).
** MORE ABOUT GOVERNOR THOMAS THOMAS

Many sources indicate that in 1841 Jane (nee THOMAS) BIRD died in Red River.
Levi and Nancy
1845
In 1845 son James was born in Winnipeg. His Scrip affidavit later indicated his mother as Nancy of unknown origins.
In 1855 daughter Sophia married John KNIGHT, son of Sophia HALLETT and John KNIGHT SR (1830-1890).
Several sources indicate that eldest son Thomas Levi married Mary Louise LINKLATER, possibly the daughter of Elizabeth SANDERSON and John LINKLATER (b-18I05). ** This is problematic and requires further review.
Around 1863 son James married Emilie BOUCHER, daughter of Marie PLANTE and James BOUCHER.
On Jan 12, 1864 Levi BIRD died in St James (Assiniboia), MB.
Census of 1870 in St Andrews:Widow Nancy BIRD (age 70) and son Charles (age 10; father indicated as Levi BIRD).
By 1875 son Henry was married to Chloe LEWIS, daughter of Isabella SPENCE and James LEWIS aka LOUIS (1807-1882). ** MORE ABOUT JAMES LOUIS
Comments and queries at this link: FORUM DISCUSSING the LEVI BIRD FAMILY
=========================== Family Details ===========================
Children:
1. Apr 3, 1832 THOMAS LEVI BIRD (m. Mary Louise LINKLATER)
2. 1834 SOPHIA BIRD (m. John KNIGHT)
3. 1841 HENRY BIRD (m. Chloe LOUIS)
Children with Nancy:
1. 1845 JAMES BIRD (m. Emilie BOUCHER)
2. 1860 CHARLES BIRD